The CFO is committed to supporting our nonprofit community during the coronavirus pandemic.
Ameren donation powers $111,000 for regional pandemic recovery
Jan. 8, 2021 — The Community Foundation of the Ozarks and the Community Foundation of the Lake have awarded $111,000 to 23 nonprofit agencies affected by the COVID-19 pandemic in seven Missouri counties.
St. Louis-based Ameren Corporation donated the funding for these grants to the CFO's COVID-19 Response and Recovery Fund to support agencies in the shared service area of Ameren and the CFO's network of 52 regional affiliates. Ameren employees and its board of directors contributed to its AmerenCares Power of Giving COVID-19 Relief Fund, which also is supporting agencies in Illinois and the St. Louis region.
Two "Powered by AmerenCares" grantmaking rounds were held for agencies providing meal programs, transportation, childcare and mental health services related to the COVID-19 pandemic. In the program selected by the CFO's Affiliate Foundation team, grants were awarded to:
Benton County (served by the Benton County Community Foundation):
The Changing Table: $1,500
Cape Girardeau County (served by the Cape Area Community Foundation)
Big Brothers Big Sisters of Southeast Missouri: $5,000
Cape Girardeau Public School Foundation: $7,500
Community Partnership of Southeast Missouri: $3,000
Discovery Playhouse: $7,500
Humane Society of Southeast Missouri: $5,000
Safe Families for Children: $2,500
Gasconade County (served by the Community Foundation of the Hermann Area Inc. and the Owensville Area Community Foundation)
Howell County (served by the Community Foundation of West Plains Inc., the Jacks Fork Community Foundation and the Willow Springs Community Foundation)
Samaritan Outreach Center: $3,300
West Plains Senior Center: $10,000
West Plains Christian Clinic: $7,500
Willow Springs School District: $5,200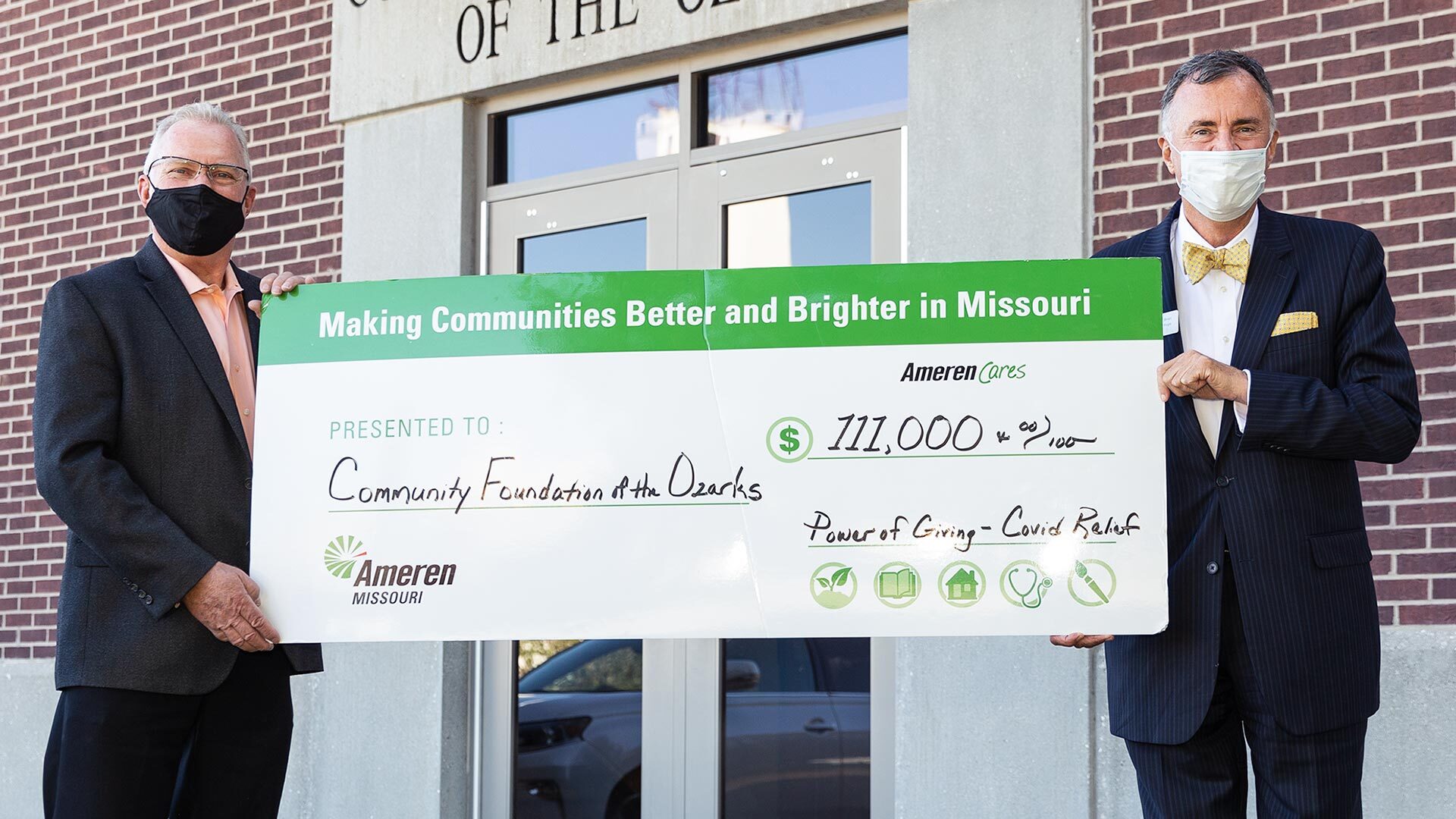 In a separate grantmaking program, the Community Foundation of the Lake awarded $48,000 to 12 nonprofit agencies with funding provided through the Ameren Gives program. The CFL is the CFO's regional affiliate foundation serving Camden, Miller and Morgan counties in the Lake of the Ozarks area.
Big Brothers Big Sisters: $3,500 for new matches
Citizens Against Domestic Violence: $7,500 for mental-health therapy
The Changing Table: $3,825 for diapers
Child Advocacy Council: $1,000 for food vouchers
C.O.P.S. Virtual Connection Calls: $1,000 for online support with licensed professionals
Food for Morgan County/Neighbors in Need: $5,000 for food, transportation and utilities
Heros Outreach Program: $1,000 for support for veterans and first responders
Kids' Harbor: $5,675 for mental health counseling, games, activities and supplies
Lake Area Industries: $5,000 for employees with mental disabilities with transportation needs
Lake of the Ozarks Developmental Center: $5,000 for telecommunication equipment
OATS Transit: $5,000 for cleaning supplies
Osage Beach Senior Center: $4,500 for homebound and curbside meals
"This has been a great partnership opportunity with Ameren Corp.," CFO President Brian Fogle said. "The company put its charitable dollars to work in the communities it serves by using our expertise in managing and granting out these generous resources."
Ameren Corporation is a Fortune 500 company providing electric power to 2.4 million customers and natural gas service to more than 900,000 customers across 64,000 square miles in Missouri and Illinois. Ameren Missouri and Ameren Transmission Company are both based in St. Louis.
These grants bring the CFO's total discretionary grantmaking for COVID-19 response and recovery to $2.06 million since March 2020. Total COVID-related grantmaking by the CFO, including grants from donor-advised and employee benevolence funds, is $3.15 million.
The COVID-19 Response & Recovery Fund is supported by these generous donors.
In addition to initial commitments by the CFO, Missouri Foundation for Health and the Coover Charitable Foundation, these individuals, families and organizations have donated to the COVID-19 Response and Recovery Fund. You can join them by making a gift by credit card or mailing a check to: Community Foundation of the Ozarks, P.O. Box 8960, Springfield, MO, 65801. Please note "COVID-19" on the check.
Ameren Corporation — AmerenCares Power of Giving COVID-19 Community Response Fund
Sunderland Foundation
White River Valley Electric Cooperative
Hulston Family Foundation
Delta Dental of Missouri
Darr Family Foundation
The COOP Foundation
Tal & Rosalie O'Reilly Wooten Family Foundation Fund

Elite Promotions

Don & Olivia Simpson
RDW Family & Community Fund
Jeff & Kathy Munzinger
Mary Jean Hamilton
Anonymous
Forum Dental

Terry Family Foundation
Kim Collison Farr
Mitch & Jennifer Holmes
Angela Swan
Deni Dinwiddie and family
417 Youth Sports and John Hartley Family
Cantwell Family Fund
Brian & Renee Fogle
Lyndsey Strahan
Jarad Johnson
Justin Gathright
Matthew Simpson
Maranda Provance
Ira Williams
Don Simpson
Michelle Hudgens
Angie Miller

Andy Peebles
Alex & Cathy Primm
Wes & Francine Pratt
Thomas & Kimberly Prater Family Fund
John Brooks
Springfield Business Journal
Jennifer Johnson
Melinda Novik
Martha Fay
Alvin Meeks
Suzanne Weatherman
Ronald Neville
Emma Chapman
Joe Fearn
Ball Jones Charitable Fund – Buddy Ball & Virginia Jones
Graham Family Fund
Jim & Janet Anderson Family Fund
Terry Family Foundation
Dierks Family Fund – Bridget & Andy Dierks
The La Boda Fund – Mike Stevens & Kate Baird
Oakwood Legacy Fund – Ron & Alice Wingo
Courtney Family Foundation Fund
Haun Family Fund
Mary Jean Hamilton Fund
310 Foundation
Nelson Family Fund
Arthur Ormsbee
Dana & Ann Elwell
Louise & Kelly Knauer
Aaron Scott & Hayley Budd
Nancy Curless
Reynolds Family Fund
Betsy Fogle
Don Simpson
Larry O'Reilly & Family Foundation
Mike Carlie
Carrie Lamb
Mary Casada
Rose Magaw
Jarica Oeltjen, in memory of John Prine
Connie Cline Fund
William Marrs, in memory of Scott Marrs
Terry & Mary Whitmore
James Mattax Jr.
Lisa Langley
Danielle Wise
Mary Neely
David O'Reilly
Roger Pina
Valerie Hudspeth, in memory of James William "Jim" LeCompte II
Jeff & Julie Ast
Jackie Barger
Noah Karrasch
Jan & Gary Baumgartner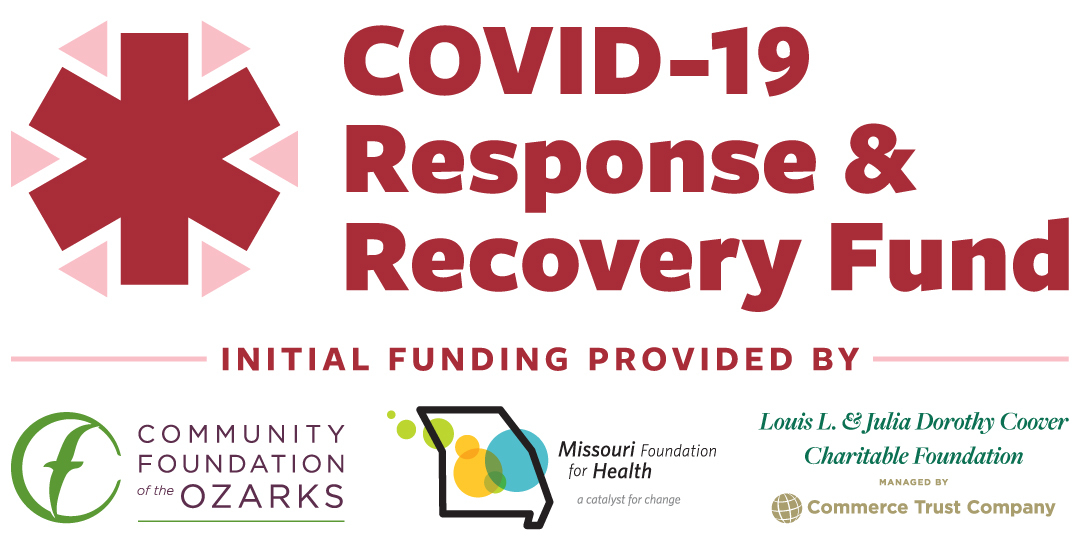 Winter Kinne, in memory of Patsy Funk

M. Tran
Gary Funk, in memory of Patsy Funk
Doug & Rae Nickell, in memory of Patsy Funk
Linda Neale
Carol Newman
Mark & Mary Walker
Janet & Herb Dankert
Ashley Silva
5 Pound Apparel, on behalf of Ashley Walden
Todd & Betty Parnell, in memory of Patsy Funk
Rob & Sally Baird, in memory of Patsy Funk
Stephen Armstrong
Jill Lohmeyer, in memory of Patsy Funk
The Second Wind Fund
The Fogle Family Fund
Fulp Family Fund
Mary Worman
Jack Hood, in memory of Patsy Funk
Robert Thurman
Joshua Gibb, in memory of Patsy Funk
Robert Kipfer, in memory of Patsy Funk
Kenneth Zindel, in memory of Patsy Funk
Shelter Insurance/Becky Hosp
Mike Smith
Gerald Weatherford, in memory of Patsy Funk
Jim Atteberry, in memory of Patsy Funk
Galesburg Community Foundation, in memory of Patsy Funk

Claudia Kelsey
Jerrianne Roubinek, in memory of Patsy Funk

Dean Rund
Beth Summers, in honor of Tracy Polk
Marilyn Boyle
Caitlin Golike
Karen Mille, in memory of Patsy Funk
Donald Fishburn, in memory of Patsy Funk
Tom Finnie, in honor of Tom & Nancy Anderson and Nance Holman
Trotter Family Foundation

David Catlin
Gloria Galanes
Jill Lohmeyer
Ringenberg Charitable Trust

Courtney Family Foundation
Randy Funk, in memory of Patsy Funk
Agnes Bruner
Kendra Page
Clint Zweifel
Matt Lemmon
Lance & Joni Rogers
Commerce Bancshares Foundation
Richard & Janet Martin
Lisa Berger
Phyllis Smith, in memory of Patsy Funk
Kenneth Neu
u.school Fund
Great Southern Bank
Donna Ashworth
Lisa Kurkowski
The Terry O. and Mary Kay Meek Fund

#quaranTEAMSGF donors
Ashley Romines

Betty Johnson

Margaret Prim
Charlie and Mary Beth O'Reilly Family Foundation
Timothy Smith
Jim and Pat Schwartz
Thomas Everett
Kailey York
Mohammed Imran Khan
Meredith Roberts
Mary Jean Hamilton Fund
Sam and June Hamra Family Charitable Foundation
Republic Community Grantmaking Endowment Fund
Bars Products
Northern Trust
Tina Hunt
Stanley and Elaine Ball Foundation
Filmmer Naguit
Sandy & Doug Thomason, in memory of Bob Grimshaw
Johnny Atkinson
Isabel Thomas
Luis Leon
Barbara Zehnder
Jessica Goodrich
Orren Ricketts
Funding Resources for Nonprofit Agencies
Community Resources
Find information about important services and opportunities to donate.
We are here to help!
Our dedicated staff is working to assist nonprofit agencies and donors with their charitable needs. While we are limiting traffic in our office, please call ahead to (417) 864-6199 if you need to visit our staff in person.

Donate to the COVID-19 Response & Recovery Fund.