The CFO is committed to supporting our nonprofit community during the coronavirus pandemic.
CFO surpasses $3 million in COVID-19 grantmaking
Oct. 23, 2020 — With $100,000 in the latest round of monthly COVID-19 Regional Recovery Grants, the Community Foundation of the Ozarks has now granted more than $3 million to agencies responding to and recovering from the pandemic since March.
In addition to discretionary grant programs, this total includes grants from the CFO's regional affiliate foundations, grants requested by donor-advisors and support from employee benevolence funds. Since March 18, the CFO has made 417 grants to 285 organizations in more than 50 counties across central and southern Missouri, as well as agencies across the country supported by donor-advisors.
"We're here, in a challenging time, to celebrate that we can help in a time of helplessness," said Brian Fogle, CFO president and CEO. "We're grateful to be able to provide resources to so many nonprofits that are doing the very hard and difficult work on the ground."
The COVID-19 Regional Recovery Grants are intended to help sustain valued nonprofit services and programs through the downturn in fundraising and other financial resources during the pandemic. This grantmaking is open to nonprofit agencies across the CFO's 58-county service area, which also is served by 51 regional affiliate foundations.
The 10 grants awarded this week, with local affiliate foundations listed in parentheses, include:
Care to Learn: $20,000 to support health, hunger, and hygiene needs for children in CTL's large rural service area
CASA of Southwest Missouri: $8,000 to reduce the fundraising shortfall of the CASAblanca event, which supports volunteer training for court-appointed special advocates in Greene and Christian counties
Center City Christian Outreach: $3,500 to support the Hiland Dairy Milk Program at the Well of Life Food Pantry in Springfield
Child Advocacy Center: $10,000 to support CAC's work investigating child abuse through financial support in the wake of cancelled fundraising events
Children's Smile Center: $10,000 to support operating expenses as it provides quality dental care for children in Barry, Christian, Dade, Lawrence, Stone and Taney counties (Finley River Community Foundation)
Community Outreach Ministries of Bolivar: $1,000 to support an upgraded VOIP phone system and better connect with families in need of food pantry services (Bolivar Area Community Foundation)

Golden Valley Memorial Healthcare: $20,000 for the GVMH COVID-19 Response project supporting patients in the Clinton area (Truman Lake Community Foundation)
GYN Cancers Alliance: $20,000 to provide nonmedical, emotional, social and financial support to women battling gynecologic cancers in 30 counties across southwest Missouri
Heart to Heart Outreach Ministries: $2,500 to support overhead expenses at the food pantry in Buffalo (Dallas County Community Foundation)
Helping Hands – Abuse & Crisis Center of Hickory County: $5,000 to provide emergency shelter and services to victims fleeing domestic or sexual violence (Hickory County Community Wellness Foundation)
These grants follow rounds totaling $300,000 awarded in July, August and September. The COVID-19 Regional Recovery Program is now paused and will reopen in early 2021.

Two region-specific COVID-19 relief grant programs are currently available for agencies in Benton, Camden, Cape Girardeau, Gasconade, Howell, Miller and Morgan counties, funded through an $111,000 gift by Ameren Corporation. More information about the programs can be found at online.
The COVID-19 Response and Recovery Fund was established in March with an initial $1 million commitment by the CFO and its regional affiliate foundations, Missouri Foundation for Health and the Coover Charitable Foundation. Generous donors have since contributed more than $850,000 to support this grantmaking. The CFO is committing an additional $1 million to COVID-19 discretionary grantmaking in the 2021 fiscal year with support from MFH, the Coover Charitable Foundation and additional donor support.
The CFO encourages all who are able to donate to a nonprofit in need or the CFO's COVID-19 fund. Gifts can be made online.
The COVID-19 Response & Recovery Fund is supported by these generous donors.
In addition to initial commitments by the CFO, Missouri Foundation for Health and the Coover Charitable Foundation, these individuals, families and organizations have donated to the COVID-19 Response and Recovery Fund. You can join them by making a gift by credit card or mailing a check to: Community Foundation of the Ozarks, P.O. Box 8960, Springfield, MO, 65801. Please note "COVID-19" on the check.
Ameren Corporation — AmerenCares Power of Giving COVID-19 Community Response Fund
Sunderland Foundation
White River Valley Electric Cooperative
Hulston Family Foundation
Delta Dental of Missouri
Darr Family Foundation
The COOP Foundation
Tal & Rosalie O'Reilly Wooten Family Foundation Fund

Elite Promotions

Don & Olivia Simpson
RDW Family & Community Fund
Jeff & Kathy Munzinger
Mary Jean Hamilton
Anonymous
Forum Dental

Terry Family Foundation
Kim Collison Farr
Mitch & Jennifer Holmes
Angela Swan
Deni Dinwiddie and family
417 Youth Sports and John Hartley Family
Cantwell Family Fund
Brian & Renee Fogle
Lyndsey Strahan
Jarad Johnson
Justin Gathright
Matthew Simpson
Maranda Provance
Ira Williams
Don Simpson
Michelle Hudgens
Angie Miller

Andy Peebles
Alex & Cathy Primm
Wes & Francine Pratt
Thomas & Kimberly Prater Family Fund
John Brooks
Springfield Business Journal
Jennifer Johnson
Melinda Novik
Martha Fay
Alvin Meeks
Suzanne Weatherman
Ronald Neville
Emma Chapman
Joe Fearn
Ball Jones Charitable Fund – Buddy Ball & Virginia Jones
Graham Family Fund
Jim & Janet Anderson Family Fund
Terry Family Foundation
Dierks Family Fund – Bridget & Andy Dierks
The La Boda Fund – Mike Stevens & Kate Baird
Oakwood Legacy Fund – Ron & Alice Wingo
Courtney Family Foundation Fund
Haun Family Fund
Mary Jean Hamilton Fund
310 Foundation
Nelson Family Fund
Arthur Ormsbee
Dana & Ann Elwell
Louise & Kelly Knauer
Aaron Scott & Hayley Budd
Nancy Curless
Reynolds Family Fund
Betsy Fogle
Don Simpson
Larry O'Reilly & Family Foundation
Mike Carlie
Carrie Lamb
Mary Casada
Rose Magaw
Jarica Oeltjen, in memory of John Prine
Connie Cline Fund
William Marrs, in memory of Scott Marrs
Terry & Mary Whitmore
James Mattax Jr.
Lisa Langley
Danielle Wise
Mary Neely
David O'Reilly
Roger Pina
Valerie Hudspeth, in memory of James William "Jim" LeCompte II
Jeff & Julie Ast
Jackie Barger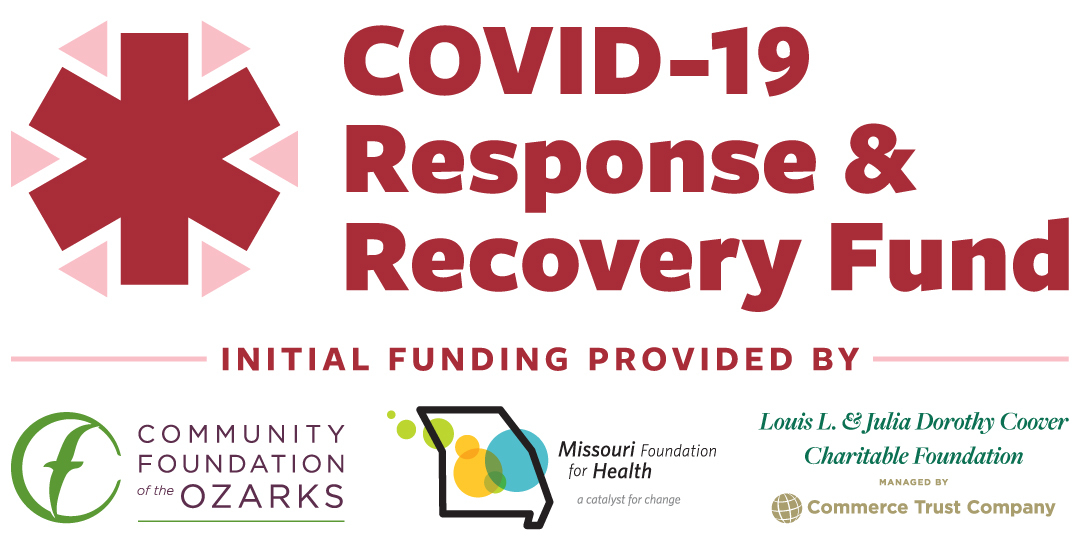 Noah Karrasch

Jan & Gary Baumgartner
Winter Kinne, in memory of Patsy Funk
M. Tran
Gary Funk, in memory of Patsy Funk
Doug & Rae Nickell, in memory of Patsy Funk
Linda Neale
Carol Newman
Mark & Mary Walker
Janet & Herb Dankert
Ashley Silva
5 Pound Apparel, on behalf of Ashley Walden
Todd & Betty Parnell, in memory of Patsy Funk
Rob & Sally Baird, in memory of Patsy Funk
Stephen Armstrong
Jill Lohmeyer, in memory of Patsy Funk
The Second Wind Fund
The Fogle Family Fund
Fulp Family Fund
Mary Worman
Jack Hood, in memory of Patsy Funk
Robert Thurman
Joshua Gibb, in memory of Patsy Funk
Robert Kipfer, in memory of Patsy Funk
Kenneth Zindel, in memory of Patsy Funk
Shelter Insurance/Becky Hosp
Mike Smith
Gerald Weatherford, in memory of Patsy Funk
Jim Atteberry, in memory of Patsy Funk
Galesburg Community Foundation, in memory of Patsy Funk

Claudia Kelsey
Jerrianne Roubinek, in memory of Patsy Funk

Dean Rund
Beth Summers, in honor of Tracy Polk
Marilyn Boyle
Caitlin Golike
Karen Mille, in memory of Patsy Funk
Donald Fishburn, in memory of Patsy Funk
Tom Finnie, in honor of Tom & Nancy Anderson and Nance Holman
Trotter Family Foundation

David Catlin
Gloria Galanes
Jill Lohmeyer
Ringenberg Charitable Trust

Courtney Family Foundation
Randy Funk, in memory of Patsy Funk
Agnes Bruner
Kendra Page
Clint Zweifel
Matt Lemmon
Lance & Joni Rogers
Commerce Bancshares Foundation
Richard & Janet Martin
Lisa Berger
Phyllis Smith, in memory of Patsy Funk
Kenneth Neu
u.school Fund
Great Southern Bank
Donna Ashworth
Lisa Kurkowski
The Terry O. and Mary Kay Meek Fund

#quaranTEAMSGF donors
Ashley Romines

Betty Johnson

Margaret Prim
Charlie and Mary Beth O'Reilly Family Foundation
Timothy Smith
Jim and Pat Schwartz
Thomas Everett
Kailey York
Mohammed Imran Khan
Meredith Roberts
Mary Jean Hamilton Fund
Sam and June Hamra Family Charitable Foundation
Republic Community Grantmaking Endowment Fund
Bars Products
Northern Trust
Tina Hunt
Stanley and Elaine Ball Foundation
Filmmer Naguit
Sandy & Doug Thomason, in memory of Bob Grimshaw
Johnny Atkinson
Funding Resources for Nonprofit Agencies
Community Resources
Find information about important services and opportunities to donate.
We are here to help!
Our dedicated staff is working to assist nonprofit agencies and donors with their charitable needs. While we are limiting traffic in our office, please call ahead to (417) 864-6199 if you need to visit our staff in person.

Donate to the COVID-19 Response & Recovery Fund.