COVID-19 grant powers "Ozarks Maker Army"
Nonprofit partner rallies makers across region to produce much-needed protective equipment through COVID-19 grant
COVID-19 Response & Recovery Fund
Full STEAM Ahead
When Deb Wilson founded the Ozarks SySTEAMic Coalition in 2013, she couldn't know that, seven years later, the nonprofit would be a catalyst for an army of makers providing protective gear to healthcare workers battling a pandemic. That wouldn't have been possible without a COVID-19 Response and Recovery grant of $19,500 from the CFO. By collaborating with several groups and individuals in the maker community with technical skills and 3D printers, "within four days of receiving that grant, we had products in place in critical workers' hands," Wilson says. "We had face shields to people in the medical field who needed it."
Wilson says the nonprofit, known more commonly as O-STEAM, was established to promote and facilitate stronger STEM initiatives in the Ozarks area. She and a core group of like-minded enthusiasts added "arts" to the acronym that stands for science, technology, engineering and mathematics — hence STEAM instead of STEM. "We added the arts to STEM to showcase the significance that the arts have within our community and within the STEM field," explains Wilson, a retired teacher and former executive director for Science Teachers of Missouri.
Wilson was humbled the CFO took a chance on O-STEAM. The grant purchased materials for creating face shields and O-STEAM rallied what Wilson calls its "army of makers." Those with 3D printers got to work printing head pieces; Wilson and others added elastic and medical grade plastic to complete the shields. Participants were many in the collaborative effort, including Heath Rust from DreamIT, MakeIT Makerspace; Drury University's Brian Vanne; Missouri State University's Tyler Drenon; and George Gibeau with Ozarks Technical Community College. Between 2020 and 2021, they and others made roughly 700 shields.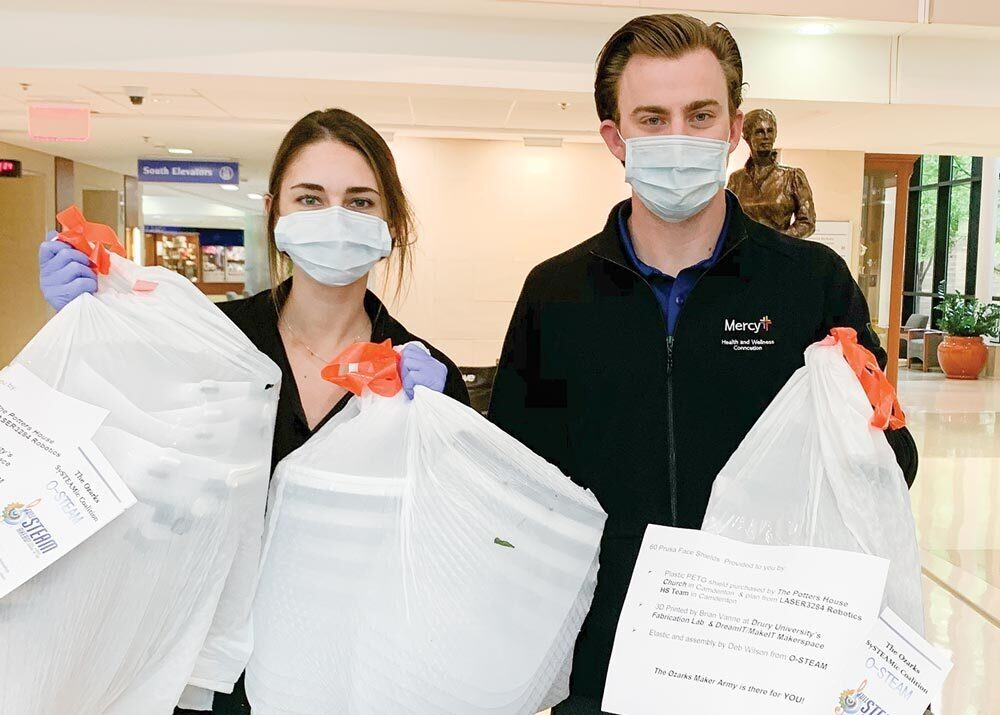 Staff at Mercy Hospital in Springfield received armloads of face shields produced and assembled by the "Ozarks Maker Army." The collaborative effort was coordinated by Ozarks SySTEAMic Coalition, a nonprofit agency partner of the CFO, and funded through a COVID-19 Response and Recovery grant. (Photo courtesy of Ozarks SySTEAMic Coaltion)
Parkcrest Dental Group was one recipient. Tiffani Killingsworth, Parkcrest's office administrator, expresses deep gratitude on behalf of their practice. Shields from O-STEAM were the first protection they could get, she says. "There was so much unknown and so much heightened anxiety about opening back up and we wanted to make sure we had protection for our staff and patients. But we couldn't find anything," she recalls. "It filled a need when we were scurrying, trying to decide how to open our practice safely, and the materials O-STEAM provided were excellent quality." In addition to shields, O-STEAM collaborators made sneeze guard screens for Parkcrest receptionists. They are such high quality, Killingworth says, the practice is frequently asked where they got them. "They helped us open our doors," she says.
Addressing the pandemic with hands-on solutions fits the nonprofit's mission to showcase STEAM-related initiatives in the Ozarks by industry manufacturing, lower- and higher-education institutions and through after-school and informal education, Wilson says. In 2015, after holding a successful STEAM summit in Nixa, O-STEAM joined the international Maker Faire organization and began hosting local Maker Faires. The most recent — its seventh — was held in October.
If not for its army of makers, O-STEAM couldn't have provided PPE to healthcare workers at the start of the pandemic when shortages put people at risk. "It's humbling to see how the maker community is coming together for the help and benefit of our critical workers," Wilson says. "I'm just so proud that O-STEAM was able to write this grant and push it forward, and that the CFO took a risk on us. It all paid off tremendously."

By Sony Hocklander · Originally published in the CFO's Annual Report FY21.
Support our mission by becoming a donor today.