Nov. 10, 2020
CoxHealth CEO Steve Edwards accepts award on behalf of staff and medical community
It's not uncommon to have a reluctant Humanitarian Award recipient. By nature, those selected tend to have open arms and a deep-seated belief that their service is amplified through support from others.

Never before this year has that reluctance been framed within the context of life and death. CoxHealth CEO Steve Edwards said he considered whether to accept the award while the fight against the deadly coronavirus continues to rage.
"We have many heroes who aren't me," Edwards said at the award presentation shown on Nov. 10. "We have nurses and respiratory therapists and doctors that are dressing in astronaut-like outfits to stay safe, to keep our community safe. We have housekeepers and engineers that are supporting our staff who put themselves in harm's way as well.
"I'm physically uncomfortable receiving this award. But I'm going to accept it on behalf of our staff, my heroes, on behalf of the staff at Mercy and Burrell and all of those people putting themselves in harm's way to serve our community at this very important time."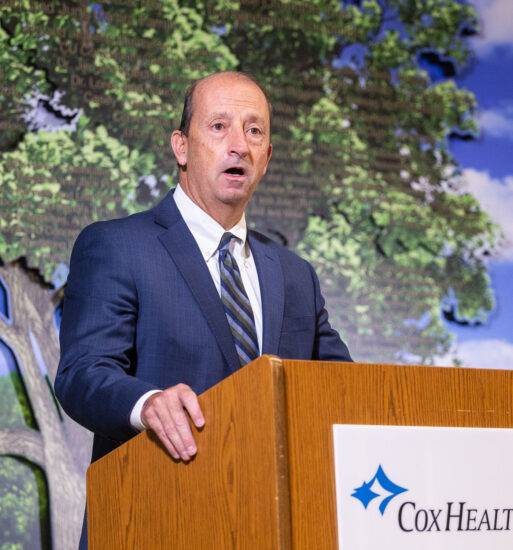 "We serve our community out of love. Our voice and our service will not falter. We will remain resolute in defending our community against this disease and even against hate and pray that through this fight we can find the grace and understanding to bring this community together."
This year's award had two "firsts" for its 31st year – the first time it was presented virtually, due to the pandemic; and the first time it was presented in partnership with the Association of Fundraising Professionals – Ozark Region Chapter to celebrate National Philanthropy Day in November. The chapter honored a number of individuals and organizations for their philanthropic achievements.
Edwards is the 35th person to receive the award in its 31-year history. It was founded by the late Jewell Thompson Schweitzer in 1990 to honor individuals in our region who excel at serving others in a humanitarian capacity. Schweitzer's goddaughter, CFO Board Secretary Laurie Edmondson, continues her legacy in presenting the annual award.
The Springfield Area Chamber of Commerce organizes a committee to review nominations and select the annual recipient. This year's selection committee was chaired by Chamber Chairman-elect Logan Aguirre and comprised of David Atkisson, Pastor Chantha Chhim, Brandy Harris, Dr. Jason Leininger, Jamie Trussell and Pastor Phillip Wright.
CFO Board Secretary Laurie Edmondson, left, with Board Chair Rhonda Christopher, present the award to CoxHealth CEO Steve Edwards.
Edwards was nominated by Morey Mechlin, who joked in her introductory remarks that she and Steve rarely see eye to eye on anything, whether it's supply-side economics or Army vs. Navy. So, fittingly, she did think Edwards deserves the 2020 Humanitarian Award.

"We will never know how many lives were saved by Steve's leadership, but we do know that every Cox employee kept a job," said Mechlin, a longtime civic volunteer who received the award in 2014. "That important medical and scientific information was disseminated clearly and honestly. That Steve's collaboration with public health officials, businesses and nonprofits is a model for effective action now and for the future."
The winner receives a $5,000 cash award, which is traditionally donated to a favorite nonprofit. Edwards chose the Springfield Center for Dyslexia and Learning for his cash award.
Support our mission by becoming a donor today.