April 27, 2023
First summit of its kind in Missouri
Nearly 200 leaders from different places and backgrounds were united by a common mission at Missouri's first statewide Rural Philanthropy Summit. The event, presented by the Community Foundation of the Ozarks and Philanthropy Missouri, drew representatives from most of the CFO's 53 affiliates for information and inspiration on how to better lead and serve their unique corners of the region.
"Rural America represents 97% of the country's landmass and 20% of the population — but less than 7% of foundational giving targets rural places," said Brian Fogle, CFO president and CEO. "Additionally, almost 90% of all individual giving goes to urban areas. We need to do better in philanthropy. That's one of the reasons that we are here."
The daylong event, held April 25 at the Oasis Convention Center in Springfield, began with plenary presentations from three leaders in rural philanthropy. Tony Pipa, senior fellow at the Brookings Institution, reframed the typical narrative of rural America to highlight the opportunities for philanthropists to strengthen social structures and well-being in rural communities. Caitlin Cain, director of Rural LISC, shared the findings of a recent assessment of economic-development resources for rural Missouri and how philanthropy can play a greater role. Kim Davis, senior advisor for the Walton Family Foundation, gave examples of how the foundation has played a key role in creating economic-development opportunities in rural communities across Arkansas.
Tabletop discussions later allowed participants to focus on issues close at heart and hand. Groups formed across the room to talk about housing and homelessness, education, health and mental health, as well as economic and workforce development — and how solutions outside the norm are necessary.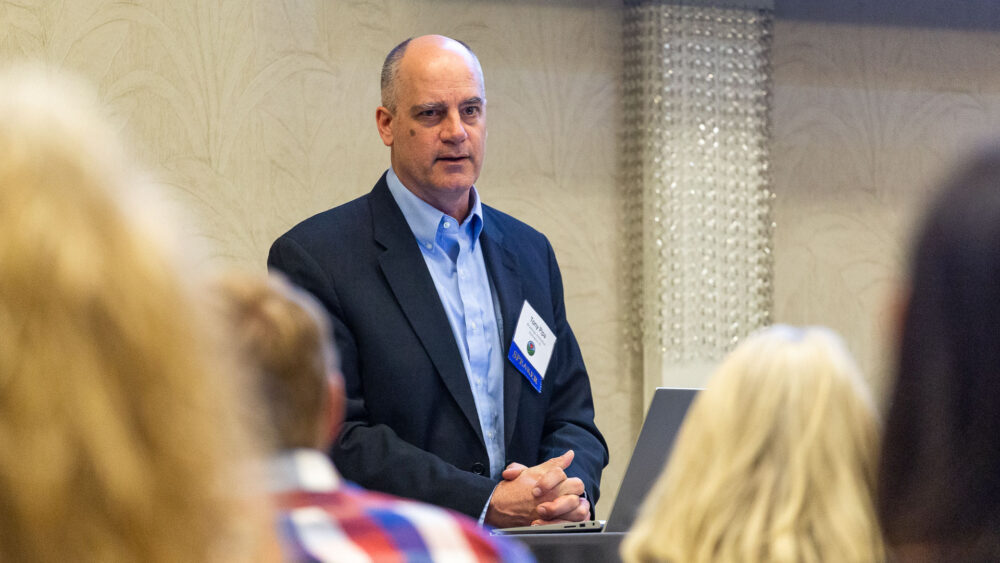 The Brookings Institution's Tony Pipa led a plenary presentation on philanthropy opportunities in rural America, and later headed a break-out session on how rural communities can access federal dollars.
"I think four, six weeks ago there were 10 million jobs open in the U.S. and there were six million applicants. This continued emphasis on job creation and that we just need more businesses — there's something broken in that logic," said Hrishue Mahalaha, leader of Growth in the Rural Ozarks, which started as a grant-funded program of the CFO, and a facilitator of the economic and workforce development group. "A lot of you are saying it's in the underpinning infrastructure."
A bigger factor, he posed to the group, was determining what the individual and evolving needs are in communities. Mark Cowsert, associate director of the Missouri AfterSchool Network, shared the value he's seen for certain demographics — in this case, individuals in their 30s — in being able to work remotely, yet stay in a community they value and to which they want to contribute.
"The ability for them to work remotely and live in a community that feels very welcoming and open to them is really key," Cowsert said. "They may be working from home with a corporation that's based in San Diego, but they get to give their dollars and they get to make their contribution in that community. Whether it's here in Springfield, or whether it's in rural Taney County or wherever it might be.
"I think that's a key component to, and talking about, economic development. How do you promote your community that says we're a welcoming place, even if your job may be elsewhere or to open also the conversation around entrepreneurship?"
In another corner of the room, participants discussed opportunities for promoting greater mental wellness. A concept that facilitator Sarah Moody shared are crisis centers for mental health or substance abuse emergencies, which allow patients to receive quick treatment without going to a hospital emergency department.
"We're seeing more of those popping up places," said Moody, who works for the Missouri Foundation for Health. "Obviously that is a wealth of resources and coordination to make something like that happen. It's not like, 'We'll just open one up next week down the street.' But that is something that we're seeing more and more in our communities, and coming to more rural communities."
As discussions concluded, lunch began, which featured a panel of shared experiences relating to collaboration. Topics ranged from the creation of the Joplin Empire Market to Columbia and times of crisis during the COVID-19 pandemic to the Magic Dragon Trail System, a project of the Community Foundation of the Lake.
"Having key people who are passionate about the project and in leadership positions was very important," said Stacy Pyrtle, vice president of the CFL and a project leader. "They need to really be passionate about it to stay with it. We have several different kinds of committees and organizations working on it and making sure each one of those has the three Ws — of wealth, wisdom and workers — on those committees is very important to keep it moving forward."

After lunch, breakout sessions gave participants a taste of four other topics related to philanthropy's role in rural spaces, with regard to digital needs, inclusivity, capturing transformational gifts and federal grant dollars.
On the latter: If at first you don't succeed, it's important to try again, said Tony Pipa, the aforementioned development expert.
"If you don't have experience getting federal funding, that first hump and getting (your) first set of federal funding can be quite difficult," Pipa said. "Those that get experience working with state funding agencies or federal funding agencies tend then to understand what is expected and tend to be able to access those monies over and over."
He suggested taking feedback and using that to adapt an application, gave an example of a community who worked with a co-op to apply for funding — and took three tries.
"The third time they got the money; they got a multi-million-dollar grant to get the physical infrastructure that they needed," Pipa said. "From the co-op's point of view, we had done this process many times before, that was not unusual. But from the community's point of view, it seemed very difficult, and they were not going to continue to persist to be able to get that money. That kind of experience is invaluable when it comes to being able to access the types of funds that we're going to be talking about."
The day concluded with a celebration of the CFO's regional affiliate foundations, as well as recognition of the Nixa Community Foundation, which was the CFO's first affiliate and is celebrating 30 years of existence.
The Affiliate of the Years winners, which recognize affiliates for outstanding development and community leadership, were divided into two categories — all-volunteer boards, and those with staff members — with $20,000 in distributions.

Honorees included the Community Foundation of the Lake, the Nevada/Vernon County Community Foundation, the Cape Area Community Foundation, the Ash Grove Area Community Foundation and the Barton County Community Foundation.
In addition to the affiliate recognitions, five individual board members were honored for their contributions.
The Stanley Ball Leadership Award was presented to Eric Gibson from the Community Foundation of West Plains Inc. Ball was the first president of the CFO's first affiliate foundation in Nixa. The award included a $2,000 grant from the Stanley and Elaine Ball Foundation, held by Central Trust Company.
The Fred Lemons Achievement Award went to Bonnie Prigge with the Meramec Regional Community Foundation. The award honors the leadership of Fred Lemons, the former longtime president of the Lockwood Community Foundation. In Prigge's honor, MRCF received a $1,000 grant from the Lemons family.
Three other individuals were recognized as Board Members of Excellence for their dedication and commitment to local affiliates: Cynthia Glenn, Finley River Community Foundation; Tom Jacquin, Community Foundation of the Hermann Area; and Natalie Lorenz, Perry County Community Foundation.
As the event concluded, participants were given a charge to not let the work of the day stop as they walked out the door.
"We're here today to encourage you and ourselves to not just think about (ideas) but to take that next step," said Michelle Miller, president and CEO of Philanthropy Missouri. "If you are already working in rural places, keep doing the great work that you're doing — and consider what next step or two or three you can take to make your work even more strategic, more collaborative and more impactful. Who do you need to talk to? What do you still need to learn? I encourage you to take those next steps."
Support our mission by becoming a donor today.