Leading Locally: Ripley County Community Foundation
Long past life, Paul Ripley's legacy lives on
Affiliate Foundations
Late philanthropist continues to serve Ripley County through the Ripley County Community Foundation
Paul Ripley gave a great deal to the people of Ripley County, a place that seems to be named in his honor. As it happens, the name was just a coincidence, but a happy one: For most of his life, Ripley made a difference for the southern Missouri county and community about 15 minutes from the Arkansas border.
First, he gave as a teacher: For 15 years, he was an instructor of music at the local school. Later, he served as an assistant administrator for the entire district. Even after retiring in 1982, he interacted with many local high school graduates as he took their senior portraits.
Ripley died in September 2020 at 89 years old. His wife of 53 years, Joe Ann, preceded him in death some 10 years earlier. Perhaps to some it felt like the legacy was finished.
For folks who gathered at the Current River Heritage Museum in July, however, it was recognition that his work is simply entering a new chapter.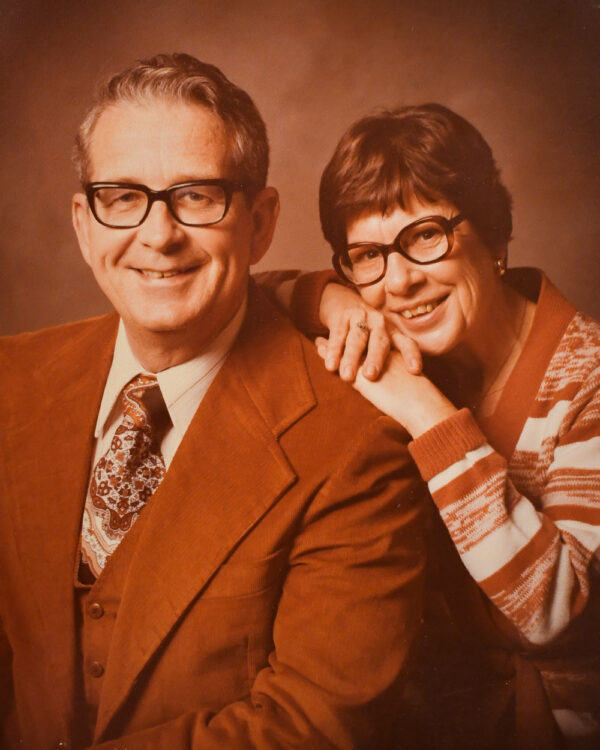 Paul and Joe Ann Ripley (Courtesy of the Current River Heritage Museum)
Winter Kinne, vice president of development for the Community Foundation of the Ozarks, was at the museum in Doniphan to accept a check from Randy Maness, a friend of the Ripleys, executor of their estate and president of the Ripley County Community Foundation.
There was a big check for photos, but even the hand-held size was significant: It brought the Ripleys' bequest to $1.7 million to benefit Ripley County. Of that estate, $1 million funds the Paul and Joe Anne Ripley Scholarship Fund, which helps Three Rivers College graduates from Ripley County continue their educations at four-year schools.
"Paul had a great deal of affection for the college," says Maness, of the community college based in nearby Poplar Bluff. "His love of the community is what drove this whole thing."
In the 2023 – 2024 academic year, the endowment will provide an $8,000 scholarship administered by the CFO — but that figure will increase in following years.
"It's gotten increasingly easy to fund the first two years of college. But beyond that, the resources aren't as available," says Maness. "This creates a brand-new income stream which we expect to be in future years to be at least $50,000 a year, and that can be spread over any number of people to further their education."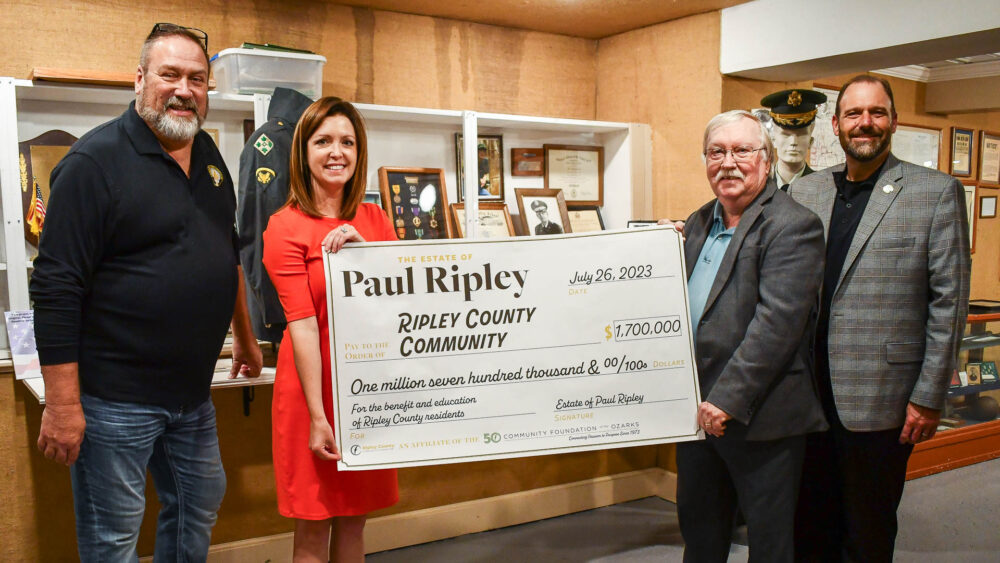 A group of representatives from the Ripley County Community Foundation, Three Rivers College and the Community Foundation of the Ozarks gathered to celebrate the Ripleys' legacy.
A small group gathered near a display honoring Ripley at the museum, which featured his time in the military — one of several chapters of his life.
"Mr. Ripley was a lifelong educator who was committed to ensuring that the Three Rivers College students from Ripley County would have the opportunity to pursue their goals and make a brighter future," says Dr. Wesley Payne, president of Three Rivers College. "It was both an honor and privilege to work with Mr. Ripley in the creation of the Paul and Joe Anne Ripley Scholarship Fund. Everyone at Three Rivers College looks forward to seeing the wonderful things accomplished by our students." 
In addition to the scholarship fund, Ripley previously established a separate fund which is annually paid to the Doniphan R-1 School District to help fund scholarships for music students. His estate also included bequests to benefit Doniphan city parks, the Doniphan-Ripley County Library, his church and heart research.
"Having the opportunity and pleasure to work with Mr. Ripley during his life, I know how pleased he would be to see this gift come to fruition," says Kinne. "He was passionate about his home, education, and ensuring that students had the opportunity to grow and learn. It is an honor for the CFO to play a small part in continuing his legacy through all the students this will impact."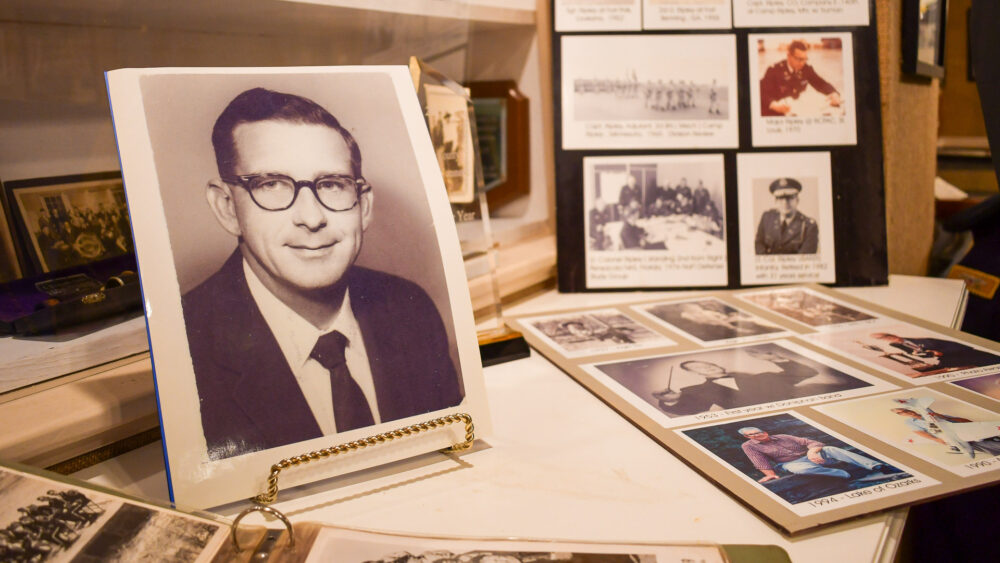 Photos and memorabilia at the Current River Heritage Museum in Doniphan tie to Paul Ripley's life.
A walk through the heritage museum, just off the town square, tells a lot about the local story, which goes back to the founding of the county in 1833. Photographs and artifacts—including nods to the community's presence on the Current River—are visible for visitors to see and learn from, and part of which were provided by Ripley.
There are collections of photos, a piccolo that his father played on a Mississippi River paddle-wheeler; various awards; and a military uniform from the man who made Ripley County his home starting in 1953, after he graduated from Arkansas State University with a degree in music education. He was hired by the Doniphan school district and moved to Ripley County, where he remained for the rest of his life.
"I just wish that he could be here to participate but I'm sure he's aware. He knew exactly what was going to happen," says Maness. "I may have put the document on paper, but it all came straight out of his head. He had a vision, and he wanted to see it through.
"It's going to be a significant income stream going forward. We're looking forward to seeing it all happen."
By Kaitlyn McConnell, writer in residence for the Community Foundation of the Ozarks

Support our mission by becoming a donor today.