Regional Grantmaking
Starting over from the ground floor in Dade County
This is one story from a three-part series on senior centers in rural communities across the CFO's service region.
From county governance to city leadership and even spiritual needs, Randy Daniel, Scott Houston and Missy Netzer have served the Dade County area in a wide variety of ways. It wasn't until a few months ago, however, when they added senior center leadership — roles for which they are volunteering — to their list of responsibilities. Those hats were added after locals asked when the Dade County Senior Citizen Center, which they enjoyed so much, would reopen after a two-year closure.
"We're an older community. This is something our people need — bad," says Daniel, who serves as the senior center board president and Dade County presiding commissioner. "I think we have several people here that this is the only decent meal that they get every day."
It wasn't specifically COVID-19 that caused its closure. Other issues with funding led to an extended shutdown of the facility — and many challenges to overcome as the dedicated trio became leaders with the center and worked to get it back open.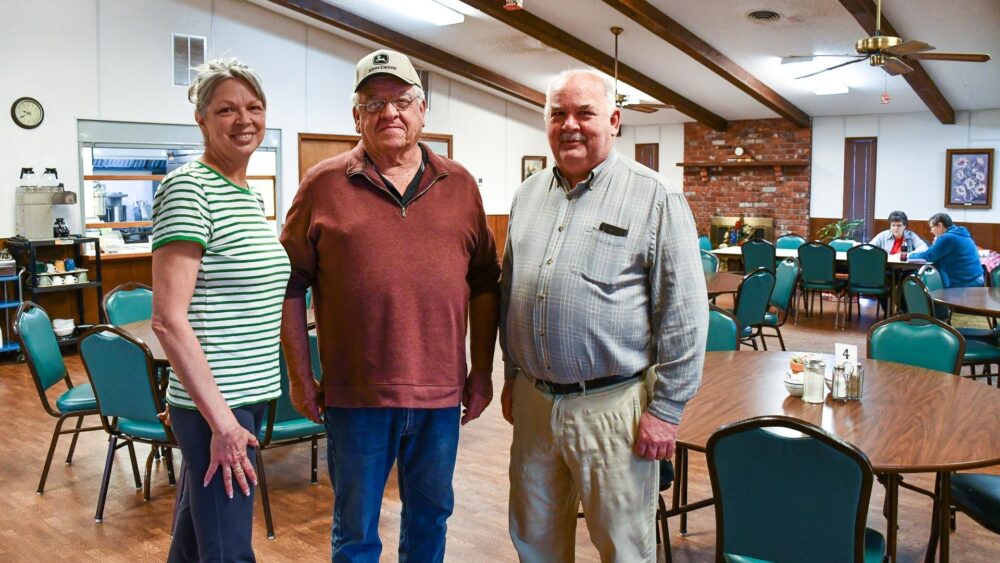 In addition to other roles in community leadership, Missy Netzer, Randy Daniel and Scott Houston serve as volunteer leaders of the Dade County Senior Citizen Center.
"He's with the ministerial alliance. He's the commissioner and I'm on the council," says Netzer, of Houston and Daniel respectively. "I didn't realize that it was totally closed. I thought it was COVID. I started asking questions, and found out he was asking questions. And then I went to a meeting and they were both there. And I went, 'Well, there we go.'"
In addition to the many other issues they've worked to address, another one is beneath them — literally — but also is a foundation on which other work must build: The floor, which dates to 1984 and is original to the facility, is showing signs of its age.
The signs are more than cosmetic. Gouges in the kitchen floor are a hazard for mold and bacteria, and flaws elsewhere present a fall risk to visitors. The issues prompted the Dade County Health Department to tell the center that they must be corrected or it will not be able to operate, its leaders say.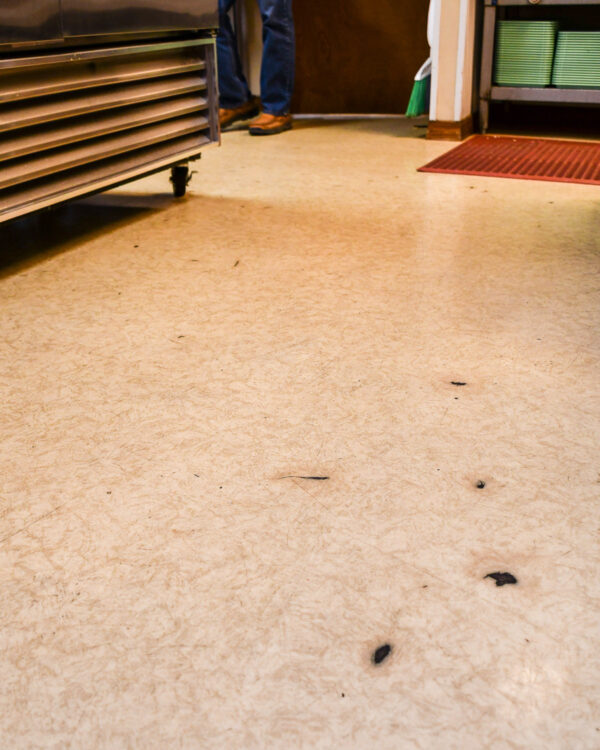 Years of wear and tear to the floor of the Dade County Senior Citizen Center has slowed its reopening.
"Honestly, we need the flooring, and we don't have the money to do it," says Daniel. "It's just that simple. We do not. And it's not anything personal we're benefiting from — we're doing it to try and keep the center open and feed these people who need to be fed."
To help with the issues, the center received a $20,000 Coover Regional Senior Center Support Grant to replace flooring throughout the facility.
In addition to the center's leadership, two others who are excited about the gift by extension are Roz Kaohn and Deanna Fitches, regular visitors who sit playing dominoes on a rainy Wednesday afternoon. They're two of around 90 people expected that day, which is an increase from the norm of around 45 to 50.
Why the increase? It's fried chicken day.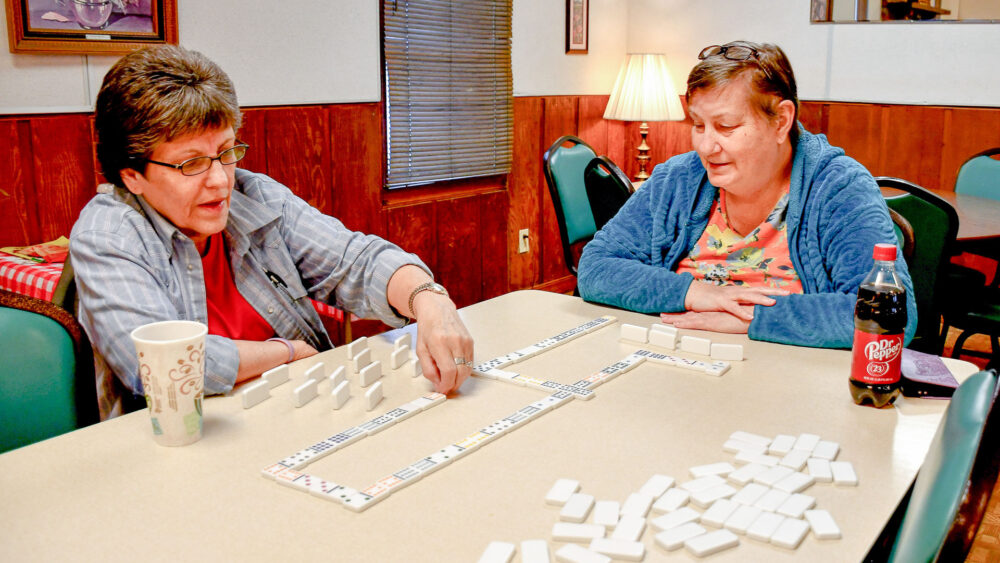 Roz Kaohn and Deanna Fitches are regular visitors of the Dade County Senior Citizen Center.
"There's nothing to do with this town — I mean, if you're old. Well, I'm not old yet, but I'm getting there," says Kaohn, who began attending the center around 20 years ago, emphasizing that you don't have to be a senior citizen to eat at the center. "We've got to have a place to go make friends. You know, this town is dead. There's nothing here."
"Well, don't say that, because we like Greenfield," pipes up Fitches, who began visiting the senior center when it reopened a few months ago. She shares that she loves it so much that she found an apartment within walking distance so she could get there more easily.
"I met these people and I think they're wonderful," Fitches says. "I love them all. Every day, I wake up and this is what I look forward to."
By Kaitlyn McConnell, writer in residence for the Community Foundation of the Ozarks.
Support our mission by becoming a donor today.