Hometown Heroes
Staying home to make a difference in Lamar and Barton County
From banking to blinds to beef cattle, Danny Little is in the business of making a difference.
For more than 25 years, Little was in the financial industry, working his way up to president of Lamar Bank and Trust Company. That time, however, today represents more than a career: It was also an apprenticeship of sorts for the generational Ozarker's work in making his community a better place through business development, job creation and philanthropy.
He transitioned from banker to business owner around 20 years ago, innovating through five different companies as he saw new needs and opportunities. Today, he is the CEO and majority owner of Redneck Outdoor Products, a leading producer of fiberglass hunting blinds in the United States. The company, founded in 2010, intentionally operates from Little's hometown of Lamar, a town of around 4,500 residents and the seat of Barton County.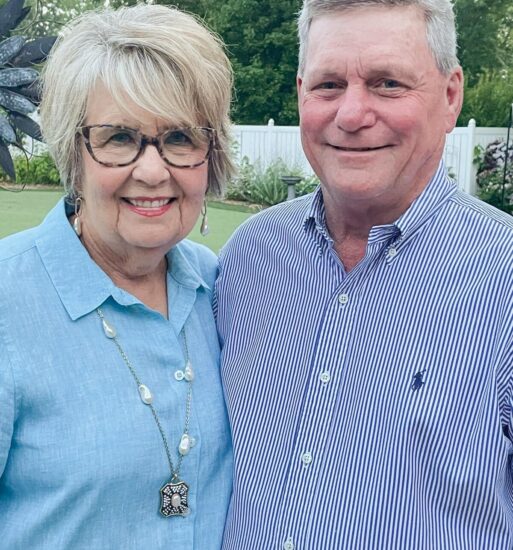 Jewell and Danny Little began their relationship with the Barton County Community Foundation and the Community Foundation of the Ozarks by establishing a donor-advised fund.
"It has been important to me to try to create jobs in our town after the recession from 2007 to 2009 caused us to lose our two largest manufacturing employers," Little says. "I'm very proud of the fact that I think we're the largest manufacturing employer in town, and that's happened in a relatively short period of time. We've only been around for 12 years; we started with eight employees, and now we have over 130 employees."
Danny and his wife, Jewell, also have a mission to give back to the community that has supported them and previous generations of their families over the years. Those efforts are seen through the Barton County Community Foundation, with which the Littles have established a donor-advised fund and several other charitable funds, and most recently through their involvement in founding the Show Me Youth Ag Academy, a unique opportunity for area high school and college students to learn hands-on about the livestock and agricultural business by operating a conception-to-chef livestock and meat operation.
"Giving youth an opportunity to be involved in a hands-on agribusiness operation can give them tools to succeed while hopefully instilling the rural values that have made our country great before they go out into the world," Little says.
"One of my big beliefs in life is that whatever you give, whether it is of yourself, your heart or financially, it usually comes back tenfold. I believe that 100%."
The importance of giving back
Little began to learn of the importance of a giving philosophy from his parents, whom he says instilled in him the spirit of helping others.
"I watched my parents, over my adult life, give of themselves to help others in many different ways," he says.
After leaving Lamar to attend college at today's Missouri State University, the belief was accentuated after becoming a management trainee with the late Ralph Manley, a Springfield business and civic leader and developer.
"He was very instrumental in instilling upon me at a real early stage in life, about working hard, treating people right — and he also was somewhat of a philanthropist himself," Little says. "That's probably where I got my first seed, as far as philanthropy, was from Ralph Manley in Springfield. He was a wonderful man, and I admired him a lot."

---
---
After Little came back to Barton County and took a job at Lamar Bank and Trust Company, he eventually worked his way up to president — a role his father also held. While employed there, he befriended Thomas M. O'Sullivan, one of Little's customers and the founder of the town's largest manufacturing company at that time.
"He worked tirelessly to make sure that the town had jobs and that his employees were taken care of," Little says. "He was also a big financial supporter of the community through his charitable giving and helped inspire and cultivate my desire to help the community.
"Because of my involvement at the bank, I was also witness to some of the efforts of our town's greatest generation to help the community and give back."
The bank to businesses
After 26 years in the banking business, Little left that side of the desk to become a business owner at the turn of the 21st century.
"It allowed me to get a basic understanding of what it takes in business to be successful," Little says of his banking career. "I've been fortunate that I've had lots of great partners along the way and I consider everyone — whether you're a friend, financial supporter or an employee — a partner.
"You can't do stuff by yourself. Without that team, nothing would have happened."
One effort led to the next, and in 2007, one of Little's roles was as a silent partner of a fiberglass auto body company — a difficult business to grow, given the Great Recession. While it didn't work out, the product development and fabrication techniques led to something greater after Little asked a friend in the hunting-goods business if he'd be interested in buying some fiberglass hunting blinds.
"I said, 'Would you give us a shot at some of your business if we build a prototype and come up with a price point that works for you?'" Little recalls. The friend said yes.
"We went to work, and we built a prototype of a blind and we took it to him, and he ordered 250. That first six months, we went to work, and we made 250," he says. "While we didn't make any money that first year, we did learn we had a good product and that it could grow and develop."
Redneck Outdoor Products has grown from producing 250 blinds in 2010, Little says, to an expected 14,000-plus in 2022.
Building to give to others
As years passed and the business grew, Little began to have greater focus on the long-term impact he and his wife could make on the community and the lives of his employees.
Always a believer in the importance of saving for retirement, Little first led the company to found a 401(k) plan with an automatic 4% match of employee contributions. This evolved into an opportunity to eventually turn the company over to its employees.
"I've always been about hometown companies and hometown ownership. I've always been key on employee ownership, because I had the opportunity when I was very young at the bank to become a small shareholder," Little says. "Even though it was very minor, as an owner of what I was involved with, it gave me a different sense of purpose. I felt like whatever I did, if the company succeeded, then I would succeed."
This belief led Little to announce an employee stock ownership program in 2016, which allows employees to have shares in the company.
Each year since, the company has contributed 21% of employee wages to the ESOP. Those funds contributed to the ESOP are then used to purchase shares of Redneck Outdoor Products Inc.
Relying on a community foundation's ability to receive gifts of closely held stock, Little donates his shares of stock that the ESOP needs to purchase to the BCCF/CFO, which sells the shares to the ESOP. The proceeds of the sale are then placed in the Littles' donor-advised fund, which is used to support their charitable giving.
The Littles' donor-advised fund has been actively used to help create other funds under the BCCF umbrella, along with support of numerous completed and ongoing projects within the community.
"It is the hope of Jewell and I that we can help inspire others to give back to the community and those in need so that Lamar and Barton County remain a place that generations to come will be proud of and want to call home," Little says.
By Kaitlyn McConnell, writer in residence for the Community Foundation of the Ozarks · This story is featured in the summer 2022 edition of Passion & Purpose: The CFO Magazine.
Support our mission by becoming a donor today.