Back to School 2022
Funding from the Coover Charitable Foundation funds the addition of exercise equipment for Sarcoxie school employees
"Do what makes your soul happy."
Those words, on a small sign hanging on the wall at Sarcoxie High School, are relevant to all who walk its halls. However, they now speak in a new way this year, since the district's 100-plus employees now have access to workout equipment at school.
Near the small sign, in the room with walls painted purple and yellow, a collection of exercise equipment — including treadmills, dumbbells, elliptical machines and a stationary bike — await use.
"We're always trying to do things to retain and attract teachers," says Phil Lewis, superintendent of the Sarcoxie R-II School District. "We want our teachers healthy, we want our teachers strong. This is kind of an added bonus, a perk, that we're glad that we have."
The equipment was made possible by a $4,900 grant from the Louis L. and Julia Dorothy Coover Charitable Foundation, one of 21 grants distributed to local school districts for mental and physical health needs.
The grants are a collaboration between the Coover Charitable Foundation and the CFO's Rural Schools Partnership, which advances rural education through a variety of programs. The CFO administers grantmaking for the Coover Charitable Foundation, which is managed by Commerce Trust Company.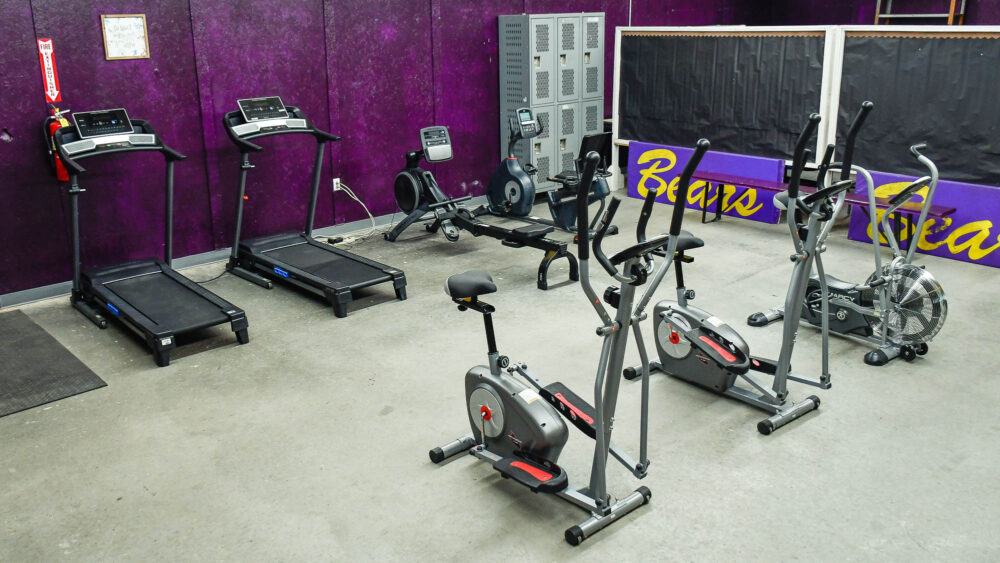 The Sarcoxie R-II School District recently received a $4,900 grant to purchase workout equipment for its teachers and staff. The grants are a collaboration between the Louis L. and Julia Dorothy Coover Charitable Foundation and the CFO's Rural Schools Partnership.
At the southeast Jasper County school district, the funds were used to purchase equipment for both the elementary and high schools, which are around a five-minute drive apart in the small town just off of Interstate 44.
"People compare Sarcoxie to Radiator Springs in the movie 'Cars.' They drive a mile away from it on the interstate, but they never turn off," says Dusty Feather, principal of Sarcoxie's Wildwood Elementary, of the children's movie featuring a town bypassed by an interstate.
While thousands of drivers fly past exit 29 every day, Sarcoxie's R-II's employees are an exception. "I don't know what the percentage is, but we've got a lot that commute from Joplin, even Springfield, Republic," Feather says. "There are some who live here, but not many."
That reality reflects an important benefit the equipment offers, which eliminates the need for employees to make another stop on the way to or from school.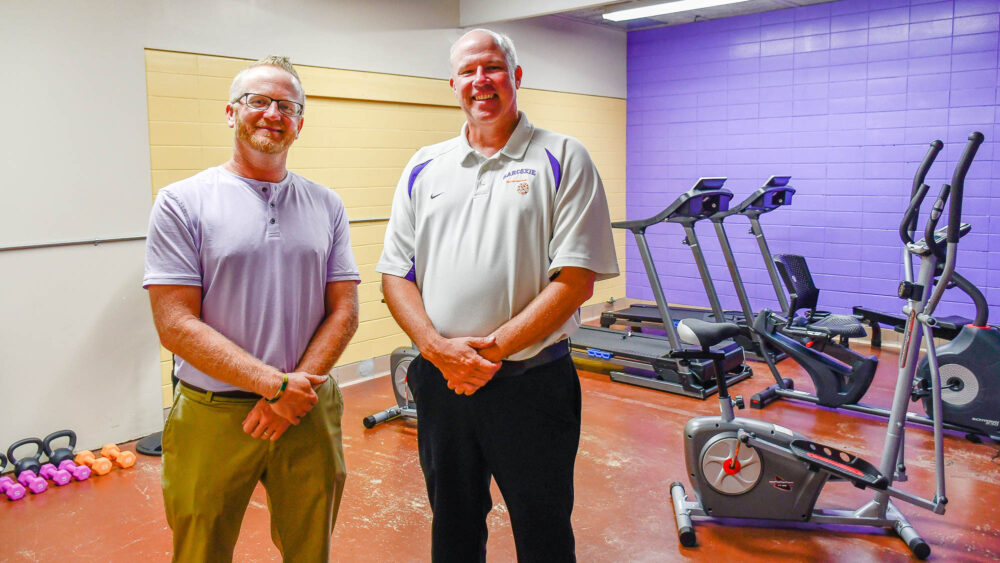 Sarcoxie Principal Dusty Feather and Superintendent Phil Lewis see their employees' hard work, and share their excitement about being able to have fitness equipment on site for their use.
As with many rural communities, it's clear that times have changed for the small town of about 1,400 people, where manufacturing used to be a hub of employment and economic development.
Good things, however, are taking place in the town, which signs proclaim to be the oldest in Jasper County. One example is the Sarcoxie Community Foundation, which began in 2011 and has since distributed $604,000 into the local community. It currently holds 15 funds to benefit various local initiatives ranging from cemeteries to churches to veterans.
"I just feel really blessed that we were able to get this up and running," says Gary Turner, president of the Sarcoxie Community Foundation, of the organization he has been involved with since its beginning. "There are different doors that are opened, not only to the school, but to the city, and to some other not-for-profits, to access those grants.
"It's really been a plus for us. It really has."
A key area of focus through the Sarcoxie foundation, a regional affiliate of the CFO, is its school and students. When the Coover grant funding became available, it was Turner who alerted Lewis to its availability so the district could apply. Those alerts are something Turner says he tries to regularly do.
"It's really good to try and unify your community in different ways," Turner says. "In small communities, it's difficult sometimes to do that."
Like Feather — who graduated from Sarcoxie before returning to teach — Lewis shares an extended connection with the community and local educators beyond his role as superintendent.
He himself graduated from Sarcoxie High School, and was hired there as a P.E. teacher after college. After rising through the ranks, he is going into his third year as superintendent.
"I was born and raised here," Lewis says, also noting his mother was a teacher. "It's just kind of in my blood."
That experience has personally shown him changes in the teaching profession, which has become more stressful than in the past — making the addition of the workout equipment even more welcome.
"We're trying to promote wellness, trying to make sure our staff is as healthy as possible, and we couldn't have done it without the grant," Lewis says. "We're very appreciative."
"It's a tough gig, and we want to help them out as much as we can."
By Kaitlyn McConnell, writer in residence for the Community Foundation of the Ozarks
Support our mission by becoming a donor today.