by Sony Hocklander
With charitable resources through the Finley River Community Foundation, the city of Ozark builds on its small-town charm
Nestled along the Finley River in Christian County, the small town of Ozark features a quaint revitalized central square where boutique shops and restaurants attract residents and visitors. With local enthusiasm for its growing trail system, historic renovations, a hidden spring garden and the Finley Farms development, the attraction is sure to grow.
"It's evident we have people in our community that want this to be a better place," says Gerald Chambers, board president of the Finley River Community Foundation, one of 53 regional affiliate foundations of the Community Foundation of the Ozarks.
When it comes to placemaking efforts, CFO President Brian Fogle believes Ozark has reached a tipping point. "We get enough momentum that it shifts. I think that's what has happened in Ozark. It started with some dedicated folks that started a main street program there 25 years ago to develop those buildings on the square, and it kept building outside of that."
The CFO manages funds established to support many of those projects, and having an affiliate foundation in Ozark has made a difference to the community, Chambers says. "Some of those projects may be more county-oriented, but to us it's all the same. It's still Ozark and we are the county seat. I believe we have a lot of giving and caring people that support all those types of things."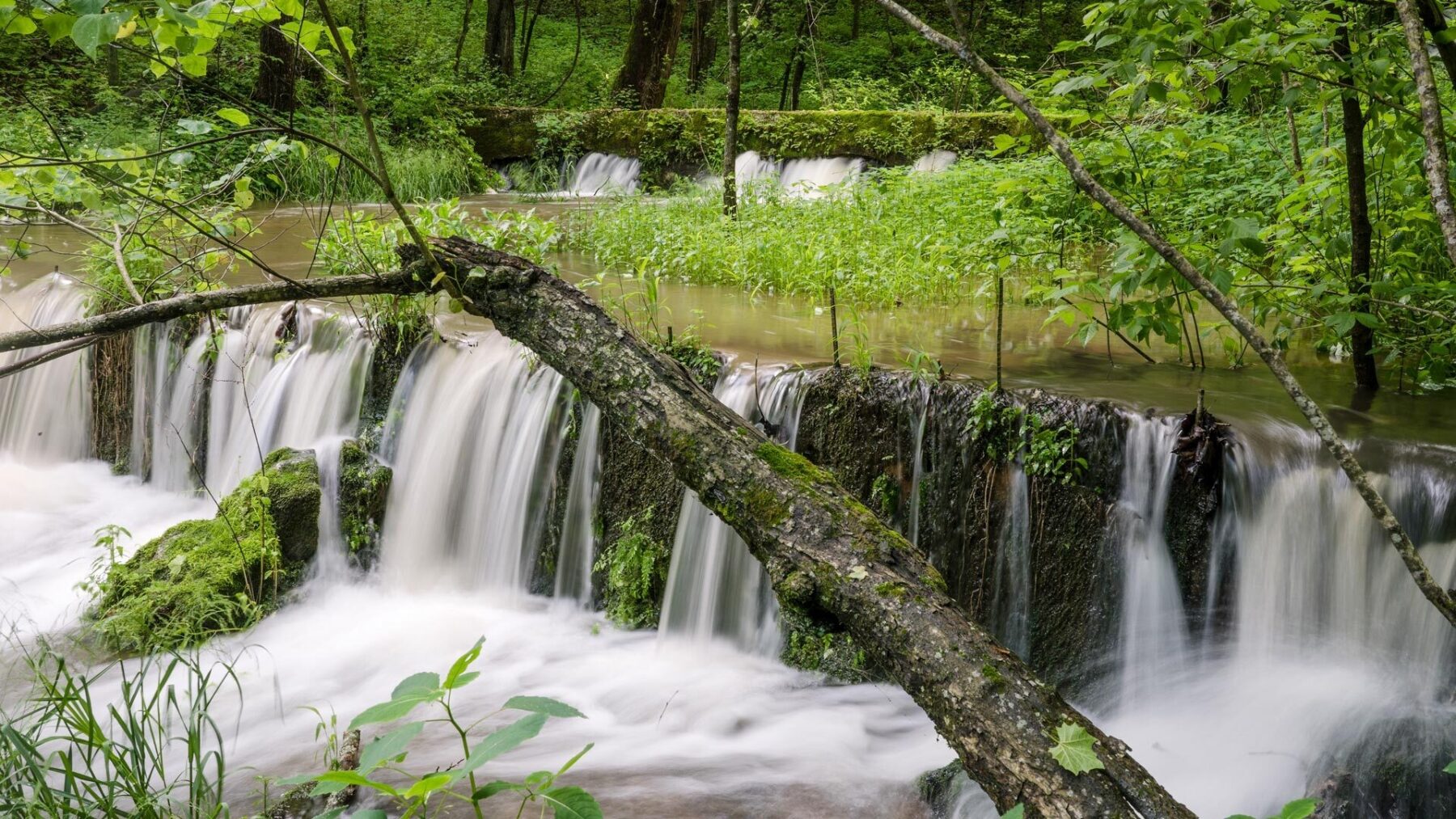 Garrison Spring Gardens and Park was recently acquired by the City of Ozark and will be supported by the Friends of the Garrison Spring Project Fund, held with the Finley River Community Foundation and the CFO. (Photo by Sony Hocklander)
Ozark's secret garden
One of those caring people is Elise Crain, a town historian who is passionate about preserving Garrison Spring Gardens and Park, a serene, nearly 10-acre green space with an abundance of songbirds, a cave and a rambling creek fed by three pretty springs. Named for the Garrison family who originally owned the land, it's tucked like a secret garden into the urban landscape. It's been the backdrop for photos, a lunch spot for ladies and a place to find peace. "I don't think anyone intentionally kept it a secret," says Crain of the local green space. "It's just one of those things that's always been there."
Until recently, the land was privately owned by the Ernest and Mary Lou Braswell Trust. When Mary Braswell suggested the city buy the property for public use, city officials found a way. At the end of 2020, two grants helped to acquire the property, says Deputy City Administrator Samantha Payne. One came from the Missouri Department of Conservation; the other from the U.S. Department of Agriculture Forest Service Community Forest Program.
But grants only go so far and public funding is limited. That's where the Friends of the Garrison Spring Project Fund comes in. Recently established with the CFO and the FRCF, the fund can help with amenities like adding a gate, fixing bridges, building trails and more. Payne says that help is vital: "Without those private donations, it would take us a while to get it open for the public to enjoy." The philanthropic support is also a way to generate enthusiasm for the park. "Hopefully with partnerships, we'll be able to turn it into something really beautiful that a lot of people can enjoy," Payne says.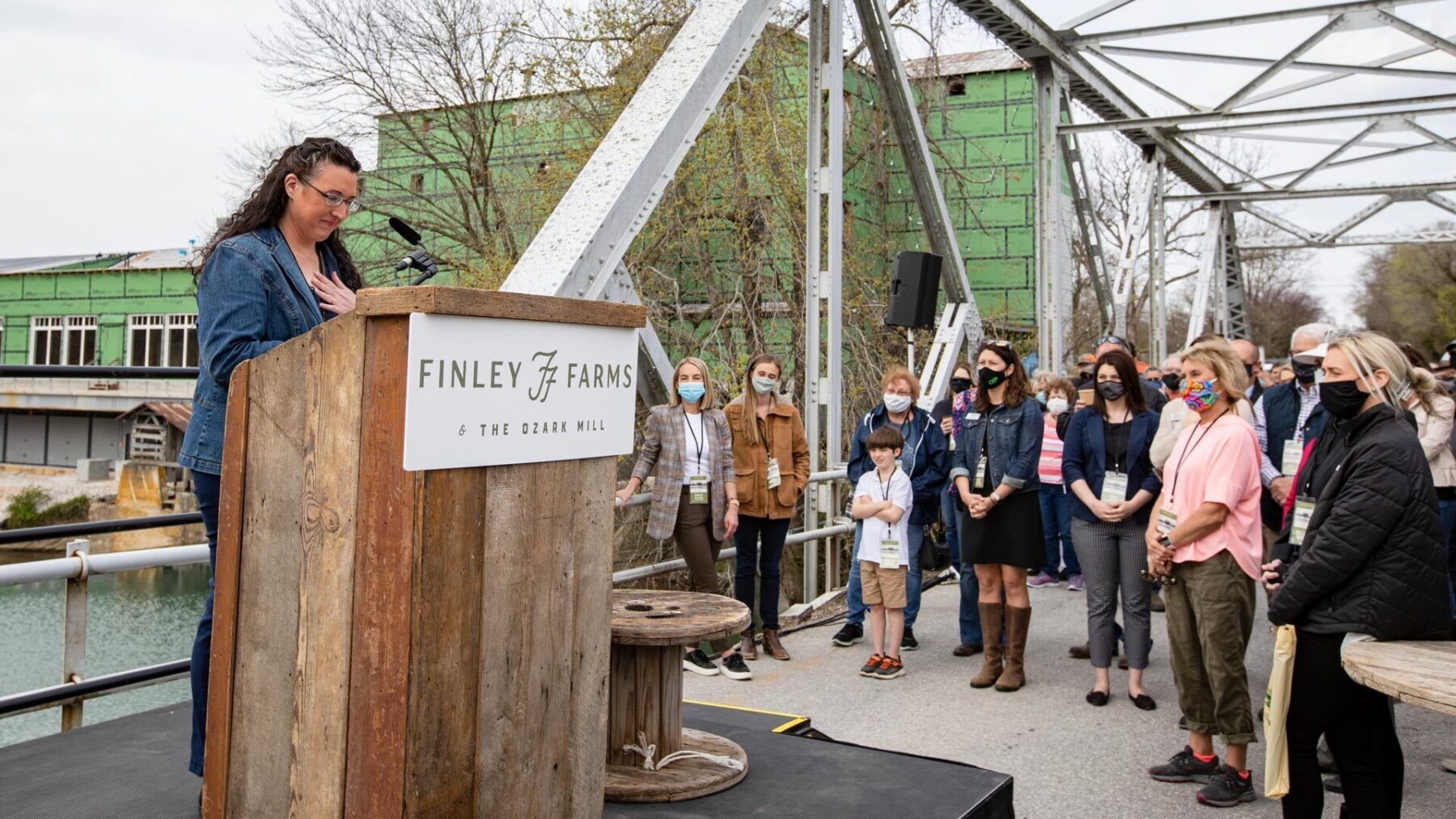 Beginning in 2010, Kris Dyer led the community effort to save the Riverside Bridge, which was recently relocated by the old Ozark Mill in the Finley Farms development. (Photo courtesy of Finley Farms)

Making the connection
In 2018, the historic Riverside Bridge, more than 100 years old, was awarded to the Morris family for Finley Farms by a selection committee made up of the State Historic Preservation Offices, Ozarks Special County Roads District and Christian County. "The Morris family is incredibly passionate about history and preservation and the natural beauty of the area," says Dayle Duggins, Finley Farms marketing manager. "They thought that this would be a great way to create an enhanced outdoor recreation opportunity in the Ozarks. And also a way to keep this bridge as part of Ozark's rich history."
It wouldn't have happened without local resident Kris Dyer, applauded at a March bridge-raising event for leading the charge. When Dyer learned in 2010 the flood-damaged bridge would be torn down,"my heart just broke because I love local history," she recalls. Dyer started a Facebook page and began hearing from news outlets. With advice from the Missouri Alliance for Historic Preservation, she applied to make the bridge eligible for the National Historic Register, which blocked destruction. Meanwhile she worked steadily to generate public support through a project fund established with the CFO and the FRCF that helped her with fundraisers and supplies to keep her cause active. That fund was integral to her team's effort, Dyer says: "It was easy to sign up and I didn't have to form my own nonprofit."
Dyer is thankful the bridge will be renovated as part of Finley Farms. There it will act as a pedestrian footbridge between the Ozark Mill and a wedding chapel when not in use for private events, Duggins says. Eventually it will become part of a larger trail system that connects to the Chadwick Flyer trail, another passion project in the works.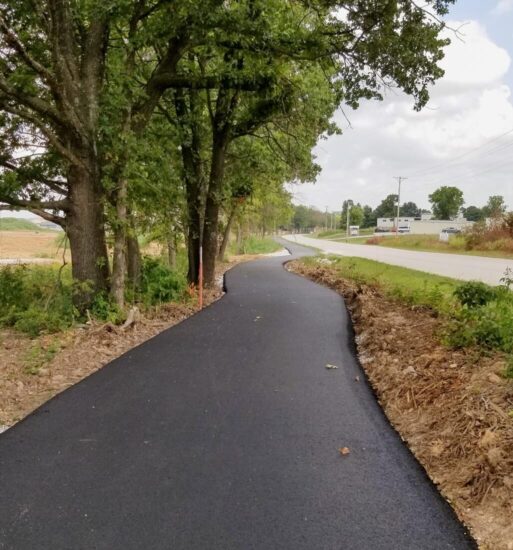 The planned Chadwick Flyer trail will run from Lake Springfield to the Ozark Community Center. A nearly one-mile section is already complete. (Photo courtesy of Ozark Greenways)

Rail to trail
If local trail and rail enthusiasts have their way, the eight-mile Chadwick Flyer rail bed will find new purpose as a bike and walking trail that connects Springfield to Ozark. A project of Ozark Greenways, the effort has picked up steam, according to Executive Director Mary Kromrey. That's why the Chadwick Flyer and James River Greenways Trail Fund was established through the CFO with a designated gift. A special fund allows enthusiasts to designate gifts and generates more interest, Kromrey says. That's especially important when a project will take several years to complete, she adds.
Proposed by a small group in 2016, the idea gained momentum and energy grew between the two communities, Kromrey says. Running from Lake Springfield to Ozark, the trail will connect to the Finley River Trail and continue from there to other placemaking attractions including Finley Farms and the Ozark Mill, the last place the old rail line serviced. Enthusiasm for the trail is high, Kromrey says: "It's just got a life of its own."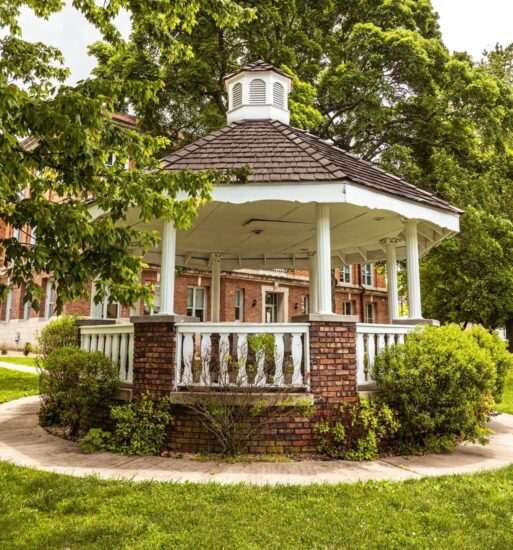 Ozark's Impact 100 giving circle supported renovations to the iconic gazebo. (Photo by Sony Hocklander)
City centerpiece
Users of the future Chadwick Flyer trail will easily connect to the Ozark Square. Efforts to revitalize the downtown area include renovating its historic centerpiece gazebo. Abbye Torgerson-Bobbett of Torgerson Design Partners is vice president of the Ozark Historic River District board. She says renovation wouldn't be possible without a $30,000 grant the board received from Ozark Impact 100, a giving circle fund held at the CFO and the FRCF. In addition to restoring and expanding the gazebo, the board plans to add Wi-Fi via the Christian County Library and audio-visual equipment to make events possible.
While the grant will cover construction, the HRD in mid-March launched a campaign to fund the A/V equipment, furniture and landscaping, Torgerson-Bobbett says. Using the CFO's online giving platform, community members could donate $100 through the end of June for a personalized brick paver on the west-side patio. It's a way to leave their mark and support the placemaking effort.
"Businesses are doing it, families are doing it — some are doing it in loving memory of people who have died," she says. More than $10,000 was raised through online and direct donations.
Torgerson-Bobbett is excited about the placemaking projects she sees happening around Ozark.
"It makes me so excited about our community because we look for a place that has the energy where you can live, work and play – where you don't have to go to Springfield or Branson to get amenities like this," she says. "And I think it brings a lot of visitors here and improves our economy as far as tourism goes. It all goes hand in hand when talking about making Ozark a better place."
This story is featured in the summer 2021 edition of Passion & Purpose: The CFO Magazine.
Support our mission by becoming a donor today.