Ozarks Teacher Corps gathers for place-based training
Future teachers learn more about helping students absorb the world around them 
Rural Schools Partnership
Embracing where you are
From western Missouri to West Plains — and beyond — the Ozarks shows its distinctiveness through each small community and county along the way. Like the individual people who live across its hills and hollers, those places and personalities are key to the region's uniqueness, helping people feel connected to where they live.
Such thoughts came through in late October, when college students in the Ozarks Teacher Corps, a special scholarship program of the Community Foundation of the Ozarks' Rural Schools Partnership, gathered at the Springfield Art Museum.
They were there for a training led by Bridgit Reichel, a professional learning coach with the Teton Science Schools Place Network. The program focuses on place-based education — a fundamental element of celebrating and recognizing the good in small communities.
"Really, the purpose of it is to connect kids to their community," Reichel says. "To get kids really connected with where they live and to learn from that — because ultimately the experience is a lot more authentic and kids are a lot more engaged."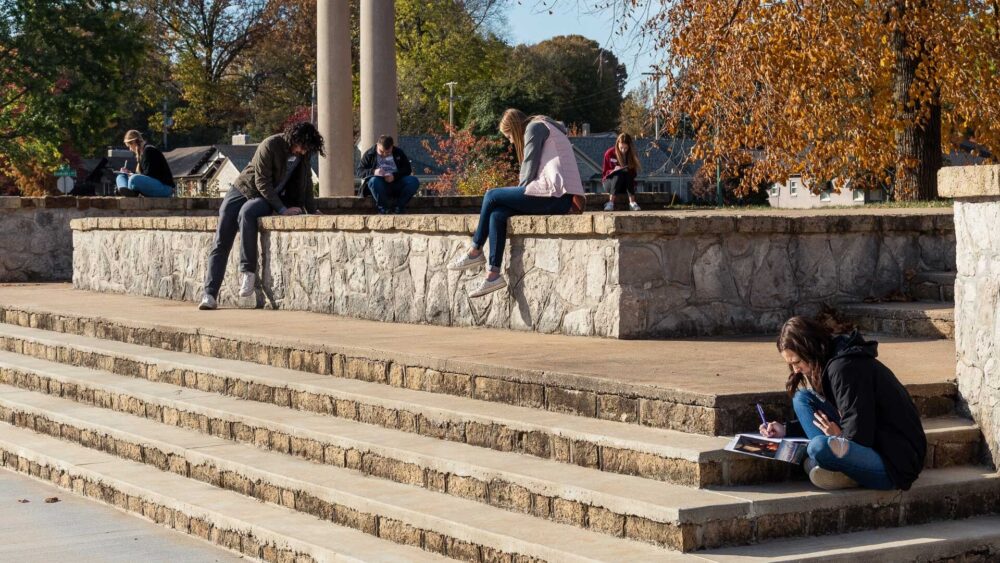 Students spent part of the morning outside to begin their day of place-based education.
About Ozarks Teacher Corps
The Ozarks Teacher Corps began in 2010, and is part of the CFO's Rural Schools Partnership, an initiative that links rural schools and the communities they anchor through principles of place-based education.
Rising juniors attending Missouri State University and Drury University in Springfield, Missouri, Southern State University in Joplin and Southeast Missouri State University in Cape Girardeau who are majoring in education may apply to join the Ozarks Teacher Corps, which offers a $2,000 scholarship, renewable for a second year.
In order to join the program, scholarship recipients must agree to teach for at least three years upon graduation at a rural school district in the region.
"The biggest asset to our Ozarks Teacher Corps program is our passionate and dedicated college students majoring in education who want to make a difference in our rural communities," said Beth Hersh, director of scholarships with the CFO. "These college graduates are committed to making a difference in their classroom and are great mentors to their students."
According to a 2019 study conducted by the Rural Schools Collaborative, conducted by the Rural Schools Collaborative, a CFO agency partner and national advocate for rural public education, participants had a 92% placement rate, with about three-quarters still teaching in the districts they joined after graduation. Most planned to continue their careers in a rural setting.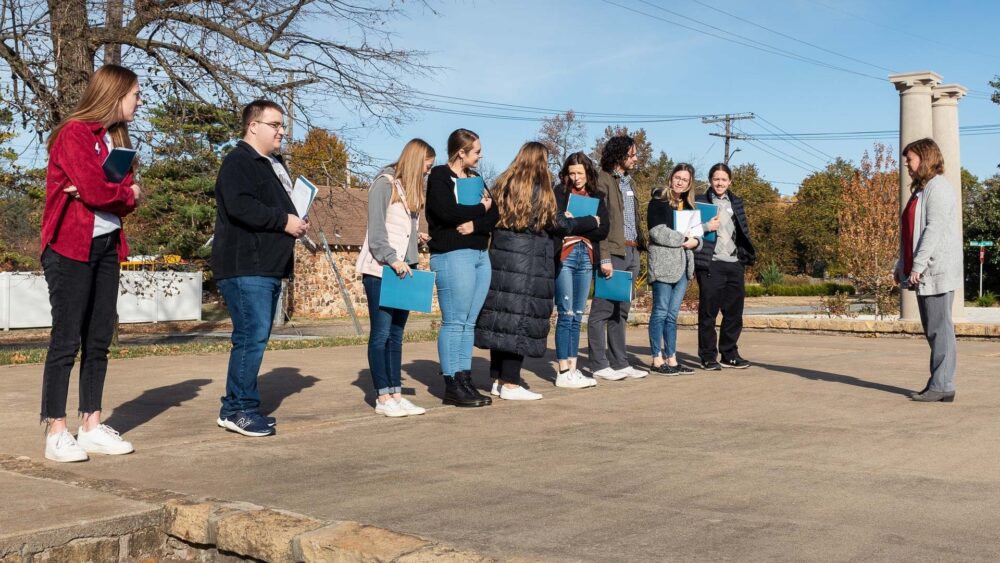 Pairs of students chatted to learn about each other and places of importance in their lives before sharing with the greater group.
Learning where you are
The training day began at the Springfield Art Museum, where, after a welcome, the soon-to-be teachers went outside. Reichel divided the group into pairs to share their stories — and photos of a setting they defined as "their place," and why the images meant something to them.
"Her favorite thing is painting," said one student of another as they stood near the museum's concrete columns. "She loves to be outside and paint, and she likes to go on walks."
"His place is Eureka Springs," another student remarked. "He talked about how there were purple chimneys there, and you can smell the old book smell."
"Her picture was out her front door, and you could see the road, and it was like a sunset. Her road was a paved road," said another future teacher.
While elements varied, they tied to a common theme: Defining details about the world around them.
"Place can have a really powerful connection with us," Reichel said. "It can really instill a lot of memories, it's vivid in our mind, we remember it. The more we try to connect our learning experiences with our students … they're more likely to remember. Perhaps more than if they were sitting in a classroom.
"This is one way that you infuse place-based education into the curriculum. That's why we're here, because I'm attempting to model it for them. This is your experience as a university student in a place-based education experience and how could you take this and transform this experience to students in your classroom?"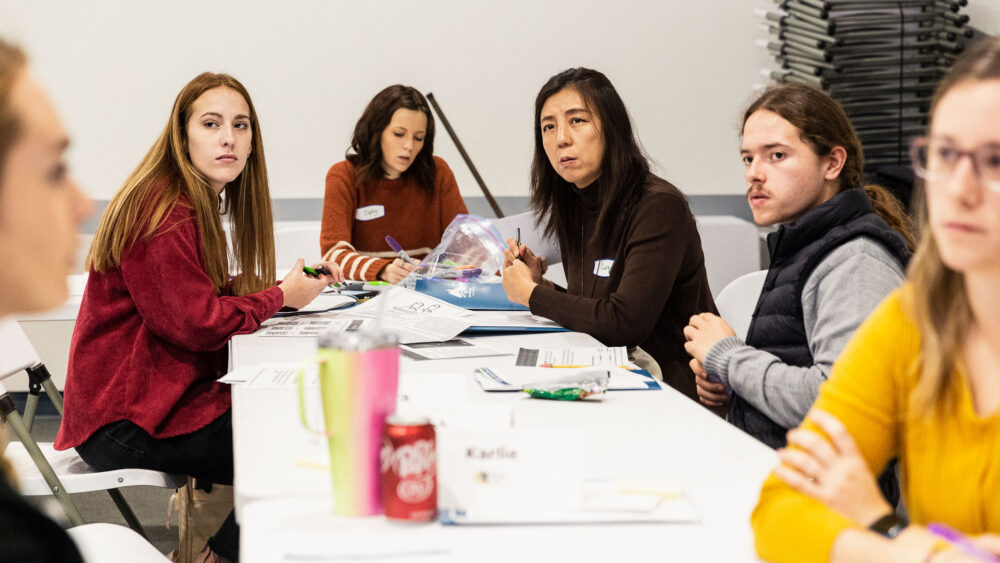 Students broke into groups as they worked through place-based learning initiatives.
The rest of the morning was filled with exploration of principles of place-based education and their connection to art. After lunch, students visited the museum's galleries and drew reflections on what they saw around them.
"It always kind of circles back to things you notice and wonder about," Reichel said.
"I taught for 20 years — there's a time and place to get up, do the lecture; they work on a worksheet or out of a textbook. That's not very engaging or interesting to kids. You want to get them out into the community, learning about where they live, and learning from that experience. This is a lot more engaging for them."

---
---
During a moment of pause, Christin Gayer and Madison Goucher, both juniors from Missouri State University, shared their experience with the Ozarks Teacher Corps program.

"It's been fun — I learned things I can use in my classroom in a year, so that's going to be nice," said Gayer.
"Connection to everything … and bringing that into your classroom," added Goucher. "I have a little while before I start teaching, but it is good to know and to start thinking about. There are so many things you can do with it…"
"...Even that they don't teach you at school," finished Gayer.
By Kaitlyn McConnell, writer in residence for the Community Foundation of the Ozarks
Hear more from Ozarks teachers
"Making a Difference," a story series on KSMU that's sponsored by the CFO, is currently featuring stories of rural teachers throughout the Ozarks. Click here to listen.
Support our mission by becoming a donor today.