Learning with eyes, minds and hearts
Central and Fordland high schoolers participate in day-long exchange program
Oct. 19, 2022
Rural and urban students learn from one another
All it takes is a few miles of rolling down Ozarks roads away from Springfield to feel like there's been a shift from one world to the next. Window views exchange city scenes for rural, and buildings and stop lights for farm fields and open spaces. With those sights come different experiences for folks who live there — but, in some cases, ones that are more similar than expected.
Those realities were explored by high schoolers from Springfield's Central and Fordland when groups visited each other's schools earlier this month. For Central, it was the Step dance team that made the trip to Webster County, and at Fordland, students in a leadership class participated.
The idea for the exchange was developed by Armando Johnson, a world language teacher in Spanish and Equity Champion at Central High School, who began conceptualizing the idea a few years ago.
"When you're having conversations with students, a lot of times they don't really realize the value of growing up in a small town," says Johnson, who spent his early years in education in smaller communities. "Even though it may be smaller, there are so many things that are similar to what they experience.
"I wanted to see the stereotypes they had disappear."
The day-long experience, titled "Step in Their Shoes," was funded by a $2,000 Ozarks Inclusive Opportunity grant from the Community Foundation of the Ozarks. The initiative, now known as the Inclusion and Belonging Grant Program, supports smaller grant requests to ensure the representation of diverse voices in community conversations, engagement and leadership.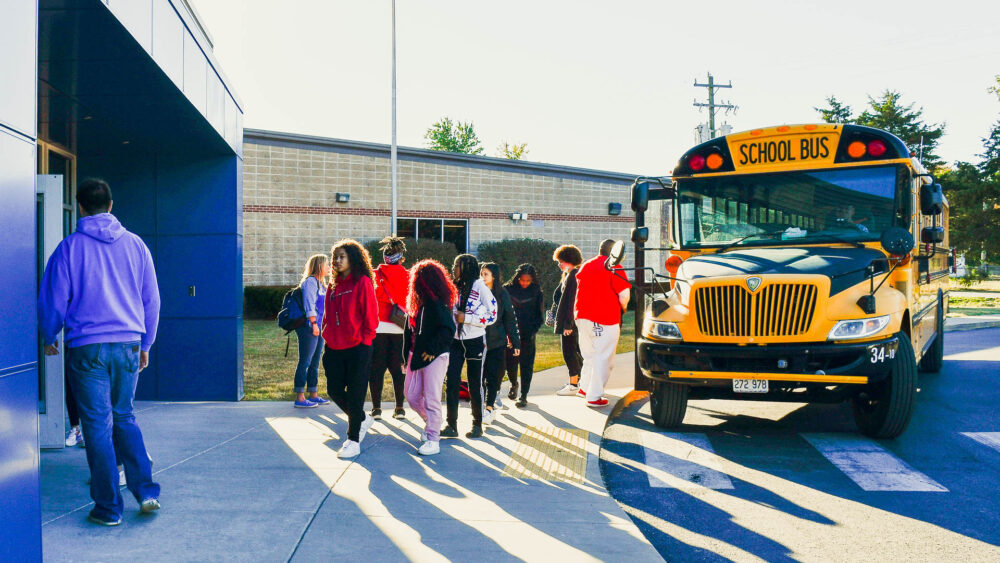 Students from Central High School traveled to Fordland High School as part of a day-long exchange program. Later that day, students from Fordland also traveled to Springfield.
Arriving at Fordland
The day broke with bright sun in Fordland, a community with around 800 residents in rural Webster County. About a dozen high school students came out to the school's main entrance with Misty Grandel, an English, Spanish and leadership teacher for the Fordland district, who helped organize the exchange with Johnson.
"I think that it's going to be kind of a culture shock," said Grandel, who graduated from Fordland herself in 1990. "Of course, our kids are in Springfield all the time. But that doesn't necessarily mean that they go into the neighborhood where Central is — although they know where Drury is, they understand where Central is located. I think that I think it's going to be really good for them to see the class sizes, and just the differences."
As the Central students unloaded from the bus, the two groups greeted each other — "Thanks for having us," one person said — and walked together into the brick high school. In the entrance, they pass walls lined with banners celebrating students' accomplishments. Many tie to Beta Club, a youth leadership organization, while another sign made of blue paper welcomes the Central students to Fordland.
In a nearby room, students and leaders begin with introductions.
"Ask them any questions you want, and they will do their best to answer them, especially about the classrooms and what it's like to be at Fordland," Grandel said. "Hopefully they'll ask you some questions as well."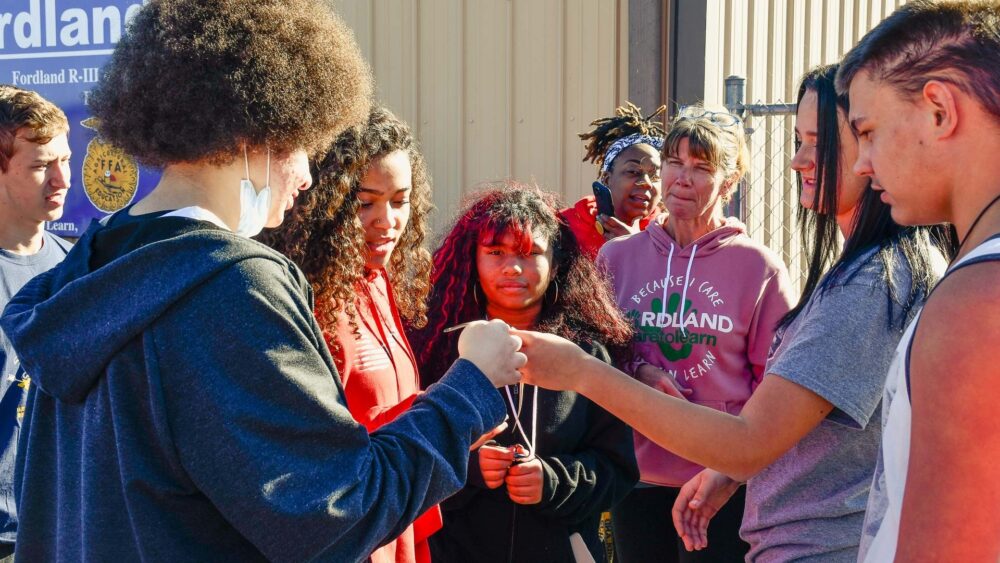 Students examine a snake at Fordland High School during the exchange program.
Next came a tour of the school: The library, greenhouse, band room and science classroom were only a few stops, where the Central students learned more about the rural district.
"In a place like this, the cool part about the culture of this school is that usually that leans more towards you supporting the people even though they might do things that you don't like, or they might rub you the wrong way," said Shawn Vomund, the band director, pausing from the podium to speak to the group of being in a small, rural community. "I think people in this school tend to support them because they know what they're going through. They know their family situations. They know people they live with. They know the area where they live. And there's a little bit more empathy there, at least from my perspective."
Those were thoughts echoed by Fordland students, including junior Shelby Thomason.
"I feel like around here it's a really tight-knit community," Thomason said. "It's important to see the difference and how it is in urban areas."
Between seeing the science lab and the FFA leader trying to explain the definition of a section of land (640 acres), a surprise to some was the space. In one sense, it was the physical makeup of the building, which was more modern than some expected (and growing, said Grandel, describing a gym that's set to rise in the coming months).
It also was seen in comparison to Central, which has many more students than the Webster County school. For comparison, Fordland High School's 2022 graduating class was 29, while Central's was 366. Another comparison, Central's freshman class is larger than Fordland's 6 –12 grades combined.
The schools, though, are similar in places that counts. According to the 2022 U.S. News & World Report, Fordland ranks fourth academically in the Springfield metro area, and Central comes in next at fifth.
"If you think about it, these schools are so different in size and a lot of things that they do, but academically, when they're ranked, among their students, they're number four and number five," Johnson said.
Another similarity is seen through the teachers leading this effort: Grandel was named Missouri's 2020 Teacher of the Year, and Johnson was a finalist for the same award in 2021. Those connections are how the teachers began discussing the concept for the student exchange, Grandel said.
"This project was one of my initiatives that I was getting ready to carry out before COVID," Johnson said. "I didn't know if I would ever be able to carry it out until Dr. Yvania Garcia-Pusateri, Chief Equity and Diversity Officer for Springfield Public Schools, informed us of the CFO Inclusive Opportunity Grant. I thought I'd give it a shot for the kids and the rest is a 'step' towards history."
After the tour was complete, the Fordland High School student body gathered in the gym for an assembly, which began with a performance by the Step team. The dance style features synchronized percussive movements and routines, and also ties to storytelling and communication in African- American tradition and fraternities in historically Black colleges and universities.
The group of girls "strolled" onto the gym floor, where they showcased Step.
"Our motto, our saying, is 'one family one sound'," said Dr. Ashley Felton, student intervention administrator for Springfield Public Schools, during the assembly. "That's why they took the last step together and strolled out together."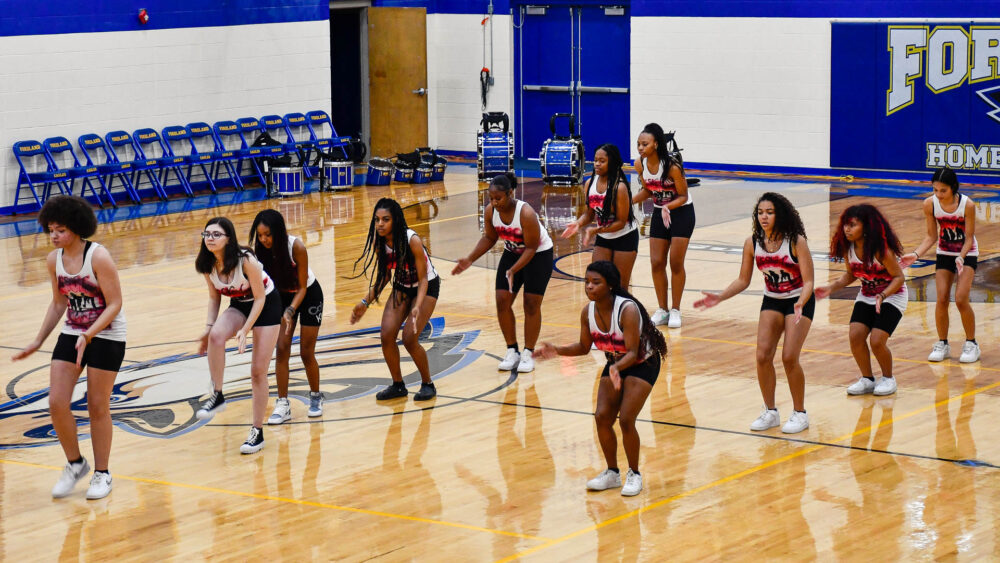 Central's Step dance team performed at Fordland High School, bringing rounds of applause.
Heading to Central
Back on the bus to Springfield, the students traveled to Chick-fil-A for lunch and the chance to visit and mingle before they headed to Central.
Even with its modern updates, entering Central is like taking a step back in time, with vintage character found in penny tile, hardwood floors and transom windows — a portion of the school dates back to 1893. Another defining element of Central is its International Baccalaureate degree program, an initiative through which students undergo rigorous studies and have the opportunity to earn a globally recognized diploma.
Those accelerated studies were also a comparison referenced between the districts: While Central offers an IB education, Fordland gives students the chance to take Advanced Placement courses.
The group broke off into micro tours as they explored nooks and crannies of the facility. Stops ranged from as routine as the cafeteria — where lunch options are far more extensive than in Fordland — to the school's various wings.
There's a small greenhouse located on the roof of the building that even teacher Johnson was "today years old" before learning of its existence. There are other services for the school, such as its food pantry, made possible by the teachers and Parent-Teacher Student Association.
One of the Central tour guides was junior Sandriana Sanders, who was particularly fond of a lounge seating area at Fordland.
"It's something different. I get to see a different perspective from students in their school and how our schools vary, and how our schools also are alike," Sanders said.
What are her hopes for the Fordland students to take away from her school?
"Maybe to bring Step into their area as well," she said, "and probably learn about the diversity of the school, but also about our IB program."
That diversity is something Johnson also hoped students would take away from the visit to Central.
"That was one thing that I wanted them to see from our school — how much diversity that there is at Central High School," he said. "There are so many different walks of life.
"In our school, we have everything. When you deal with different nationalities, different genres. I mean, you name it.
"Our kids are free to express themselves, you know, within reason. And those are things that I wanted their school to see."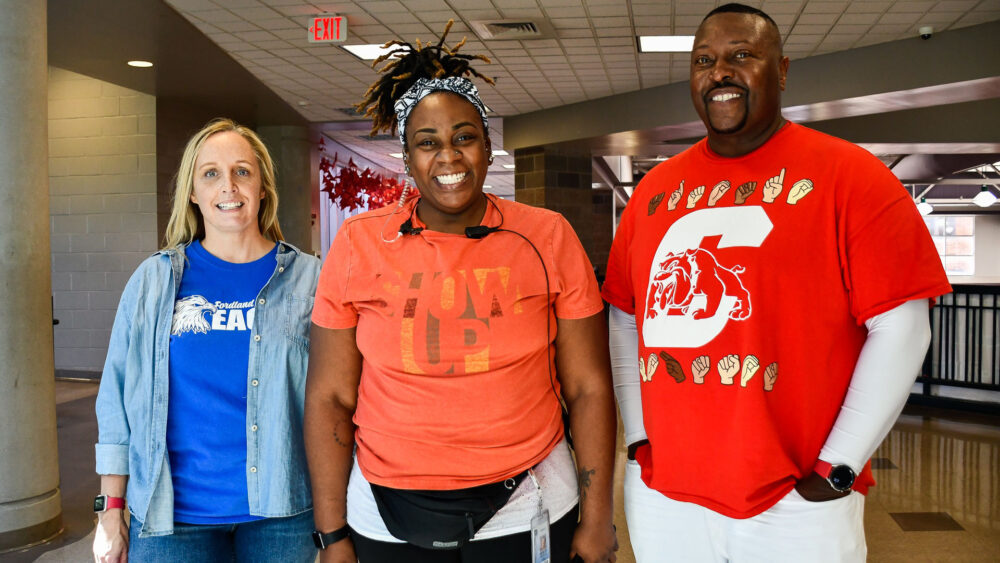 Misty Grandel, Dr. Ashley Felton and Armando Johnson helped organize and execute the exchange program.
At the end of the day, students and leaders gathered in Central's media center to debrief on the experience.
Around tables, the size differences come up again. A key metric: Fordland's few stairs, while Central is "huge and there are tons of stairs, and they're everywhere."
"It's tiny," a Central student says of Fordland.
When Central Principal Jeremy Brown came by to welcome the exchange students, he was also told about a high-priority space seen at Fordland:
"They have a lounge area, and we need that."
Looking back at the day's completion, Johnson says he hopes similar events can take place in the future.
"I just think it's something that helps our kids grow," Johnson said. "Being able to go out into the world will see that there are kids who are different from them, but they also share similar experiences."
By Kaitlyn McConnell, writer in residence for the Community Foundation of the Ozarks
Support our mission by becoming a donor today.