Back to School 2022
$5,000 Coover grant helps stock sharing closet with toothbrushes, socks, other essentials
Roads roll through the hills of Howell County to Koshkonong, a small town known a century ago for its peach production. The sweet fruit once grew prosperity, keeping local folks working — as well as others coming into the area — at its peak in the early 1900s.
As Koshkonong's status as a fruit hub faded into the past, the town near the Arkansas state line of a couple hundred people has seen change. Many jobs left with the last loads of peaches, leaving the community far fewer employment opportunities.
"It's very impoverished," says Kristin Turnbough, school counselor at Oregon-Howell County R-III School District's campus in Koshkonong, of the community's current reality.
A few jobs are available at a gas station and the Dollar General. The school is an employer, and there's a meat-processing plant, a vet clinic, and some lumber-related work. Others might drive to jobs in West Plains, a larger community about 15 miles away — if they have transportation, which ranks up with reliable childcare as top barriers to employment throughout the region.
That's about it, Turnbough says, and even when both parents work, income may not be significant.
"One might work in McDonald's in Thayer," a town around 10 miles away, "and one might work at the gas station," she says of parents' jobs. At other times, they work seasonally and "they just don't have enough to get through the year."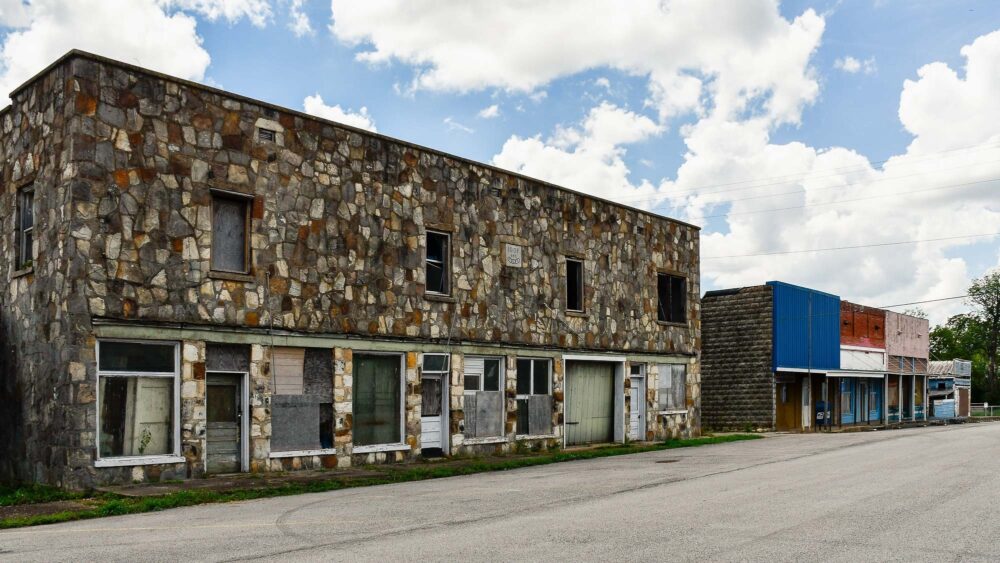 Koshkonong is located in Oregon County near the Arkansas state line. Once a hub for peach production, economic opportunities today are limited in the small town.
At $32,766 a year, median family income in Oregon County is nearly half of Missouri's figure. The unemployment rate is about 45% with a corresponding poverty rate of 26.3%, according to the U.S. Census Bureau's 2020 Census and American Community Survey. That reality translates to need at the school in Koshkonong, where students may not have basic hygiene and clothing supplies.
To help, a $5,000 grant from the Louis L. and Julia Dorothy Coover Charitable Foundation will pay to stock basic items — such as toothbrushes, toothpaste, deodorant and more.
"New socks," Turnbough says of another needed item, "because a lot of them don't have socks. I know mismatched socks are kind of a thing now, but these kids don't have socks." The closet generally contains items that aren't available with government assistance such as food stamps. Other items may simply be things to which students don't have ready access. It's all in an effort to improve the academic success of students and help them avoid the mental trauma associated with bullying.
The grant was one of 21 made to rural schools throughout the Ozarks to support physical and mental health needs of both students and staff. The program is a collaboration between the Coover Charitable Foundation and the CFO's Rural Schools Partnership, which advances rural education through a variety of programs. The CFO administers grantmaking for the Coover Charitable Foundation, a private foundation managed by Commerce Trust Company.
While the need in Koshkonong is overarching, the specific idea for the closet arrived organically, evolving from a can-do and community attitude — and a family of several children with clothing that had been loved pretty thin.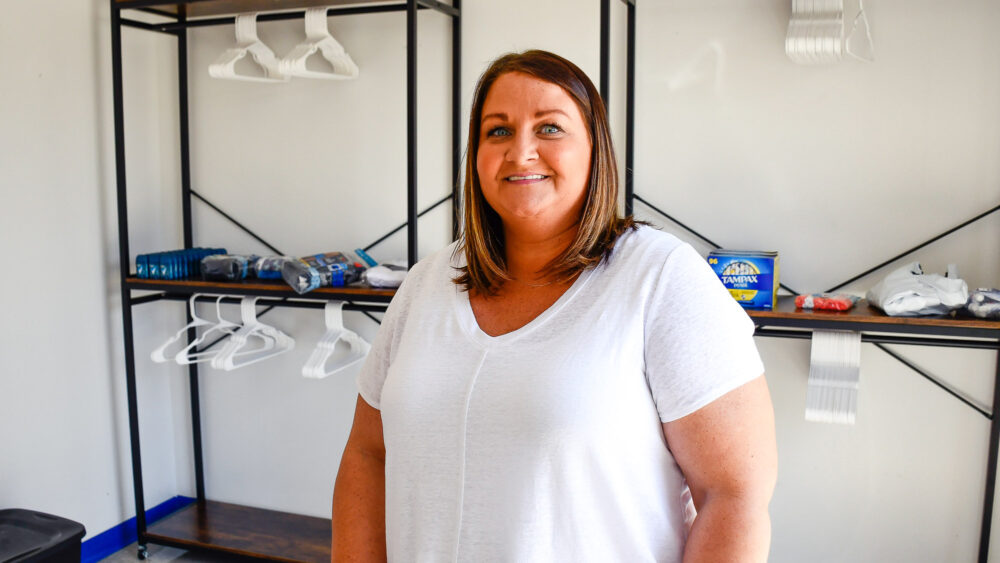 Kristin Turnbough, school counselor for the Oregon-Howell County R-III School District, shares about the need for basic clothing and hygiene items in Koshkonong. The shelves behind her will hold items purchased through a grant from the Coover Charitable Foundation.
"They were wearing hand-me-downs, and by the time it reached the fourth child, they were worn out, essentially," Turnbough says. After reaching out to the family — a working man with small children — to help, the school staff and community members were mobilized to a new level.
"We started bringing things from home," she says. "We had a couple of kids who needed belts, so we'd go pick them up at thrift stores, or rummage our closets at home.
"Last year we had a girl that went to college. She was going to the dorm, and her mom said, 'Whatever you're not taking with you, you bag up and we donate.' So we were really able to service a lot of girls that way. With boys, it's a little more difficult. I think boys wear their clothes out more so than girls do. So, we're always looking for boy stuff."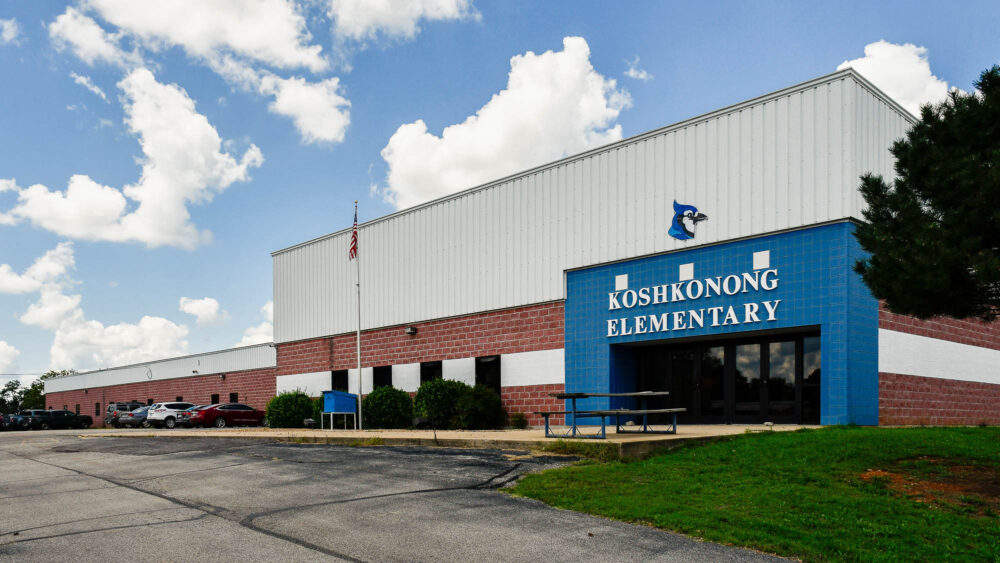 The sharing closet is located at Koshkonong Elementary, but its resources are available to students throughout the district.
In tight-knit Koshkonong, many of the school's educators have personal ties, longtime connections and deep commitment with the community.
"We're all pretty much from here," she says of most of the school's staff. "We have some who drive down from West Plains, but born and bred in West Plains. There's not much move-in here, because we don't have much to offer. But it makes us better, I think, because we've been in students' shoes. They don't realize, it was years ago, but we've been there."
Turnbough, too, is from Koshkonong. Inside the closet, reached by shiny halls all at the ready for students and the new school year, she shares her own connection to the school and its students.
"I never wanted to leave. I just had to figure out something to do to earn a living," she says of her desires growing up. After her daughter entered school, she decided education was where she was meant to be.
"I did some volunteer work when she was in kindergarten and first grade and that was an 'aha moment' if you have one," Turnbough says, looking back. "I didn't grow up privileged, but we always had enough. But to see such a need at such a kindergarten and first-grade level, I just wanted to do what I could."
By Kaitlyn McConnell, writer in residence for the Community Foundation of the Ozarks
Support our mission by becoming a donor today.