Back to School 2022
Coover grant supports sensory classroom, materials at Sparta Elementary
Sometimes we all need a moment. A few seconds can make all the difference in getting back to balance, allowing us to move forward with the day in a productive way.
That understanding now has greater financial support at Sparta Elementary. The eastern Christian County school recently received a $5,000 grant from the Community Foundation of the Ozarks and the Louis L. and Julia Dorothy Coover Charitable Foundation to purchase items for a sensory path and classroom.
"Even just since I started teaching, it's completely different," says Ashley Parent, principal of Sparta Elementary, who formerly taught elementary students in her 13 years as an educator. "It's not 'the kids just sit at their desks and listen.' They move, they interact and they learn so much more that way."
The grant was one of 21 made to rural schools throughout the Ozarks to support physical and mental health needs of both students and staff. The program is a collaboration between the Coover Charitable Foundation and the CFO's Rural Schools Partnership, which advances rural education through a variety of programs. The CFO administers grantmaking for the Coover Charitable Foundation, a private foundation managed by Commerce Trust Company.

Ashley Parent serves as principal of Sparta Elementary.
Walking down the shiny floors all ready for school, Parent shows a path of brightly colored floor stickers in a hall of classrooms. The designs create moments for quick movement — such as hopscotch — when it's needed.
"It's great for those kiddos just to be able to pop out — their teacher can still keep an eye on them, and then go back to class," Parent says. "The problem is: All these rooms aren't accessible by the eye. Someone would have to come with the kid, or they'd have to go alone, which obviously we don't want."
The grant funding will soon change that fact through the placement of paths in additional hallways, expanding access to the approximately 300 students enrolled in kindergarten through fourth grade at Sparta Elementary.
"Part of the grant was to get some more pathways in this hallway and in that hallway, so that everybody has one right outside their door," Parent says, speaking of hallways for older grades. "That way, a kid can pop out, do what they need to do, get some wiggles out, and go back in, but always have eyes on them."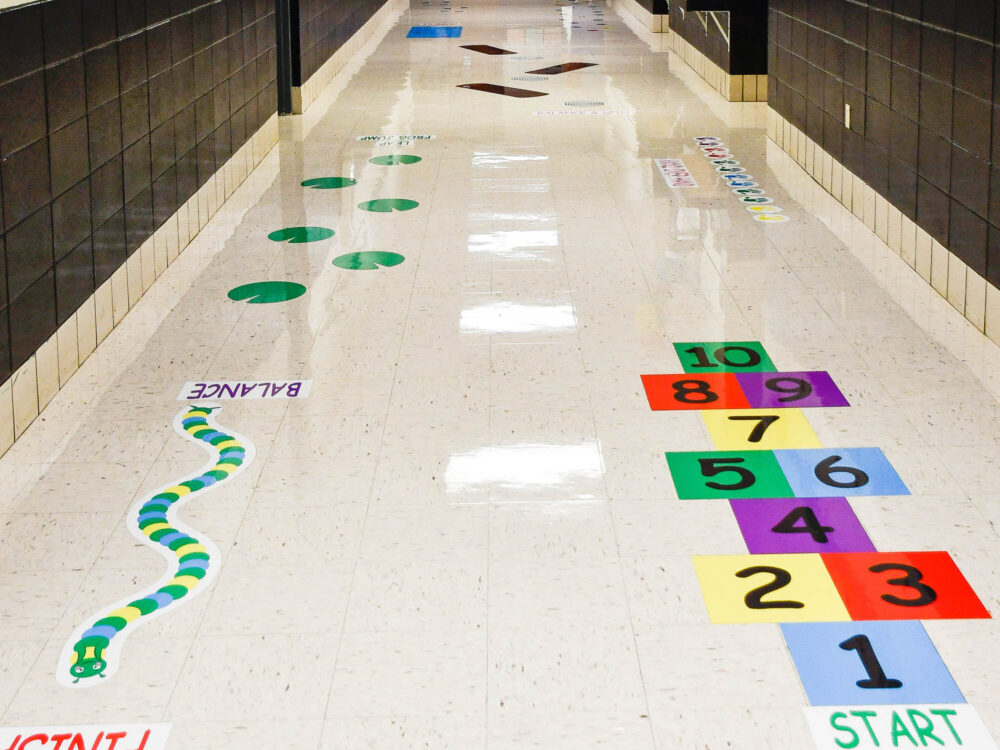 Grant funding will allow additional stickers to be placed in Sparta Elementary's hallways, expanding access for students throughout the school.
The stickers and other sensory techniques are part of an evolving understanding of emotions and how minds learn best.
"There's been a lot of research on just the way kids' brains work. They can't sit and listen forever," Parent says. "Some kids can really listen a lot better while they're moving."
In contrast, there are "break" corners in classrooms where kids can go for a moment when they need to regroup and refocus. Grant funding helped purchase more needed items for these corners, as well as the enhancement of a dedicated sensory classroom, filled with a number of activities and experiences tailored for students diagnosed with an autism spectrum disorder.
"All a lot of little kids like to feel that stuff — but especially the kids that are on the spectrum, or kids that just have that sensory need," Parent says. "Some kids just need to feel things. They need pressure — it just helps them."
Examples in the room include a sequin-lined panel on the wall that kids can feel, a wooden clubhouse, and gel "stickers" on the floor that change color when you step on them. The grant funding also allows the enhancement of the sensory room with new tools, including a swing, a new trampoline and mats for the clubhouse.
"This is a place where kids can go with an adult in the building, maybe a paraprofessional or a counselor, and they can go and spend five minutes or so on a project or activity of their choice," Parent says.
Time spent in the sensory room may be a reward, or provide a longer pause than the break corner in a classroom can offer. It's all part of an ongoing effort to meet students where they are.
"Our job is to reach all kids. And in this school, we do have quite a few kids that struggle," Parent says. "I mean, things as simple as the break spots, but also our teaching strategies and everything — it all goes together. This is just one piece of it. We have some really, really great things in place here."
By Kaitlyn McConnell, writer in residence for the Community Foundation of the Ozarks
Support our mission by becoming a donor today.