Annual Report FY22
Andrea Bishop's efforts improve access to mental-health services
Channeling Theodore Roosevelt, the nation's 26th president, attorney Richard Schnake credits 2022 Humanitarian Award recipient Andrea Bishop as someone "who is actually in the arena"; doing her work with the great enthusiasm, great devotion and high achievement Roosevelt lauded.
The speech he referenced — Roosevelt's "Citizenship in a Republic" — championed those who refuse to buckle to cynicism and instead work to make the world a better place. The theme resonates, 112 years later, as an analogy for Bishop's tireless efforts to improve mental health services as executive director of the Betty & Bobby Allison Ozarks Counseling Center.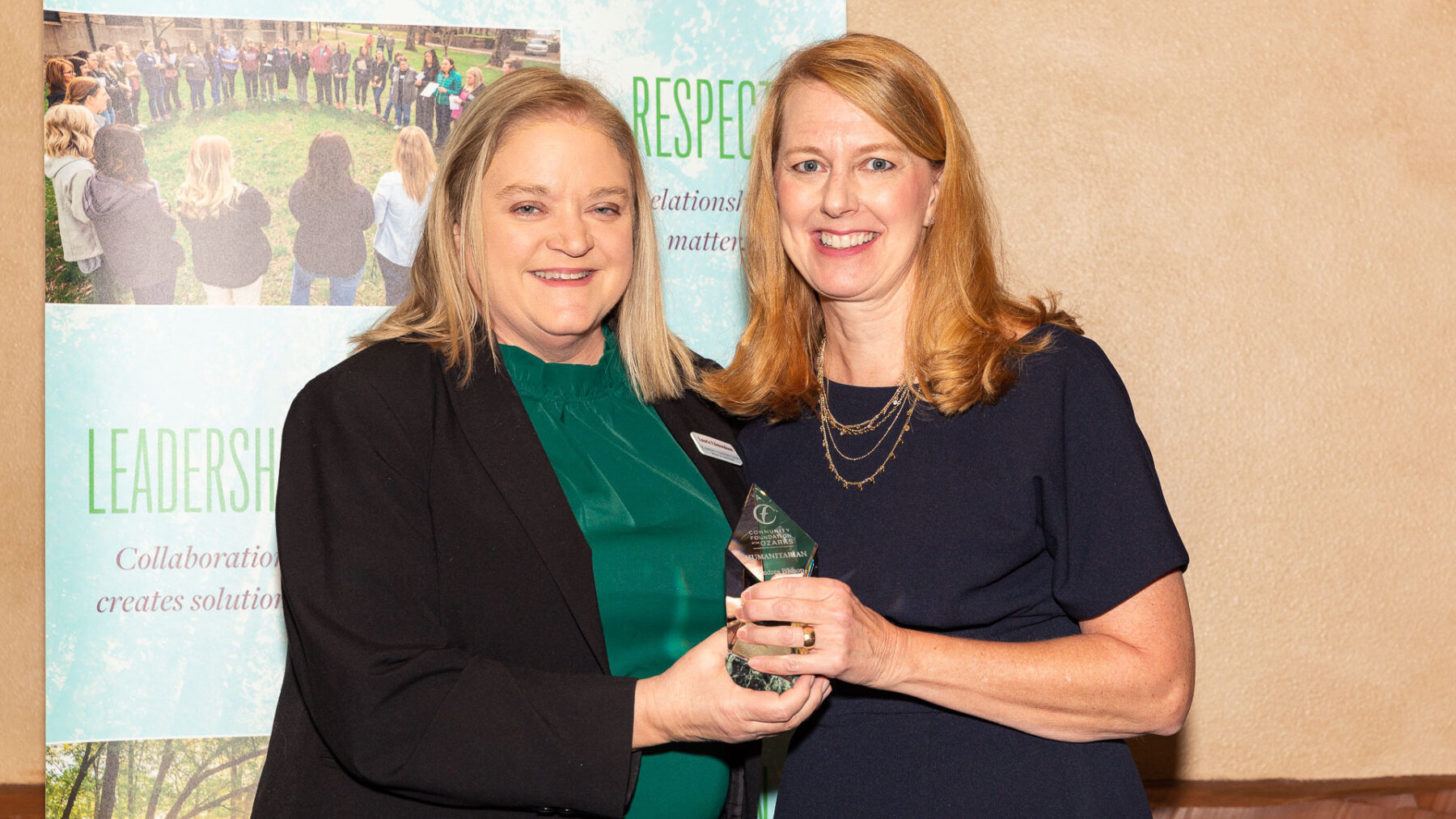 CFO Board Chair Laurie Edmondson presents the 2022 Humanitarian Award to Andrea Bishop, executive director of the Betty & Bobby Allison Ozarks Counseling Center.
He said he nominated Bishop for the honor as a person, not an employee. That's because she has gone above and beyond to extend the sliding-scale counseling services since becoming executive director in 2011. He noted that she accepts a lower salary than the position would typically warrant and supplements her job with her own counseling practice on the side. He also noted the extension of services under her leadership such as expanding hours for more evening appointments and supporting children experiencing abuse and whose parents are going through divorce proceedings.
"The need for these services has increased exponentially in the 36 years I've been on the board," he said.
---
---
Bishop is the 37th Humanitarian recipient since the late Jewell Thompson Schweitzer created the award in 1989 to honor individuals who excel at serving others in a humanitarian capacity. A committee convened by the Springfield Area Chamber of Commerce selects the annual recipient.
After accepting the award from Mrs. Schweitzer's goddaughter and current CFO Board Chair Laurie Edmondson, Bishop described the experience as winning "a $2 billion love lottery" in hearing from friends, family and colleagues; and she selected Ozark Counseling Center for the actual $5,000 that comes with the award.
"It makes me think that I need to be really careful about practicing what I preach, living in the moment, savoring the moment and pouring it right back onto people," Bishop said. "Because why should we have to wait until they get a gold star pinned on their lapel before you tell them how great you think they are? That's my renewed mission in life."
—by Louise Knauer
Support our mission by becoming a donor today.