Oct. 13, 2022
Bishop leads Betty & Bobby Allison Ozarks Counseling Center
Andrea Bishop, executive director of the Betty and Bobby Allison Ozarks Counseling Center, has been named the 2022 Humanitarian for her efforts to provide mental-health counseling services to the community regardless of the ability to pay.
Bishop has served as director of the OCC since 2011. Her nominators cited her willingness to lead the center with strong fiscal stewardship and working for a lesser salary than she would receive in the private sector in order to serve as many clients as possible. She opened her own consulting business and teaches graduate psychology classes at Missouri State University to supplement her work at the OCC.
During her tenure, she secured the historic Day House in downtown Springfield so the OCC would no longer have to pay for rented space. She secured state tax credits, which were used by the late Bobby Allison to pay the mortgage. She also made it possible for the OCC to offer evening appointments, discreet counseling appointments and play therapy for children, support for children of divorcing parents and for boys from abusive homes in hopes of breaking abusive patterns.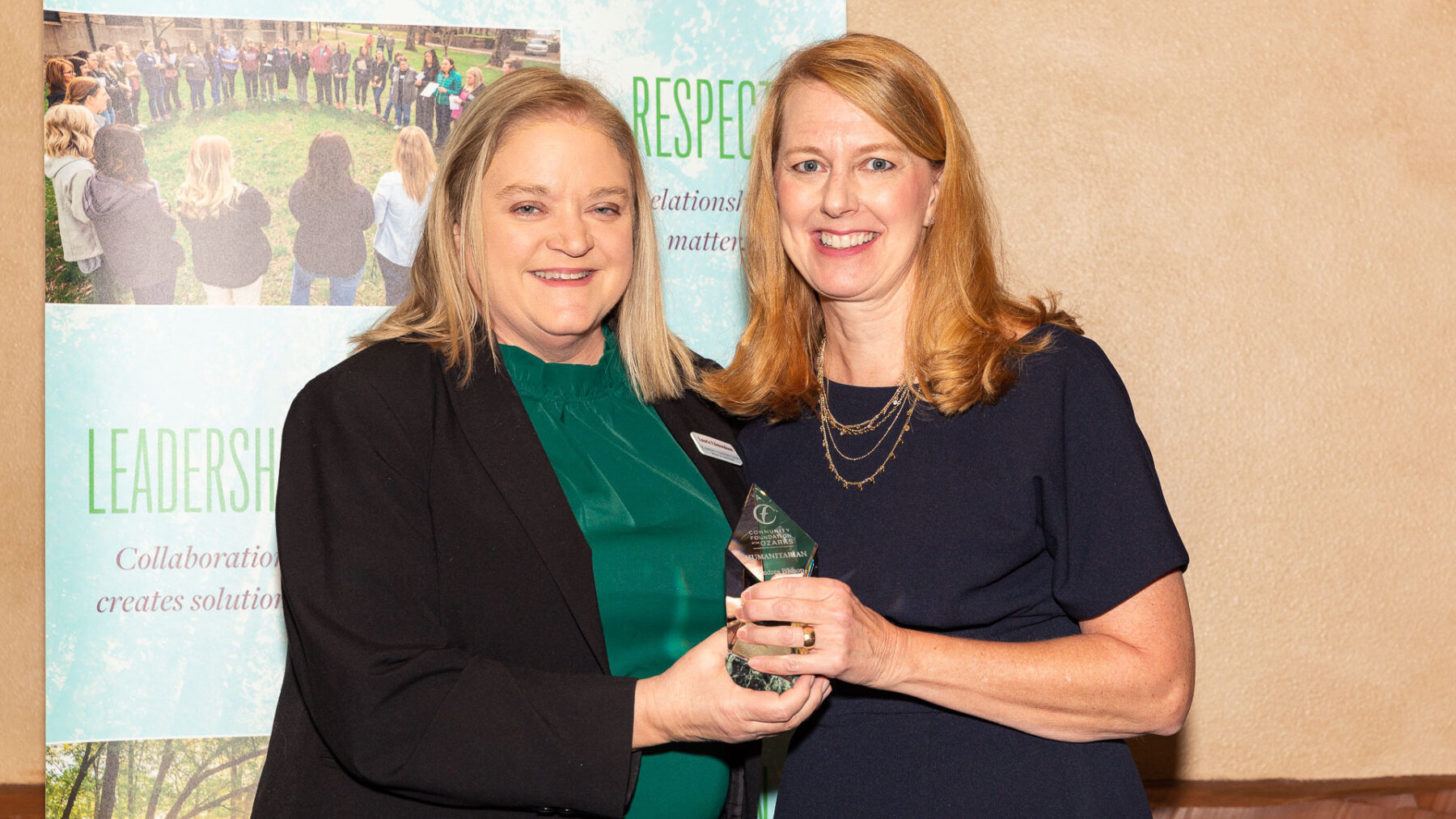 CFO Board Chair Laurie Edmondson presents the 2022 Humanitarian Award to Andrea Bishop, executive director of the Betty & Bobby Allison Ozarks Counseling Center, during the National Philanthropy Day event in Springfield on Nov. 15.
The Humanitarian Award was founded in 1990 by the late Springfield donor Jewell Thompson Schweitzer to honor individuals in our region who excel at serving others in a humanitarian capacity. The Springfield Area Chamber of Commerce organizes a committee to review nominations and select the annual recipient.

The 37th person to receive the award over 33 years, Bishop was nominated by Nicole D. Lindsey with support letters from Harwood Ferguson and Richard Schnake.
"For Andrea — just as for us lawyers and for physicians and ministers and others whose professions touch people at difficult times in their lives — those whom she helps are on her mind when she dresses, and eats, and drives, and lies awake at night. To borrow words from Theodore Roosevelt, Andrea is truly 'in the arena,'" wrote Schnake, an OCC board member and partner at Neale & Newman law firm.
Bishop received master's degrees in business administration and clinical psychology from Missouri State University. She leads a staff of 27 therapists and support team members who serve about 1,800 clients a year.
The CFO will present the Humanitarian Award at the Association of Fundraising Professionals–Ozark Region Chapter's National Philanthropy Day celebration at 11:30 a.m., Tuesday, Nov. 15, at the White River Conference Center, 600 W. Sunshine St. The event honors a range of individuals and organizations involved in many facets of philanthropy.
This year's selection committee was chaired by Springfield Area Chamber of Commerce Chair-elect Joselyn Baldner and included: Cynthia Carson, Branson; Rev. Karen Hayden, Springfield; Dr. Mike Rakes, Springfield; John Plummer, West Plains; Matt Stewart, Joplin; and Jaimie Trussell, Springfield.
Bishop will receive a $5,000 cash award, which has traditionally been donated to one or more charities of the winner's choice. For a list of past honorees, please visit cfozarks.org/humanitarian.
Support our mission by becoming a donor today.