Youth Empowerment Project
Students explore charitable passions, role of art in community
The Community Foundation of the Ozarks recently hosted the annual Youth Empowerment Project conference for more than 60 high school students from across the Ozarks. Attendees included YEP chapter members from the following schools:
Aurora High School
Glendale High School, Greenwood Laboratory School, Hillcrest High School and Springfield Catholic High School in Springfield
Marshfield High School
Ozark High School
Reeds Spring High School
Seymour R-II
St. James High School
Stockton High School
Christina Ford, President and CEO of the Rebound Foundation, delivered the keynote address for the Feb. 4 event at the Springfield Art Museum. She shared how she turned her charitable vision — to help victims of domestic violence by providing transitional housing — into reality, a learning process that took more than five years.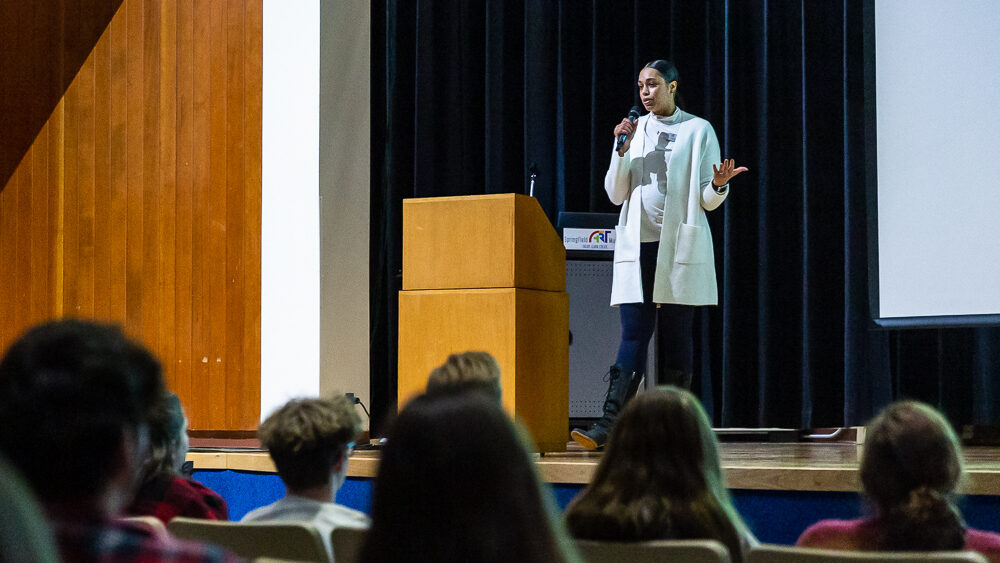 Christina Ford, founder and president of the Rebound Foundation, delivered the keynote address at the 2020 YEP Conference.
"We all have a 'why,'" says Ford, who founded the foundation with her husband, Dana Ford, head coach of Missouri State University's men's basketball team. "Something that's happened to you; something you've experienced. Then you have to figure out the 'how.'" The Rebound Foundation opened the Marda House, a transitional living home for women and children in Springfield, in early 2019.
The students also participated in small-group activities, which explored how they can identify their charitable passions and connect with their communities, and toured the museum.
The goal of the Youth Empowerment Project, a program of the Community Foundation of the Ozarks, is to promote the principles of philanthropy for high school and middle school students through education, community grantmaking, service projects and fundraising. Springfield City YEP is one of about 30 chapters across the region.
The CFO is a regional public charitable foundation serving central and southern Missouri through a network of donors, nonprofit partners and affiliate foundations.
Support our mission by becoming a donor today.