CFOZARKS.ORG/SCHOLARHIPS
Scholarships not limited to graduating high school seniors
The Community Foundation of the Ozarks holds more than 430 named scholarship funds. Each has its own criteria, often designated to a single high school — typically the alma mater of the donor or the donor's loved one. However, there are other scholarships established by generous donors who wish to encourage students with unique backgrounds or specific aspirations to pursue higher education.
Alexis Jackson, a 2016 graduate of Nixa High School, can speak to the importance of seeking out these specialty scholarships.
"With the Hearld and Marge Ambler Scholarship, I will officially be able to graduate from college debt-free," she said. "The scholarships provided by the CFO have lifted a financial burden from myself and my family and have allowed me to fully focus on the pursuit of higher education."
The Hearld and Marge Ambler Scholarship is only available to business majors entering their third, fourth or fifth year of college. Hearld is one of the CFO's founders and was the first managing partner of FORVIS LLP, a large accounting and advisory firm headquartered in Springfield.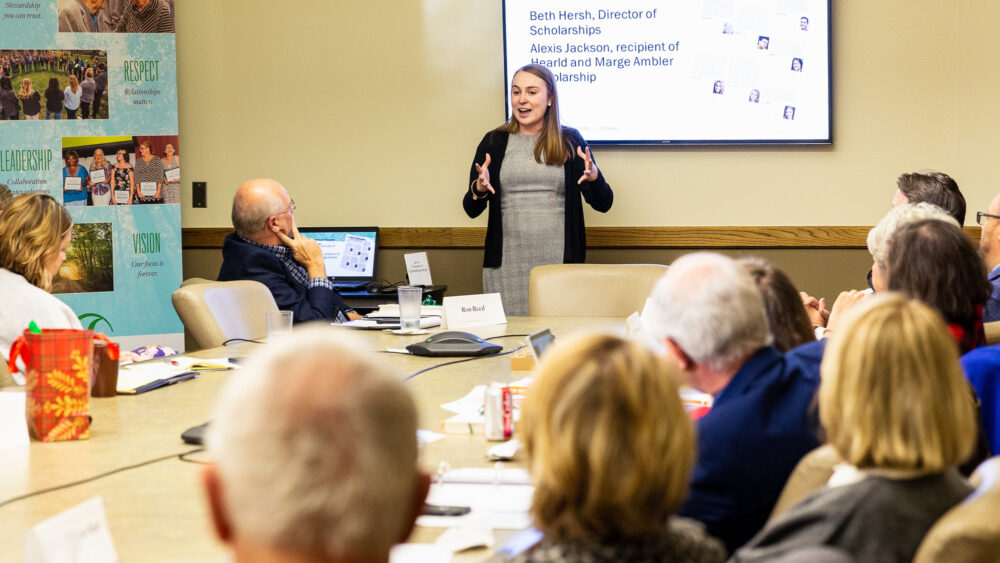 Alexis Jackson, a senior at Washington University in St. Louis, spoke to the CFO board in December. After her father suddenly died prior to her final year of college, she credited the scholarships she received through the CFO for helping lift the burden of financial uncertainty.
"In receiving a scholarship specifically designed to empower Missouri students, I am reminded of the support of my community and the gratitude I have for the generosity of its members," Jackson said. She will graduate from Washington University in St. Louis this spring with bachelor's degrees in business administration and political science and a minor in Spanish.
The following list is only a sampling of these types of specialty scholarships. We encourage all students, including students entering in the later years of undergraduate school, or those pursuing graduate degrees, doctoral degrees or professional certifications, to search our online scholarship system with keywords related to their field of study or life experience to find if they might qualify for scholarships with unique criteria.
---
Scholarships for students with specific areas of study
Agriculture
George Nixon Agricultural Scholarship
Southwest Cattlemen's Association Scholarship
Southwest Missouri Resource Conservation and Development Scholarship
Dentistry
Dr. Fred Enloe Dental Scholarship
Law
Richard E. Dorr Memorial Scholarship
Mathew W. Placzek Scholarship
John D. Ashcroft SMBA Scholarship
Medicine
Clyde R. Alleman Memorial Scholarship
Dr. Thomas E. and Mary M. Ashley Medical Scholarship
Harold H. Lurie MD Scholarship
Dr. William M. Walker Memorial Medical Scholarship
Nursing
Dr. Thomas E. and Mary M. Ashley Nursing Scholarship
Royce Fugate OMC Scholarship
Gravelin Nursing Scholarship
Religious Studies
James P. Robinson Scholarship
Veterinary Medicine
Ronda Seaton, DVM Memorial Scholarship
---
Scholarships for students with unique backgrounds
Alternative Education Scholarship: Graduating senior who has been or is currently in foster care or is currently homeless
Camp Arrowhead Staff Scholarship: Graduating seniors or current college students who are male and have been a staff member at the Ozark Trails Council's Camp Arrowhead
Cole-Mahan Scholarship: Graduating seniors from high schools in Pulaski county who have a parent currently serving in or honorably discharged from the U.S. armed services
Diane and Peter Christodoulou Memorial Scholarship: Graduating seniors with a specific IEP for learning disabilities
Daniel DiSylvester Memorial Soccer Scholarship: Graduating seniors who have participated in at least eight outdoor seasons at Lake Country Soccer in Springfield
Thomas Halbert Scholarship: Current college students studying nursing in Springfield with a preference for African Americans
J.H. Phillips & Jared and Abbey Barger Autism Scholarship: Graduating seniors of Ozark High School with a diagnosis of autism or Fragile X syndrome
Henry Joseph Struck Memorial Scholarship: Graduating senior or current college students who have a parent or grandparent that is a veteran
Wally and Libby Walter Scholarship: Graduating seniors from high schools in Springfield who are African American
Support our mission by becoming a donor today.