Oct. 26, 2023
Philanthropy advocacy, mental wellness among event's sessions
Students from several local high schools, Missouri State University and Ozarks Technical Community College attended the 2023 Youth Empowerment Project conference this month in Springfield.
The annual event, presented by the Community Foundation of the Ozarks, brought together about 60 young people to learn about community leadership and philanthropy on Oct. 19 at OTC's historic Lincoln Hall.
"It's possible for anything to happen in your smaller community — it just takes a visionary leader to see it," said Mayor Jaylen Smith in the keynote address. Now 19, he became the country's youngest Black mayor when he was sworn into office in Earle, Arkansas, earlier this year. He shared his experience serving a community of about 2,000 residents about 30 miles west of Memphis, Tennessee, while working two part-time jobs and taking a full load of online college courses.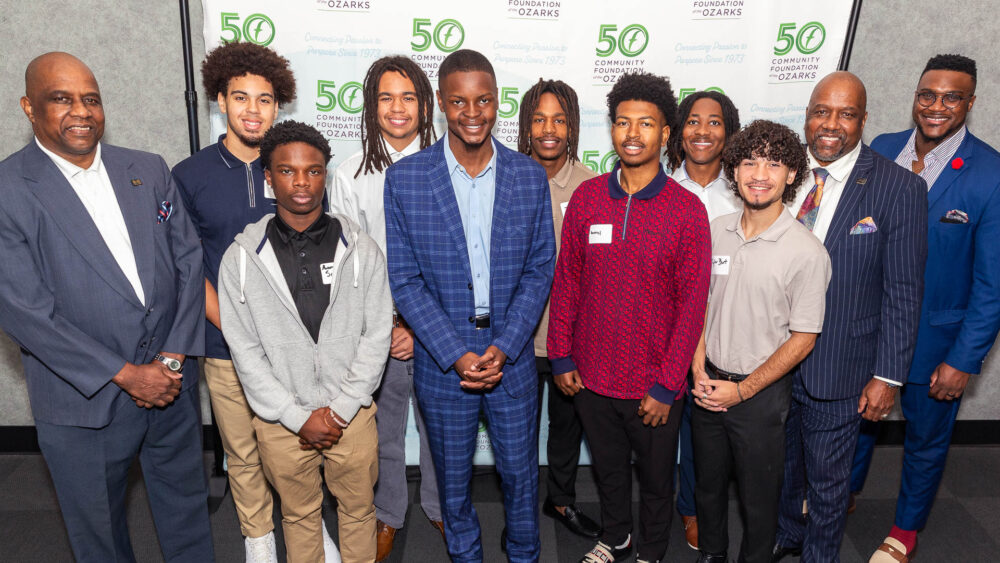 Representatives of Missouri State University's SAAB chapter pose for a group photo with Jaylen Smith, mayor of Earle, Arkansas, during the annual YEP conference on Oct. 19 in Springfield. At 19 years old, Smith is the nation's youngest Black mayor.
In addition to touring OTC's Robert W. Plaster Center for Advanced Manufacturing, attendees heard from a panel discussing how to advocate for philanthropy in their communities. Facilitated by Rachel Tripp, program coordinator for the CFO, the panel included:
Brandy Harris, CEO of Boys & Girls Clubs of Springfield
Brandon Jenson, councilmember for City of Springfield's Zone 3
Kim McCully-Mobley, teacher and YEP chapter sponsor for Aurora High School
Daniel Ogunyemi, outgoing director of global engagement and opportunity for OTC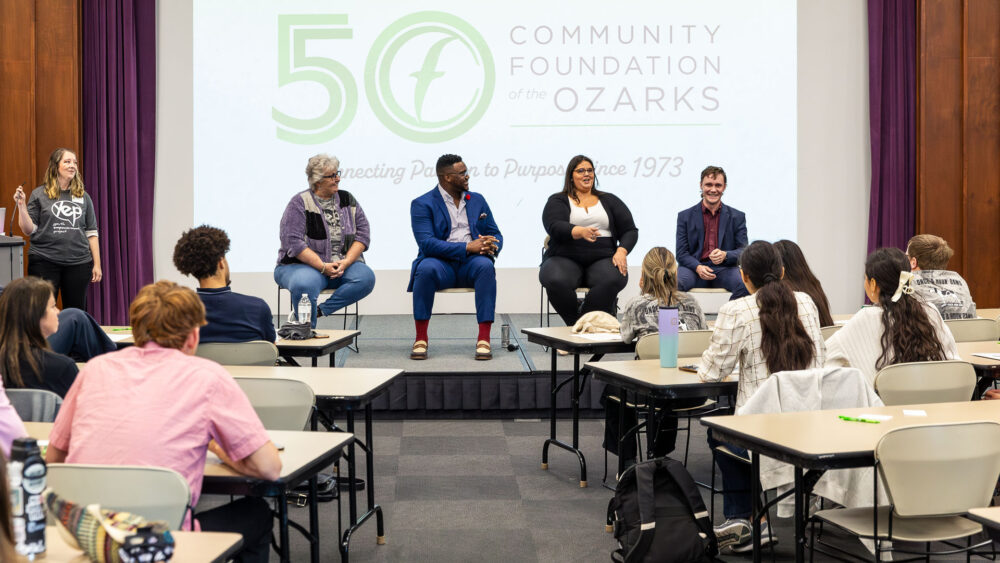 CFO Program Coordinator Rachel Tripp, far left, facilitated a panel on community advocacy with, from left to right: Kim McCully-Mobley, Aurora High School; Daniel Ogunyemi, Ozarks Technical Community College; Brandy Harris, Boys & Girls Clubs of Springfield; and Brandon Jenson, Springfield City Council.
During the conference's final session, Bailey Pyle and Shelby Schneider of Burrell Behavioral Health led students through a "Be Well" experience to better understand brain health and develop healthy practices for dealing with the unique stressors of adolescent life.
The CFO's YEP program is designed to instill core values of grantmaking, service, education and fundraising in high school and middle school students. Rebuilding after the pandemic, YEP currently engages students in about 10 regional chapters and one for all of Springfield's high schools.
Support our mission by becoming a donor today.