by Louise Knauer
Largest single grant in the CFO's history wraps up after five years
After launching in 2016, partners in the Northwest Project recently concluded the pilot phase of their work to counter generational poverty in Springfield and across the Ozarks. The numbers and statistics show the overall impact of the program, but the personal experiences of participants get to the heart of what the NWP worked to accomplish.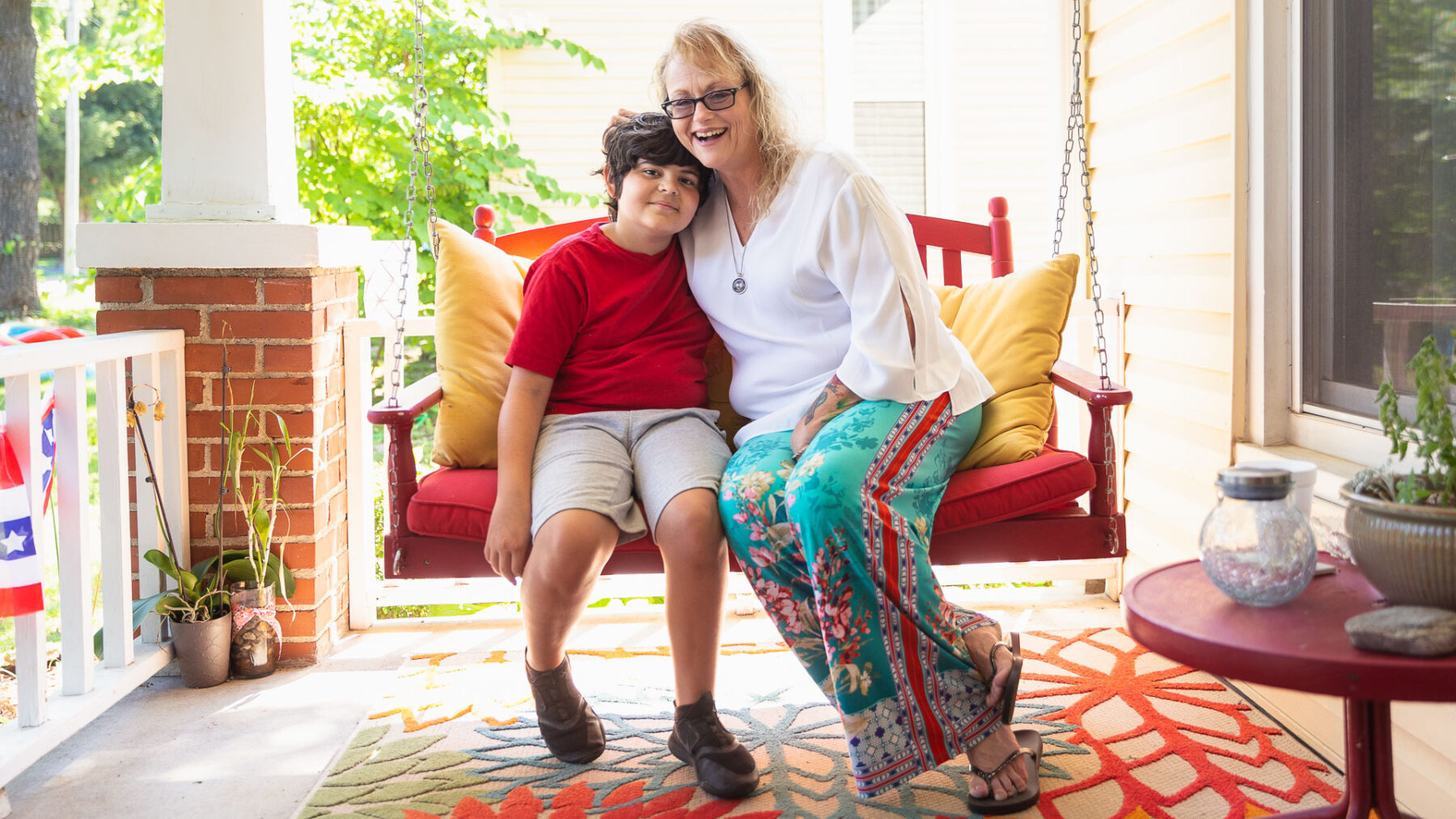 Marsha Hatfield, with her son, Skyler, recently purchased a home just a few blocks away from the Fairbanks. She was able to make the transition from renter to homeowner through the Drew Lewis Foundation's Blue House program.
"If you're working the program, the program works for you."

Marsha Hatfield is confident she would have achieved her key life goals given enough time. But she credits her participation in the Northwest Project with accelerating her progress.
Since joining one of the first NWP cohorts based at The Fairbanks, Hatfield has earned an office administration certification and is now working to become a peer support specialist with encouragement from her employer, the AIDS Project of the Ozarks. In March, she purchased what she hopes will be a "forever" home for her and her son, Skyler, in the Grant Beach neighborhood.
"I would have gotten where I was going because I was determined, but I wouldn't be where I am yet," Hatfield says.
Originally from Kansas City, Hatfield, now 53, moved to northwest Springfield in 2006. After a divorce, she and Skyler navigated some challenging times. A work colleague shared a flyer about the NWP and she decided to give it a try. She ended up as her cohort's valedictorian.
She credits the program with improving her budgeting skills to build up her savings, increase her credit score and start planning for retirement. She also appreciated the built-in support system and accountability that helped her sever toxic relationships in her life.
"It helps a person build self esteem to handle situations that get thrown at you," she says. "You learn tools on how to process things and keep moving forward."
The Drew Lewis Foundation also initiated the Blue House program to purchase neighborhood properties, make renovations and sell to eligible buyers, like Hatfield, who rented the home for two and a half years before buying it. With recent low-interest rates, her house payment is lower than the cost to rent a two-bedroom apartment. She's planted flowers and started a vegetable garden at what she calls her "own little piece of heaven."
"I have a future for my son and he doesn't have to worry about going to a different school. It's the American Dream of owning your own home and I have that now," she says.
She acknowledges the challenges of staying with the program long enough to see its impact over time. It may feel slow going at first, and some don't stick it out, but the participants who keep chipping away should accomplish many of the goals they put on their vision boards at the very beginning.
"I've never lived on my own until the last three years and I never thought I'd be able to do it," she says. "It's very empowering to know I don't have to rely on anyone else to make sure my son and I are taken care of."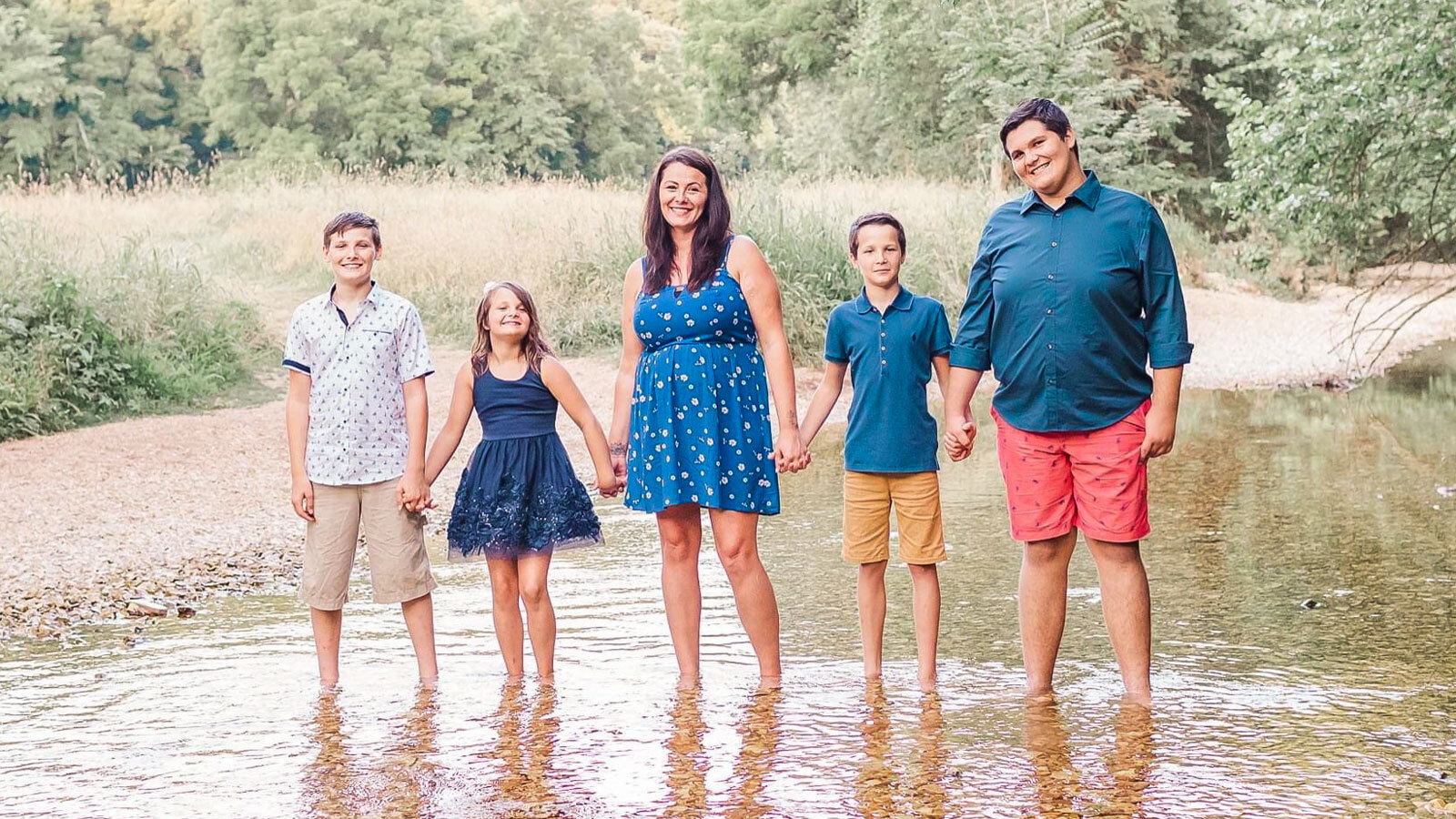 Monica Swadley, center, credits her children — Case, Kylie, Thomas and Wyatt Anderson — for motivating her to advance in her recovery, education and career. (Photo courtesy of Ashley Nicole Photography)

"The people who work at Fairbanks just know how to handle people in poverty without making them feel like they're a failure."
Monica Swadley isn't where she wants to be yet — but she's come so far since 2015 when she left her husband and moved to Springfield for a drug-rehabilitation program after her kids landed in foster care. She and her kids are reunited and they've had the stability of going to the same school for the last several years. She rents a nice house and drives a working car.
Still in recovery, Swadley works as an overnight home-health caregiver and holds a second part-time job helping on a recovery team at the Drew Lewis Foundation. And she's going to school for a criminal justice degree in hopes of becoming a probation, parole or correctional officer. That's a long way from when she started the NWP, now RISE, in 2017 without a job, just getting by, with no real goals for her future.
"I don't like my life being micromanaged," she acknowledges. "That's what RISE is. I knew I needed it, but I didn't like it. It's all about accountability."
As an example, she says, she used to spend her tax return as soon as it came in. Now, she uses it to pay her rent for the whole year. "I don't like it. I would love to blow it. But that's just a worry I don't to worry about now."
She has gained more "social capital," the ability to make connections and develop a support system. That ranges from having banking relationships to knowing where to go if her car breaks down.
Unfortunately, Swadley is experiencing the "cliff effect," a term for when people lose government assistance once they start to earn more money, but not enough to fully emerge from poverty. She stopped receiving child support and now earns $67 a month too much to qualify for food stamps.
"We're struggling a little bit, but I'll get it figured out," she says. "I know places to go if we do need help. I don't want to use what other people could use more than us."
Still, she describes herself as hopeful and says her life is full and beautiful; she calls her kids "very kind humans" with whom she shoots straight about staying off drugs and out of debt, keeping busy with school activities and aiming for a good career or trade job.
"I want things to go for the better. I want to be working a job that pays enough money to where I'm not in poverty. I realize that's going to take time so I'm just kind of rolling with it."
This story is featured in the summer 2021 edition of Passion & Purpose: The CFO Magazine.
Support our mission by becoming a donor today.