The Community Foundation of the Ozarks has been around for 50 years! Wow! It is remarkable to think about how our community has grown and changed since then. In 1973, I was attending Delaware Elementary and happily playing with my friends after school. In some ways it seemed like a carefree life in a different era. But, even then, there were people and organizations in our community who needed support. Thank goodness the founders of the CFO had the vision to create this wonderful organization as a place for people to reach out and help people in our community with passion and purpose.
As I reflect on this past year, the word that comes to mind is gratitude. We have been through some difficult times in the last few years, but there are so many wonderful people and organizations in our community who are out there making a difference every single day. Our community is stronger because of all of the compassionate nonprofit agencies that see the needs in the community and provide services that truly make a difference for all of us. At the CFO we are in a special position to support specific needs throughout the southwest Missouri region as they arise.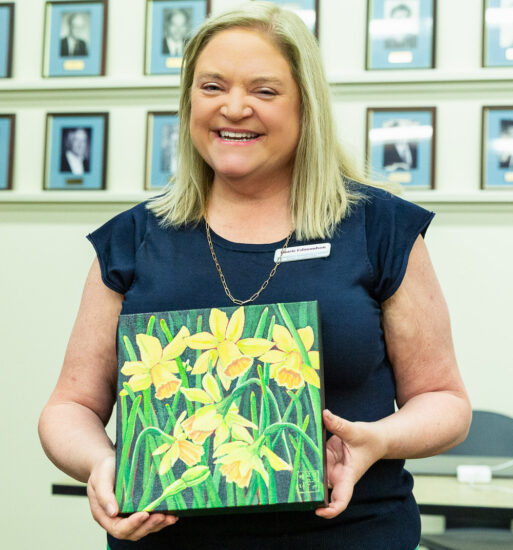 At the conclusion of the CFO's June board meeting, President Brian Fogle presented a special gift to Laurie in recognition of her service as board chair. The painting "Celebration" was commissioned for Laurie from Springfield artist Penny Gordon-Chumbley as a reminder of the 50,000 daffodil bulbs planted across the region during Laurie's term.
I think about the children and families who are supported through the Jeannette L. Musgrave Foundation. I think about the performing and visual arts communities who are supported through the Springfield Regional Arts Council. I think about the people who were able to make it to work during the pandemic because of the Let's Get to Work initiative. I think of the ways lives have changed for the better because of the CFO's collaborations with nonprofit partners in healthcare and education. I think of all of the nonprofit agency partners supported by the CFO's administrative, educational and technical assistance. I think of our affiliates throughout the region who are making lives better every day in their communities. I think about our group of next-generation donors who are getting ready to jump in the philanthropy world and make a difference in a way that only they can.
I am grateful for everyone who works together to make our region a better place. It has truly been an honor to serve as the chair of the Board of Directors this past year. This board and the staff here at the CFO are truly the best people I know. They work tirelessly to support our community and they are absolutely making a lasting positive impact for so many people. And I feel like we are just getting started. Isn't it wonderful to think about the next 50 years? Just think how wonderful our world will be in 2073 because of the caring and compassionate people who are involved with the CFO right now! So many possibilities. I am so grateful for all of it.
Thank you to everyone reading this issue for everything you do to support the CFO. It is all possible because of you.
Laurie Edmondson served as chair of the CFO's Board of Directors for the 2022–23 fiscal year.
Support our mission by becoming a donor today.