by Sony Hocklander
Never Too Young: Couple commits to their causes in starting a legacy fund while still a young family

Jody and Chuck Dow, a young professional couple with a winsome blue-eyed one-year-old son, will celebrate their third wedding anniversary in September. Their mutual passion for community philanthropy not only brought them together in 2017, it inspired the couple to leave a financial legacy for nonprofits they love.
"We are both very deeply connected to the organizations we work and serve at, and there are other nonprofits we feel passionate about as well," says Jody Dow, executive director of the Springfield Dream Center, a community services hub founded by North Point Church in Springfield's Woodland Heights neighborhood.
"Even if we're not here," adds Chuck, a financial advisor and managing director at Synergy Wealth Solutions, "we want our legacy to be able to continue to support those causes."
After marrying, they discussed how to ensure their story of giving back would continue after they're gone. They knew it was time to act once they were expecting their son, Jude. With attorney Danielle Kincaid of The Elder Law Group, the Dows updated their estate to take care of Jude and other family members. In addition, they directed a portion of their revocable living trust to go into the Dow Family Fund, a designated fund they established with the Community Foundation of the Ozarks. One day it will provide perpetual support to three nonprofits: the Springfield Dream Center, Borrow My Angel and North Point Church.
The main benefit to establishing a fund through the CFO, Kincaid says, is flexibility. As people age, their passion for charities might change or grow. "They will only have to go to the CFO — to notify the CFO — that they want changes in their charities," Kincaid says, "instead of coming to me and having to do an amendment to the trust."
History of philanthropy
That the Dows want to extend philanthropy beyond their own lives is no surprise. Each has a history of helping others. In fact, Jody has wanted to serve and give people hope since hearing from missionaries as a child. "I just remember I was 11 and telling my mom that I really wanted to do that for the United States," recalls Jody, who grew up in Harrisonville near Kansas City. "I want people around me to know there's hope and they can still have big dreams."
While attending Missouri State University, Jody began volunteering at North Point in student ministry and was hired near the end of her senior year. After shifting to a position in community outreach, she discussed with the church pastor how to implement the Good Samaritan story in which the Samaritan extends more help and hope. That's the model for the Springfield Dream Center, which opened in March 2017. "It's been incredible work," Jody says. "All around, we're seeing real stability in families that, when we first met them, came to us lacking a dream, a vision for their life."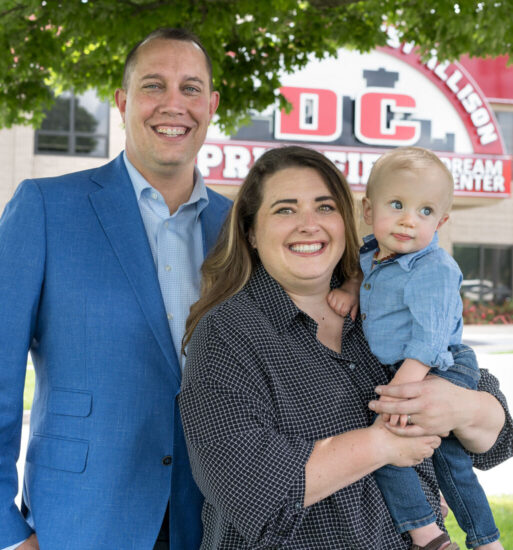 Chuck and Jody Dow with son, Jude, at the Dream Center, which provides both practical services and hope to families in its Woodland Heights neighborhood. (Photo by Sony Hocklander)
Born at Fort Leonard Wood to a military family, Chuck lived in a variety of places before moving to Springfield as a teen. He attended MSU then moved east to pursue a career in the travel industry. He returned to Springfield in 2013, changed his career to finance and began attending the North Point campus in Nixa, serving in its music ministry. Inspired by his sister's lifelong struggle with mental illness, attempts at suicide and ultimate death, he also worked to establish Borrow My Angel, named after a song he'd written. The nonprofit, still in its infant stage Chuck says, will focus on suicide prevention and mental-health awareness.
That effort played a role in the couple meeting. They still laugh about their first date, just three months after the Dream Center opened. Mutual friends had tried to connect them, but Chuck balked at blind dates and Jody was oblivious to the efforts. Instead, Chuck decided to volunteer at the Dream Center. "Once we started talking, I asked her out on a date — only she didn't realize it," Chuck says. "She thought when I first asked her out that I just wanted to talk about advice for how to start a nonprofit."
A family that serves
Establishing an agency capacity fund for the Dream Center and learning about grant opportunities has been a game-changer, Jody says: "The CFO is a phenomenal resource for the community, and it's been an incredible outlet and partner for us." The CFO also helped Chuck establish an agency capacity fund for Borrow My Angel.
When it came time to update their estate, the Dows knew the CFO could serve them also as a family. Winter Kinne, the CFO's vice president of development, says given their ages, the couple will likely be around for a long time. But someday, when they aren't, their designated fund will be endowed through their estate, "meaning that the corpus is going to stay intact, and then a certain percentage is going to basically become a sustainable source of income for those three charities." It's a misconception, Kinne adds, that you must be old or a "gazillionaire" to leave something for your community.
The Dows are neither of those. "Our family values are very much about giving back to the community that we live in," Jody says, "and the CFO made it easy for us."
This story is featured in the summer 2021 edition of Passion & Purpose: The CFO Magazine.
Support our mission by becoming a donor today.