Continuing Pat Higham's legacy of nursing education
The circle of life unites two women through love and nursing.
Leading Through Legacy
Care & Serendipity
Patricia Ann Higham and Katie Garretson will never meet, but a desire to help people through nursing has been important to both. Higham, a working mom who devoted more than 40 years of her career to nursing and teaching nurses, died two years ago after a long, hard-fought battle with breast cancer. To honor their mother, Higham's four daughters established a memorial scholarship to help more students become nurses.
Only when Garretson was awarded the Patricia Higham Nursing Scholarship for 2021 did she unravel an unexpected connection between her family and Higham's. Katie, 29, is a working mom and third-semester student at the Mercy College of Nursing and Health Sciences at Southwest Baptist University. She was grateful to be selected for the scholarship by a CFO committee, and she knew Pat Higham's name sounded familiar. She also knew Higham was a nurse like her beloved mother-in-law, Patti Garretson, who had died last January — and that both had worked for years at Mercy from the time it was called St. John's. Surely, they must have known each other, Katie thought. Then she remembered a scrapbook photo she'd seen of her husband, Spencer, as an infant. Katie dug out the scrapbook, she recalls, and sure enough, there on the page was Pat Higham holding baby Spencer.
Katie called her mother-in-law's friend, Lynda Schibler, who confirmed the women were indeed good friends and one-time co-workers. "It's such a crazy connection," Katie says. "Lynda and I just decided that Patti and Pat totally made this happen, you know? It was just too perfect."
Higham's daughter Lisa Ferbet is sure her mother would be embarrassed to know a memorial scholarship had been named for her. Humble and hardworking, nursing was as much a part of her mom's life as raising five kids, Ferbet says. Their mother became a nurse in the 1950s. Their dad worked for General Electric, so the family moved often. Pat was always able to work as a clinical nurse — mostly in post-partum and usually nights so she could be home during the day with her kids (including a son who died several years ago).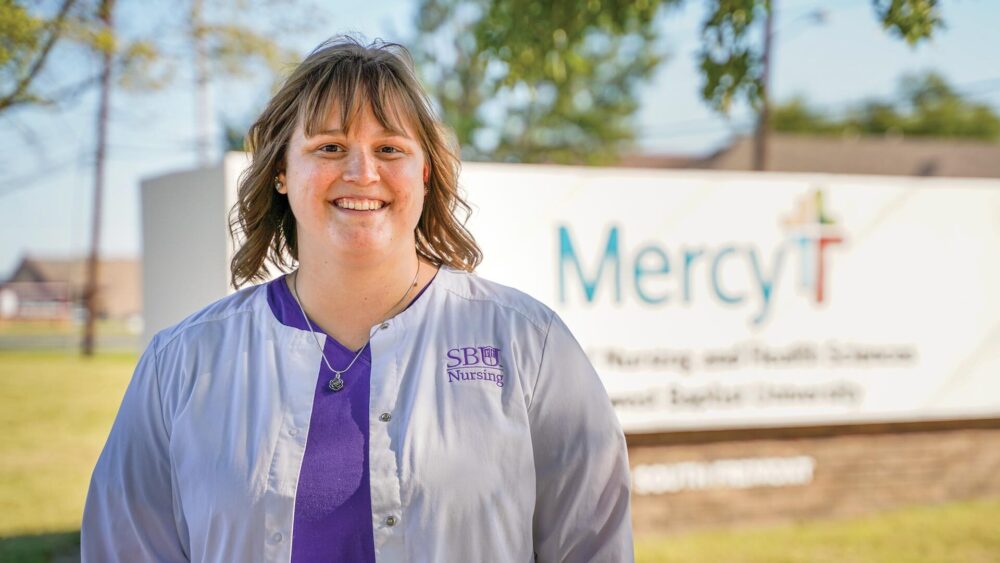 With support from the Patricia Higham Nursing Scholarship, Katie Garretson recently switched careers to become a nurse. (Photo by Sony Hocklander)
General Electric brought the Highams to Springfield in 1979 where Pat went back to school for her bachelor's degree in nursing at what was then Southwest Missouri State University. Eventually, she earned her master's in education and became a nursing instructor at St. John's Hospital School of Nursing where, for more than 15 years, she educated hundreds of students. In the last dozen or so years of her life, after she retired from teaching, Higham worked in diagnostic coding and medical record documentation reviews for patients enrolled in Medicare Advantage plans for Mercy. Her mother's longtime friend and boss, Debra Barnhart, says she misses Pat daily. "We worked together for years," Barnhart says. "Her work significantly contributed to the improvement of health care at Mercy and made me look forward to work each day."
Higham battled breast cancer for a dozen years and worked until the last two weeks of her life. With all four daughters living out of town, Ferbet says her mother's close friends — her tribe — helped through her illness. That included Patti Garretson until Patti's own health challenges became too great. Ferbet says she knew Patti passed away last January. "But I didn't know Katie and I didn't know anything about her story," she says.
After Higham died in May 2019, friends and family wanted to make donations in her honor. Ferbet credits her sister Joanie Straub with the idea of establishing the scholarship and their other sisters — Ann Marie Mayuga and Mary Colleen Huycke — quickly agreed. They were familiar with the CFO because the foundation already held another family fund. The CFO made setting up the scholarship easy, Ferbet says. "We felt like this was a fitting tribute to a woman who had given so much to nursing — but nursing had also given a lot to her. It offered her the opportunity to work and to help support her family," Ferbet says.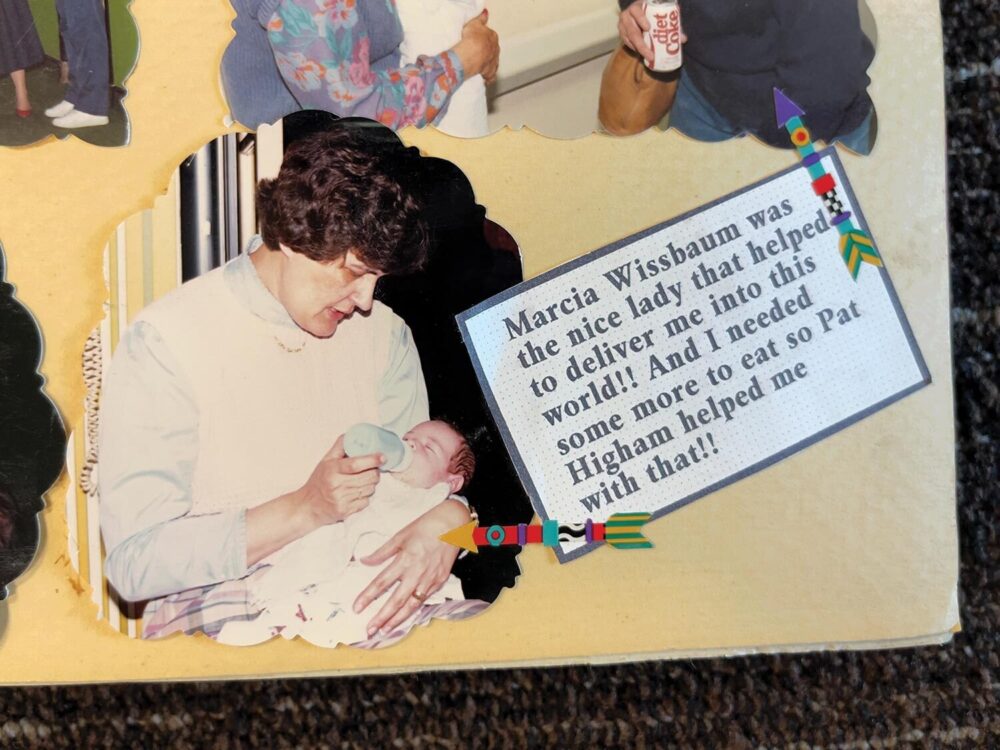 Tucked in a family scrapbook, a photo of legacy donor Pat Higham shows her cradling Katie Garretson's husband as an infant. (Photo by Sony Hocklander)
Beth Hersh is director of scholarships for the CFO. "Through scholarship funds, donors have given the gift of education to outstanding and deserving students who will forever benefit. Scholarship funds are so important because they make such a tremendous impact in student's lives and for so many students the dream of a college education a reality," Hersh says.
Katie Garretson was the Pat Higham Nursing Scholarship's second recipient. Although Ferbet helped read applications the first year, she didn't have time to help with the 2021 round because her twins were graduating from high school. That's what made the CFO's selection even more serendipitous, she says.
Garretson grew up in Bolivar and laughs when she says she hasn't gone far from home. She, Spencer and their 9-year-old daughter live near both her parents' home, and his. And she works as a nurse intern at Citizens Memorial Hospital in Bolivar while attending school in Springfield. She was close to her mother-in-law, she says. Patti Garretson had retired from nursing in 2018 after 40 years. Because of scleroderma, she was the recipient of a double-lung transplant. She died last January, Katie says, from transplant-related complications of COVID-19.
Katie Garretson had a successful six-year career as an occupational therapy assistant, but like many during the pandemic, she was out of work for a while. Nursing became more attractive. "I think I'm capable of helping people in a different realm, and more in that nursing role," she says. But it's a financial burden for non-traditional adult students, Katie says, when you have a mortgage and other family expenses. That's why she was so grateful to receive the scholarship. Once she realized the connection between her family and the Highams, it held even more meaning. "I just feel so fortunate and blessed to have been able to receive this — even if there wasn't this connection. But to also have that — it felt like God helped make this possible; and that Pat and Patti were in on it."
To know her mother is still helping student nurses — especially Katie, who is a working mom like her mother was — is so meaningful, Ferbet says: "I just think how everything came full circle was really, really special."

By Sony Hocklander · Originally published in the CFO's Annual Report FY21.
The Patricia Higham Nursing Scholarship and about 450 others will open for application on Tuesday, Feb. 1. This year, the CFO will distribute $1.8 million in scholarships to support the education of about 1,000 students, the majority of whom attend colleges, universities or technical programs in Missouri.
Support our mission by becoming a donor today.