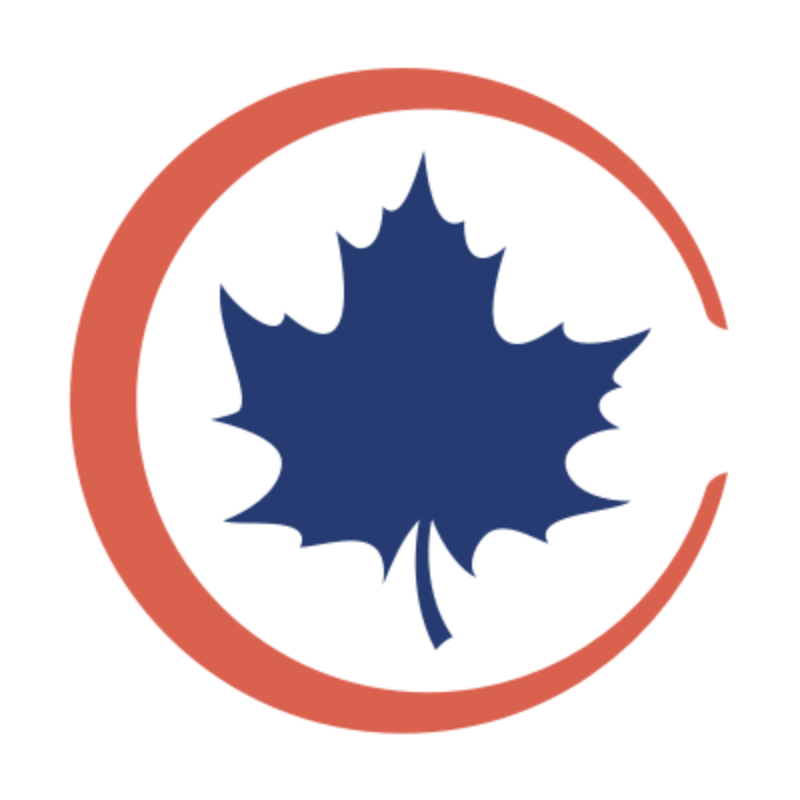 Carthage Community Foundation
A trusted resource for philanthropy serving the community of Carthage.
Our Mission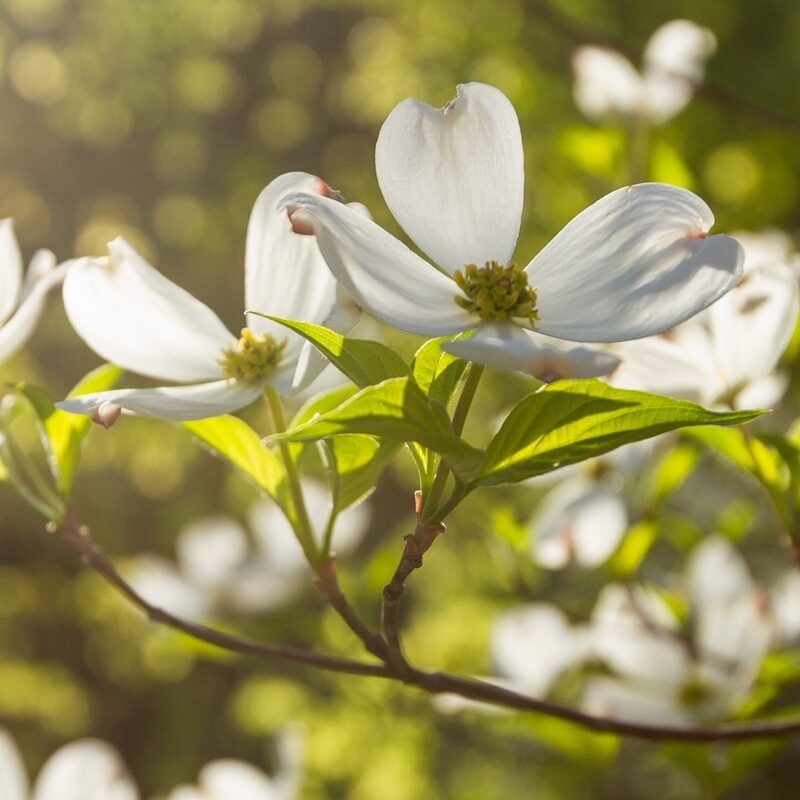 Our mission is to enhance the quality of life in Carthage through resource development, community grantmaking, collaboration and public leadership.
Since our founding on May 24, 1999, Carthage Community Foundation has distributed more than $9,568,913 in grants to the community. We now hold assets totaling $10,407,600 as of December 31, 2020.
Our Leadership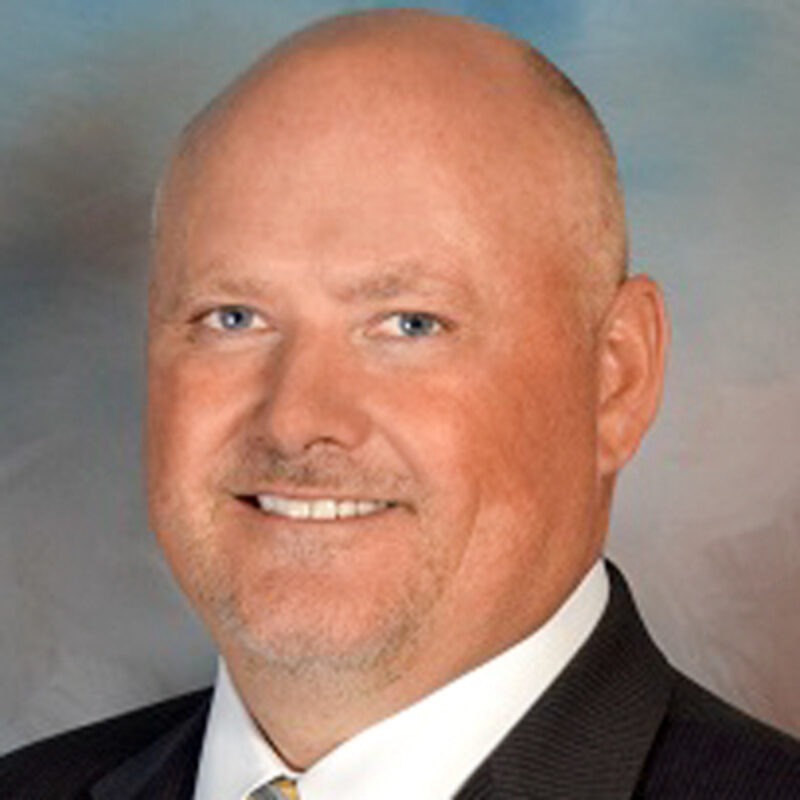 Jeff Williams, President
Our foundation is led by members of the community.
Jeff Williams, President
Stephanie Howard, Vice President
Delores Honey, Secretary/Treasurer
Jessica Andrews Adams
Amy Cole
Andrew Jordan
Danny Lambeth
Kate Lasley
Kristi Montague
John Nicholas
Jose Palma
Eric Putnam
Bill Putnam Jr., Advisory Board Member
Stan Schmidt, Advisory Board Member
Heather Goff Collier, Foundation Manager
Carthage Community Foundation awards 16 grants to support to community
May 20, 2021 — During a luncheon presentation on Thursday, May 20, the Board of Directors of Carthage Community Foundation presented $61,125 in grant funding to 16 area organizations supporting the Carthage community and its residents.
Health & Human Services Grants
Children's Haven – Transportation for Carthage Kids - $2,500
Carthage Crisis Center – Commercial Dishwasher - $3,725
Alliance of Southwest Missouri – Deerfield Village Parent Cafes - $5,000
Education & Youth Services Grants
Fair Acres Family YMCA - Safety Around Water Program - $2,500
Art Feeds – Trauma Training & Curriculum for Carthage Art Teachers & Counselors - $5,000
Columbian Elementary School – Outdoor Classroom - $4,000
Carthage Rotary – Scholarship Program - $400
Kellogg Lake – Exploration Play Area - $5,000
Arts, Culture, History & Community Beautification Grants
Vision Carthage – Sidewalk Streetscaping - $5,000
artCentral – Operational Assistance - $2,500
Stone's Throw Dinner Theatre – Operational Relief - $2,500
Carthage Council on the Arts – Arts Communications & Piano Scholarship Assistance - $5,000 ($2,500 of this grant for Piano Scholarship Assistance was made possible by the Vivian León Fund for the Musical Arts)
Vivian León Fund for the Musical Arts Grants
ProMusica – Morgenstern Piano Trio Performance - $4,000
The Cornell Center – Grand Piano Assistance - $4,000
Coover Regional Recovery Grants
Jasper County Youth Fair – Recovery for 2021 Fair - $5,000
Area Agency on Aging – Carthage Can Do Senior Center Recovery - $5,000
CCF President Jeff Williams explained, "It is our great honor twice each year to carry out the charitable wishes of legacy donors and meet important needs in our community through our grantmaking."

Carthage Community Foundation works with individuals, families and organizations in the community to establish permanent endowments that enhance the quality of life for current and future generations by investing in the Carthage community. Grants above are made possible by generous individuals who left portions of their estates to Carthage for the betterment of the community for years to come. The following endowments at CCF provided the grant funding for the awards:
Kenneth and Addean MacArthur Trust Fund
The Carthage Fund
Marsh Family Foundation Fund
Marsh Family Foundation Food & Nutrition Fund
George & Geraldine Beimdiek Memorial Fund
Vivian León Fund for the Musical Arts
Additionally, this year CCF was honored to make even more grant funding available thanks to a gift and match from Jerry Poston and State Farm Insurance, as well as the Coover Regional Recovery Grants Program.
The Coover Regional Recovery Grants are made possible by the Louis L. and Julia Dorothy Coover Charitable Foundation, managed by Commerce Trust Company in partnership with the Community Foundation of the Ozarks. Carthage Community Foundation is one of 30 CFO affiliate foundations to receive Coover grant funding this year and chose to use its award to hold a community recovery grant round for eligible nonprofits.

"One of the benefits of the CFO's affiliate network is the ability of local leaders to make decisions in the best interests of their own communities," said Jill Reynolds, senior vice president at Commerce Trust. "Using leaders across rural Missouri to award Coover Charitable Foundation grant dollars has contributed to this partnership's success in distributing more than $7 million since 2002."
Carthage Community Foundation announces 2021 scholarship recipients
May 4, 2021 — During the Carthage High School Academic Awards Night on May 3, Carthage Community Foundation Board President Jeff Williams and Foundation Coordinator Heather Collier presented $24,1000 in scholarship awards to 7 deserving Carthage High School seniors.
Creed Lambeth: Curtis Rex Carter Applied Science Scholarship, $5,000, renewable for 3 additional years
Aubrie Fewin: Hands to Work Hearts to God Scholarship, $2,000
Kennedy Ladd & Yuliana Alberto: Thelma Stanley Jayhawk Scholarships, $4,000 each
Rylee Scott: Dr. William B. McIntyre Scholarship: $600
Brinna Ream: Quigley Jasper Co. Christian Athlete Scholarship, $500
Mackenzie Hoenshell: Thelma M. Stanley for Education Scholarship, $8,000
Funding is made possible by generous donors from the Carthage community who established permanent endowed scholarship funds with CCF to support generations students with their education. The CCF Board of Directors and Scholarship Committee are honored to help carry out these donors' wishes, continuing their legacy of giving and supporting students in our community and region.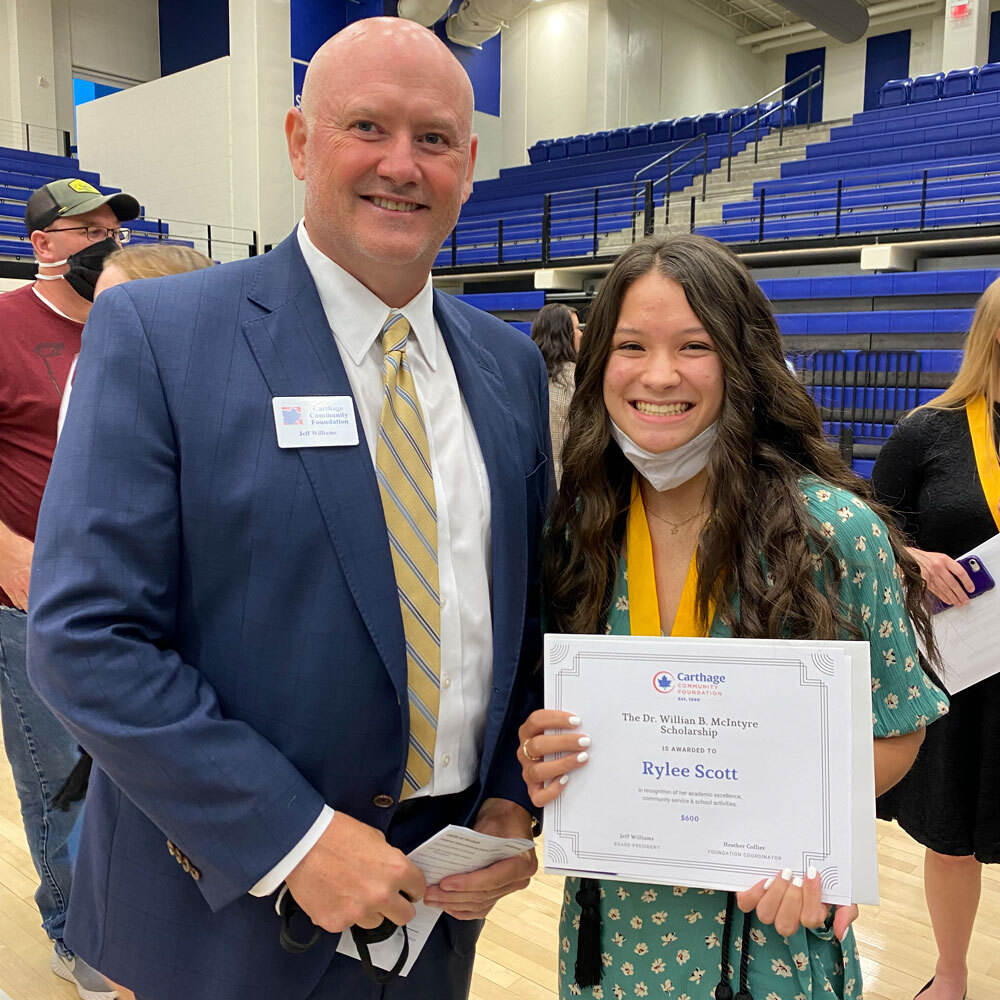 The Dr. William B. McIntyre Scholarship Fund was newly established to honor the late Dr. McIntyre and to support a graduating high school senior from Carthage or Joplin High School. Through an online application including highlights of her extensive community and school activities, a well-written essay explaining how furthering her education would impact society and two excellent references, Rylee Scott was selected the inaugural recipient. Rylee plans to attend College of the Ozarks and major in Chemistry/Pre-Dental and hopes to return to the Joplin/Carthage area for dental school and practice.

CCF congratulates all these fine students and wishes them well in the next steps in their education.
Give Carthage Day 2021 raises $25,196
March 24, 2021 — It was another great day of giving in the community with Give Carthage Day: Rally for Recovery! Thanks to generous donors, the seven participating nonprofits that serve Carthage collectively raised $25,196 and earned our Marsh Family Foundation $750 match for Give Carthage Day! Carthage Historic Preservation and Vision Carthage won our two $500 Surprise Drawings sponsored by Marsh Family Foundation.
Our top 3 online fundraisers were:
1st - Carthage Historic Preservation - $500 prize
2nd - Fair Acres Family YMCA - $250 prize
3rd - Carthage Area United Way - $100 prize
Top 3 prize awards proudly sponsored by CCF.
The 2021 event was part of Give Ozarks Day, presented by the Community Foundation of the Ozarks and Bass Pro Shops, a year after the COVID-19 pandemic spread across the region. Over the past 12 months, the nonprofit community has faced myriad challenges, from cancelled fundraising events to a spike in demand for services from people in need. Give Ozarks Day: Rally for Recovery gave 157 of the CFO's nonprofit partners an opportunity to raise much-needed funds for operations and other projects.

After an exciting 12 hours of generosity that culminated with a mad dash to the finish line, Give Ozarks Day: Rally for Recovery posted a final "Rally Tally" of $718,728. Nearly a thousand donations were made during the final hour, the highest volume of gifts for the day, as donors raced to help their favorite nonprofits claim the last $5,000 "Luck of the Draw" hourly prize.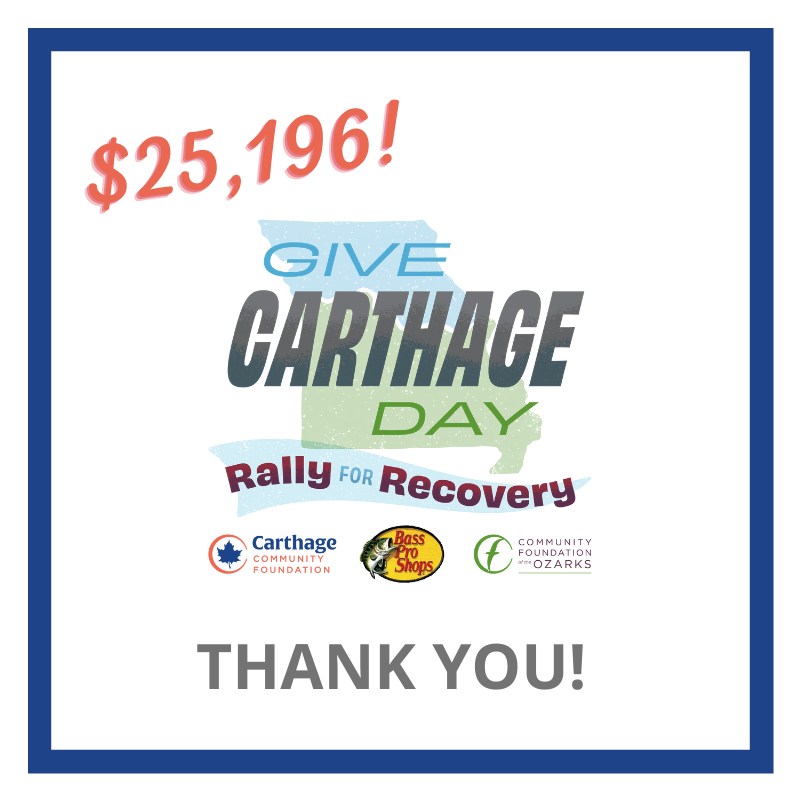 Participating Agencies

ArtCentral Carthage
Carthage Area United Way
Carthage Council on the Arts
Carthage Family Literacy Council
Carthage Historic Preservation
Fair Acres Family YMCA
Vision Carthage
Carthage Legacy Society
Anonymous
Kevin and Sandi Checket

Amy and Chad Cole
Darren and Heather Collier
Robert and Rebecca* Copeland
Pat and Judy Goff

Steven and Cynthia Head
Kenneth Johnson*
Donald and Gloria LaFerla
Daniel and Mary Pat Lambeth
Kristi Montague
Samuel R. Morrow Jr.*
Marilyn R. Nicholas*
Mike, Lee and Emma Pound
Mr. and Mrs. William C. Putnam
Ruth I. Rubison Kolpin*
Patrick Scott
Dr.* and Mrs.* W. Russell Smith
Jane C. Trogdon
Jeffrey A. Williams
*Deceased
Support our mission by becoming a donor today.