The art of giving back
Jerry and Jean Sanders of National Art Shop fund scholarships for art students
Nov. 23, 2022
Scholarships serve students at MSU and OTC
The closure of National Art Shop didn't stop its legacy in the community.
In 2022, Jerry and Jean Sanders, the longtime store's owners, established a scholarship fund with the Community Foundation of the Ozarks to support art students attending Missouri State University or Ozarks Technical Community College. Two scholarships are currently available for $500 each.
"A lot of kids, they love to do art but they may think it's too expensive," Jean Sanders says. "We would hear students say, 'I'd like to have this or not but I really can't afford it.' We thought, 'Maybe this would be a way we could help somebody.' That's why we decided to do that."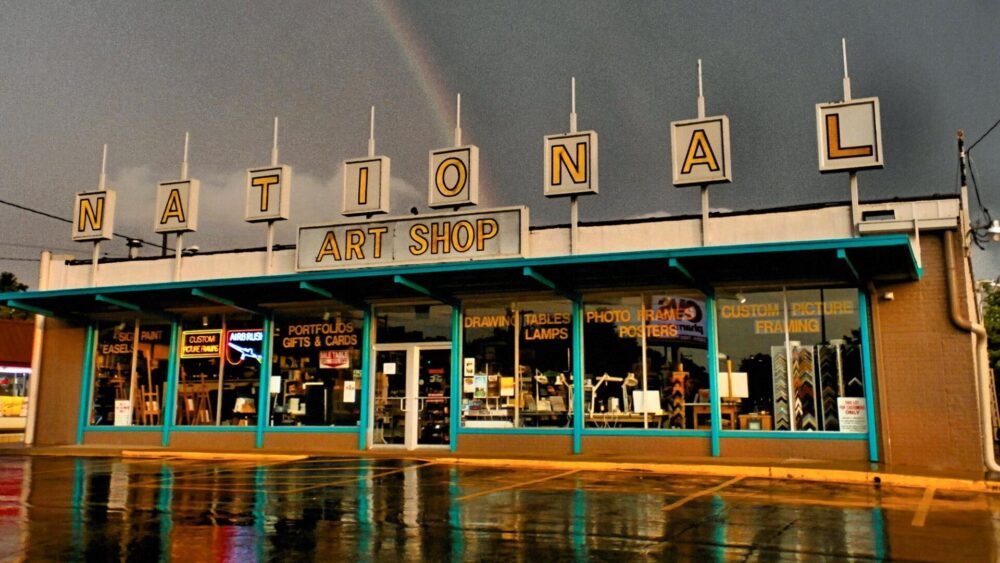 National Art Shop, located in Springfield at National Avenue and Elm Street in recent years, began in 1970.
National Art's start
The shop began back in 1970 when Jerry Sanders' mother and aunt had difficulty finding art supplies in Springfield.
"He worked at the railroad, and so he had some extra time," his wife says. "He decided that he would open an art shop so there would be a place for them to buy art materials."
The twin sisters worked at the shop for 11 years until 1981, when they decided to retire. Jean Sanders quit her banking job and joined the family business.
Five years later, the business grew enough to leave its original location – a small building near the Springfield Art Museum – and move north on National into a former grocery store.
"At first, we didn't think we'd be able to fill it up, coming from such a small building to a larger building," Sanders says. "But it didn't take long to get everything going and more merchandise in there."
Moving north on National
In that spot, they continued serving the art needs of Springfield – and beyond – through customers ranging from students to corporate clients. After more than 50 years, however, they decided it was time to retire and shuttered the shop in 2021.
"It was a really hard decision," she says. "We miss seeing the customers and miss providing that service."
Even though art supplies are no longer sold in the same spot, the Sanders are pleased with the site's new role as a location for Andy's Frozen Custard.
"We were happy when Andy (Kuntz) approached us because we knew that would be a place where people could congregate around and talk and maybe have some fun," Sanders says.
An even sweeter topping came when the Sanders learned the custard stop's new sign carried a similar look to the lettering of the former art shop. On top of that, the "N" from the National's iconic sign is preserved outside the new shop.
"I don't think anybody in Springfield has ever done anything like that," she says. "We were really impressed and appreciative of what he did. He's a really nice person and a family business like we were. It was really a surprise."
Soon after the custard shop opened, the Sanders went by to see it for themselves. While there, they were part of a full-circle moment that linked past and present.
"There were some students there wondering what in the world was going on: 'Why were we taking pictures'?" Sanders says. "An older man came up and he said, 'You guys are the ones who had the art shop.' He recognized us. That was cool."
By Kaitlyn McConnell, writer in residence for the Community Foundation of the Ozarks
Support our mission by becoming a donor today.